How Pamela Anderson Accidentally Became Famous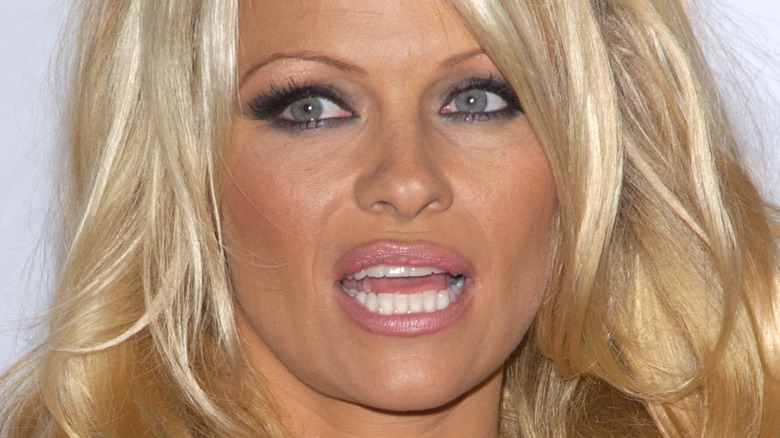 Featureflash Photo Agency/Shutterstock
Pamela Anderson became an iconic fixture in pop culture in the '90s thanks to her role on "Baywatch," her steamy pictorials in the pages of Playboy, and an infamous leaked sex tape. Perhaps the model-turned-actor was destined for fame, as even news of her birth made the press. The Canadian was born in the town of Ladysmith, British Columbia in 1967, which marked 100 years since Canada was founded. Thus, Anderson was given the title of "Centennial Baby" by her hometown paper, the Ladysmith-Chemainus Chronicle. "That's where it all started," she told Jetset Magazine in 2010.
When Anderson was cast as C.J. Parker on "Baywatch" in 1992, she had no idea that the role would catapult her to world fame. Originally, the Playboy Playmate was clueless about the show's success. "Then we went to Germany and people were falling over backwards," she told The Guardian in 2010. Anderson was asked by the outlet how fame changed her life. "Well, I married a rock star. Heeheehee!" she replied, referring to ex-husband Tommy Lee. Their tumultuous marriage was tabloid fodder and made Anderson the subject of ridicule. "It seemed so silly — I thought, what kind of career do I have?" she told The Guardian.
Fame came at a price for Anderson when that infamous sex tape of her honeymoon with Lee was stolen and distributed in the mid-1990s. The tape was coveted thanks the actor's fame, which rose from a random incident. 
Pamela Anderson was discovered on a jumbotron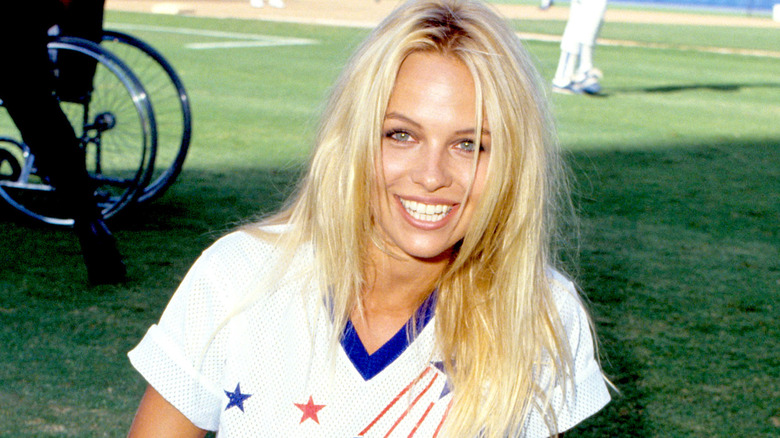 Steve.granitz/Getty Images
In the summer of 1989, Pamela Anderson had the fortune of being in the right place at the right time, which helped catapult her to fame. Anderson was attending a B.C. Lions football game in the Canadian Football League when she was picked out of the crowd and featured on the Jumbotron while sporting a Labatt's beer shirt, per the Los Angeles Times. That shot was also seen on the live television feed, and sparked an immediate reaction from the audience in attendance and those watching at home. Labatt's received calls from fans inquiring about the then-unknown Anderson and the beer company wound up using her in its ads. 
Shortly after being discovered at the football game, the "V.I.P." star made her first appearance on the cover of Playboy in 1989. She then moved from Canada to Los Angeles to pursue an acting career, initially landing small roles on "Charles in Charge," "Married ...with Children," and "Home Improvement," per the Times.
At first, Anderson planned to ride out the wave of fame while her name had buzz. She never expected to become a household name. "I was going to do this until it kind of stopped. I didn't realize it was going to go on so long," she told Interview. But Anderson's fame also came with a price. 
How Pamela Anderson stayed grounded during her wild marriage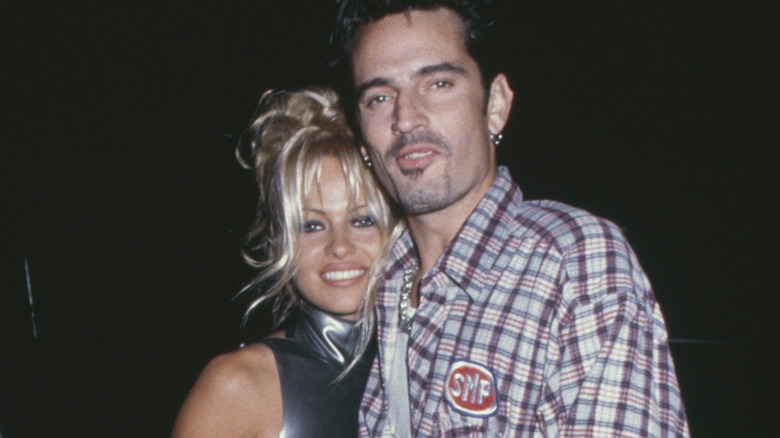 Michael Ochs Archives/Getty Images
Pamela Anderson's serendipitous big break was the subject of an episode of "Pam & Tommy," the Hulu docu-series that details the volatile relationship between the actor and her rockstar (former) husband, Tommy Lee, per ScreenRant. During their marriage, the tempestuous pair were often featured in the tabloids and hounded by paparazzi, which inspired the mini-series. 
Years later, the "Scary Movie 3" actor reflected on how fame affected her throughout that time. "When Tommy and I were together, and I was wearing rubber and he was beating up photographers, and I'm swearing, telling everyone to 'F off,' slowly I became this cartoon image," Anderson told Flaunt in 2015. Fortunately, the former Playboy Playmate was able to stay grounded thanks to her responsibilities at home as a mother. "[I]t probably saved my life because I've been in crowds and circles and I've gone a little wild, but I always make it home for my kids," she explained.
After decades in the entertainment industry, Anderson made headlines in 2017 while discussing the allure of fame in regard to the charges against disgraced movie producer Harvey Weinstein. Anderson advised women to use "common sense" when being invited to meetings in hotel rooms. "[B]ut I know Hollywood is very seductive and the people want to be famous," she said on "Megyn Kelly Today." After receiving backlash for her comments, the "Stacked" star clarified her statement in an Instagram post, via The Hollywood Reporter. "Women are powerful and smart and we can use all our charms in more positive ways," she said.