Here's What Jimmy Kimmel's First Wife Is Doing Today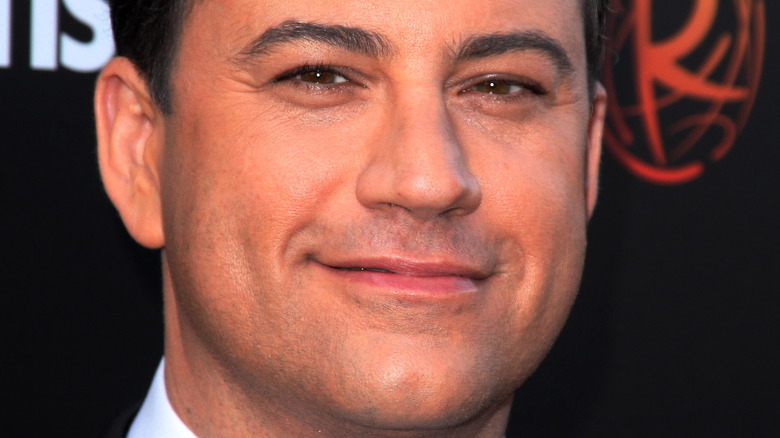 s_bukley/Shutterstock
Late night host Jimmy Kimmel and his wife Molly McNearny have been happily married since 2013. According to People, the couple met while working together on Jimmy's show "Jimmy Kimmel Live!" where McNearny is a co-head writer and executive producer. At that time, Jimmy was still famously dating actor Sarah Silverman, while McNearny was also seeing someone else, although the married pair reportedly formed a close bond on set. That said, they didn't start dating until 2010. Now, Jimmy and McNearny are proud parents to two kids, Jane and Billy.
While Jimmy seems to have found everlasting love with his producer missus, you may (or may not) be might be surprised to learn that this wasn't his first marriage. Before McNearny, the well-loved television presenter was married to his college sweetheart, Gina Maddy-Kimmel. As recapped by Suggest, Jimmy and Gina attended the Arizona State University where they first crossed paths and eventually fell in love. They tied the knot in 1988, just as Jimmy was starting his career as a radio host, and welcomed two children: a daughter, Katie, in 1991 and son, Kevin, in 1993. The pair would stay married for over 13 years before separating in 2002, with Gina citing "irreconcilable differences" in her divorce filing (via Midland Daily News). Their divorce was finalized the following year, per Us Weekly, and not much has been heard about Gina since then. Just what Jimmy's first wife has been up to since their separation? 
Gina Kimmel has found new love
After divorcing Jimmy Kimmel, Gina Maddy-Kimmel moved back to Chicago and studied fashion and pattern making at Harper College in Palatine, per Daily Herald. She then launched her own line of vintage loungewear called Maddy James (named after her father) in 2014. The collection, which is inspired by the "lovely women of bygone eras," was funded by a Kickstarter campaign that helped her raise over $16,000. In addition to starting her own fashion line, Gina also worked as a costume designer, and is credited on films such as 2012's "Party Like the Queen of France" and "Party Like The Rich and Famous" on her IMDb page. 
As mentioned by Suggest, Gina also has been in a relationship with a man named Chris Jones since 2003, the same year her divorce from Jimmy was finalized. On their 18th anniversary last year, Gina took to Instagram to celebrate the special occasion, writing, "18 years with this guy. Looking forward to our next adventure." Aside from her travels with Chris, Gina also frequently shares pictures of her family and pet cats on her Instagram page, although her account has since been set to private. 
Jimmy Kimmel and Gina remained civil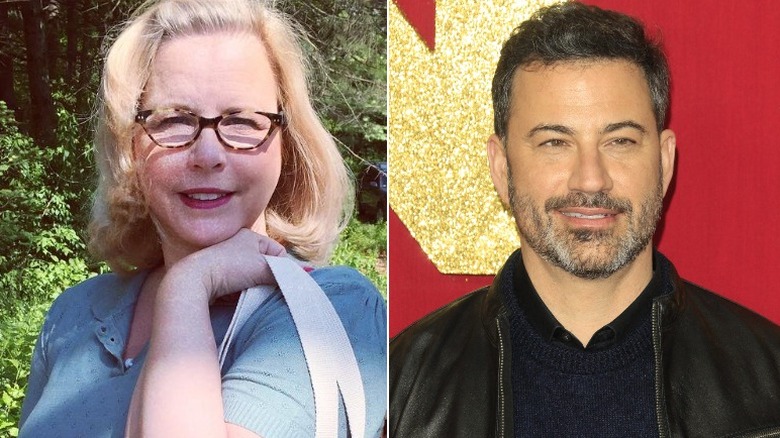 Kathy Hutchins/Shutterstock, undefined
Following their divorce in 2002, Jimmy Kimmel and his former wife Gina have maintained a civil relationship. They most recently reunited at the wedding of their daughter Katie in September last year. Per Page Six, Katie tied the knot with her husband, musician Will Logsdon, in an intimate ceremony involving their family and friends after five years of dating. 
Gina's longtime partner Chris Jones also attended the wedding, which was held at The Saint Elle in Nashville, Tennessee. During the ceremony, Jimmy and Katie shared a sweet father-and-daughter moment as they danced to the iconic "My Girl" by The Temptations, as documented by Access.
As for Jimmy and Gina's only son, Kevin Kimmel is also now married. He recently wed his longtime girlfriend, Nicole Francisca, at the South Fork Lodge & Outfitters that is owned by his father in Sweet Valley, Idaho (via BoiseDev). "After an exhilarating three and a half months it's an absolute joy to finally call you my wife @nicolefkimmel," wrote Kevin as he shared a snap of their wedding on Instagram. According to a previous post, Kevin and his girlfriend got engaged in January 2021, after over a decade together.