The Truth About Jimmy Kimmel And Sarah Silverman's Relationship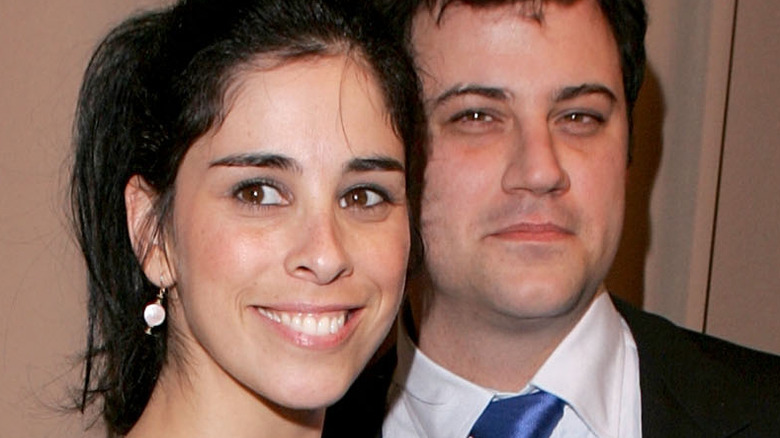 Mark Mainz/Getty Images
Staying friends with your ex is hard. Staying friends with your ex when you are both celebrities and had your relationship publicized is a thousand times harder. With your every move going straight to the tabloids and everyone in the world trying to insert themselves in your affairs, it's no surprise that many celebrity exes end up not-so-friendly, for lack of a better term. Camille and Kelsey Grammer diss each other whenever the chance arises, for instance. Nicki Minaj and Meek Mill ripped each other apart through their lyrics. Russell Brand, who allegedly broke off his marriage to Katy Perry via text message, has spoken ill of the pop star since the split.
Of course, there are exes who have remained friendly after parting ways. For example, many applaud actors Demi Moore and Bruce Willis for keeping it cordial throughout the years, and people are forever in awe of how Lisa Bonet and Lenny Kravitz managed to stay close, to the point that Kravitz is besties with Bonet's current husband, Jason Momoa.
And then there's Jimmy Kimmel and Sarah Silverman, who remained as tight as ever even years after calling it quits. Once regarded as Hollywood's funniest couple, the two comedians dated from 2003 to 2008. They still worked on projects together following the split and Silverman became a regular guest on "Jimmy Kimmel Live!" So, how did they achieve this seemingly rare feat?
Jimmy Kimmel and Sarah Silverman did not become friends right away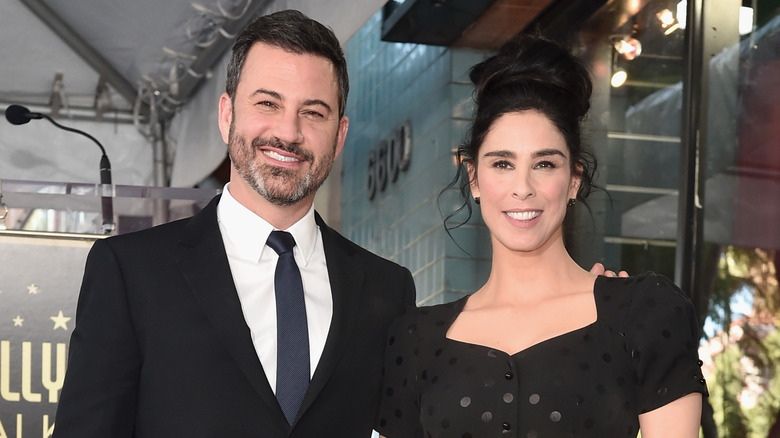 Alberto E. Rodriguez/Getty Images
Despite being the ideal friendly exes, Jimmy Kimmel revealed that he and Sarah Silverman did not become instant friends overnight. During an appearance on "Watch What Happens Live with Andy Cohen" in 2018, a caller had asked Kimmel about his platonic relationship with Silverman and whether they immediately became good friends or not. It did not happen with the snap of a finger, apparently, as one might assume. They are able to joke about the past now, but they truly had to work to get where they are today.
"I would say that it took some time, definitely," Kimmel shared at the time. "It definitely took some time. It was never like where we didn't like each other, hated each other, or anything like that. But it definitely took some time to be comfortable enough to be friends again."
Fast forward to now, and the two are good pals. Silverman is even comfortable enough to joke around with Kimmel and his current wife, Molly McNearney. At the 2019 Golden Globes, Silverman took a selfie with the couple looking cozy in the background. "Good times," she wrote in the caption.
Jimmy Kimmel says he and Sarah Silverman are like 'brothers'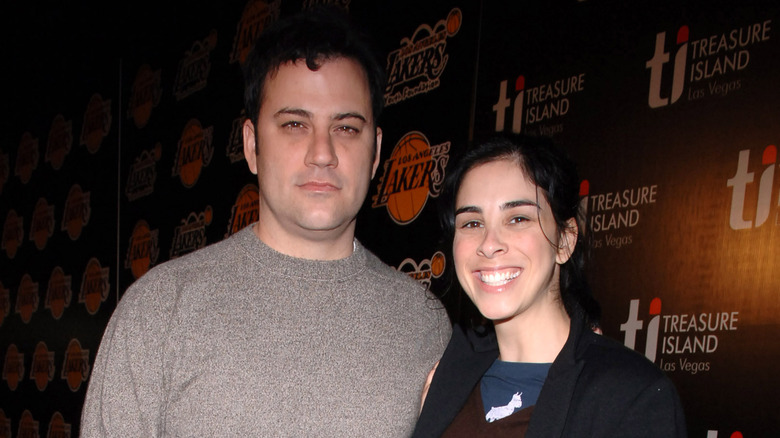 John Sciulli/Getty Images
Jimmy Kimmel and Sarah Silverman have been such good friends that Kimmel describes their relationship as one that's more familial nowadays. In fact, the term he used was "brothers." In a 2017 interview with GQ, Kimmel shared how he and Silverman have many things in common and how, because she had been such a big part of his life, he treasures the relationship they have now.
"Sarah [Silverman] and I, we're like brothers," he said. "It doesn't make sense to me that people would erase a big part of their lives. It's not like we didn't spend every day together for many years. We did, and we have a lot of things in common and mutual friends." He went on to say that he would even share news with Sarah, because that's what friends do. "I'll see something in the news and think, 'Oh, my God. I have to tell Sarah about this,'" he added. "She has a very good relationship with pretty much all of the guys she's dated. She is very mature about it. And I'm nothing if not mature, as you've probably gathered from this interview." We love a happy ending!