Meek Mill Faces Backlash For Mentioning Nicki Minaj's Newborn Baby In Rant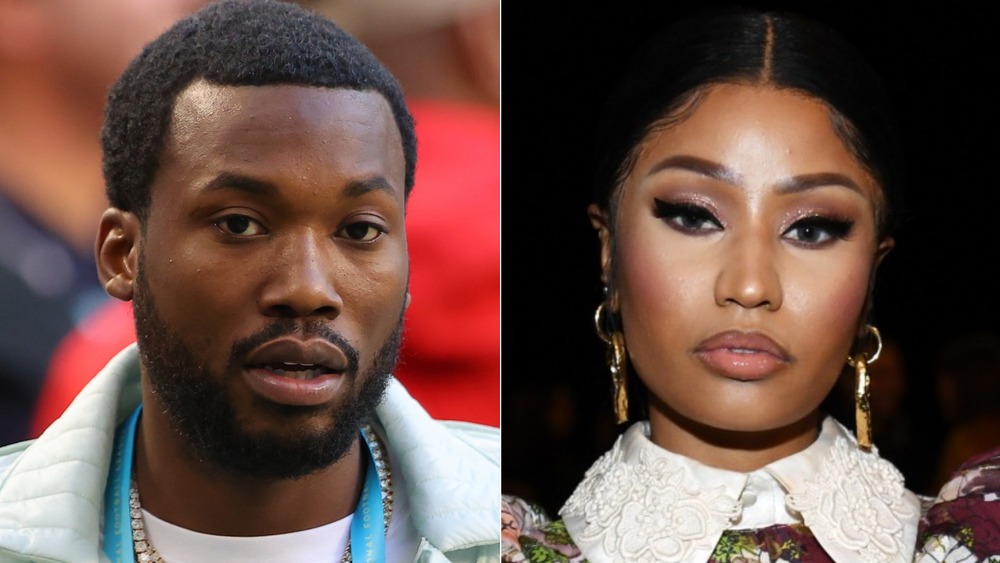 Ronald Martinez, Dimitrios Kambouris/Getty Images
In December 2020, Meek Mill made a snide reference to ex Nicki Minaj. Needless to say, the Barbz are not letting the Philly rapper live it down. Mill is known for speaking his mind on social media and the newest social media craze, Clubhouse, is no different. The app allows users to enter into chat rooms where moderators can control the conversation while allowing group members to speak to one another, per Social Media Examiner. With the app heating up and adding new celebrity figures to the platform on a regular basis, users have been receiving firsthand accounts and lots of tea.
Mill's outspoken personality on the app made headlines after he was recorded arguing with media personality DJ Akademiks in mid-December 2020, per Hot New Hip Hop. Just weeks later, Mill decided to hop on the app again and address the media coverage of his feud with his ex-girlfriend in one of the chat rooms. However, it seems like he might have forgotten the fact that his ex is a rap superstar with a die-hard fanbase who enjoy calling the "Dreams & Nightmares" rapper out any chance they get. 
Nicki Minaj fans want Meek Mill to leave her alone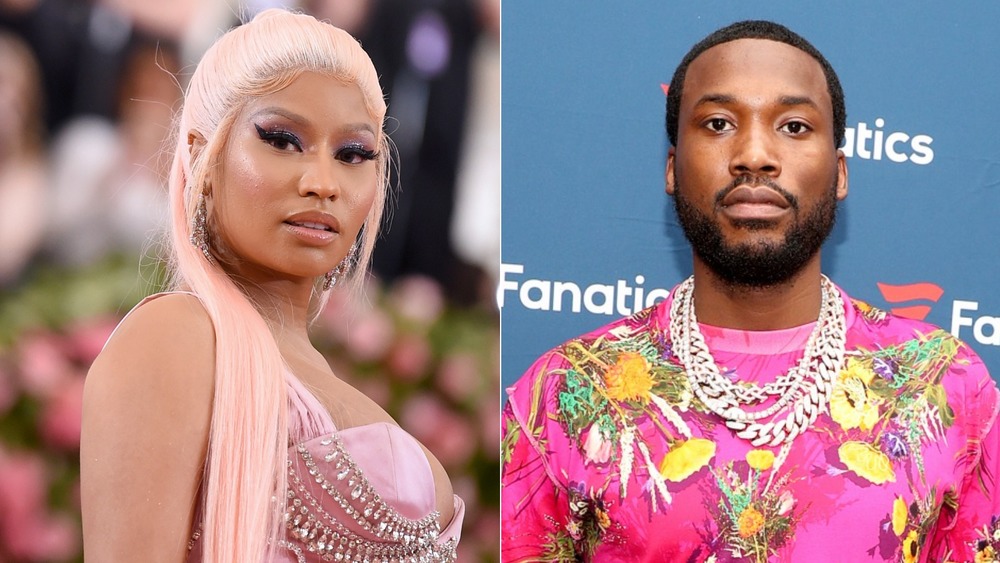 Jamie Mccarthy, Tasos Katopodis/Getty Images
In late December 2020, Meek Mill hopped into a Clubhouse chat in the early hours of the morning to speak freely about a number of things. However, once he made mention of Nicki Minaj, things appeared to go left. In a clip captured by a Nicki Minaj fan page on Twitter, Mill can be heard calling out an old story posted by The Shade Room. He accused the outlet of pitting him against Minaj's husband, Kenneth Petty. "They had me up there — me vs. Nicki's boyfriend," he explained in frustration. "Nicki just had a f**king baby. I just had a f**king baby. Who's responsible for this bulls**t?"
However, the energy noticeably shifted once Mill named his ex. "I don't even want you to talk about that," one user responded. When the clip surfaced on Twitter, it didn't take long for the Barbz to accuse Mill of being "obsessed" with his ex. One person tweeted: "It's 2:15AM in the morning & Meek Mill on Clubhouse talkin about Nicki, her husband and their baby. They probably sleep." Another added, "So I wake up to see MEEK MILL discussing Nicki AGAIN? When will the obsession end? Are you lot not seeing this?"
Nicki Minaj called out Meek Mill's 'Twitter fingers'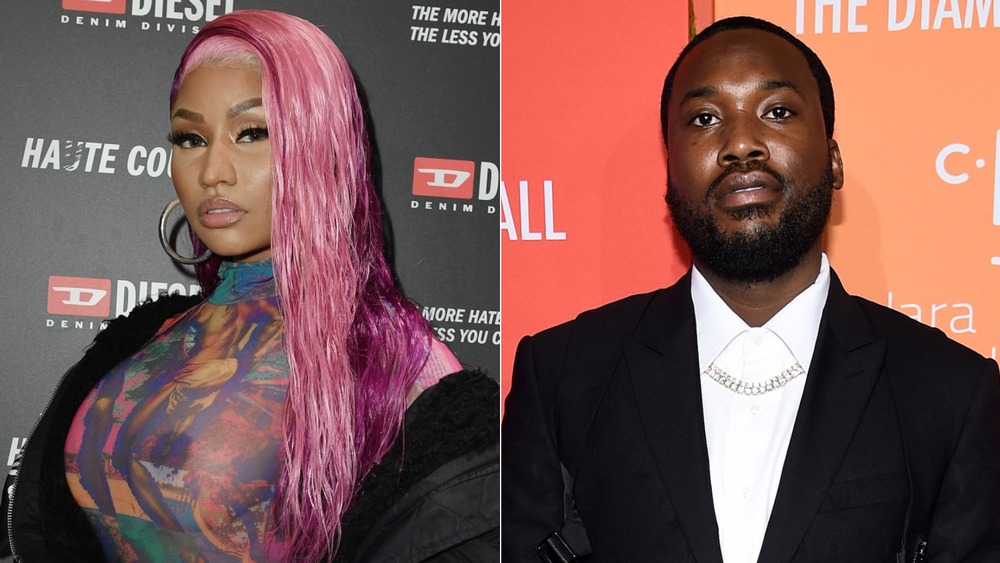 In January 2020, whatever semblance of peace that existed between Meek Mill and Nicki Minaj quickly dissipated after Minaj and husband Kenneth Petty bumped into Mill at a clothing boutique in West Hollywood. After a screaming match ensued, cellphone footage of the melee went viral on social media. Prior to the altercation, Minaj and Mill had dated for about two years before calling it quits in January 2017. The following year, Minaj rekindled a romance with Petty, who was her high school sweetheart, and the two privately eloped in October 2019, per People. By September 2020, Minaj and Petty had welcomed their first child together, while Mill welcomed a baby with Milan Harris — his third, her first — in May 2020. 
After Mill and Petty's verbal spat in Los Angeles, Minaj called him out on Twitter in February 2020 after he was allegedly caught liking a post that threw shade at her husband, per MTV. "N****a been tweeting bout [sic] my man for a year now," Minaj wrote. "Talking bout [sic] how he went to my page to see him but he was blocked. My n***a, move on. S***ted yaself in that store when u got pressed tho." Considering Mill's December 2020 comments on Clubhouse, it's possible the feud between the former lovers has only gotten deeper.