The Advice From Jamie Lee Curtis That Changed Lindsay Lohan's Life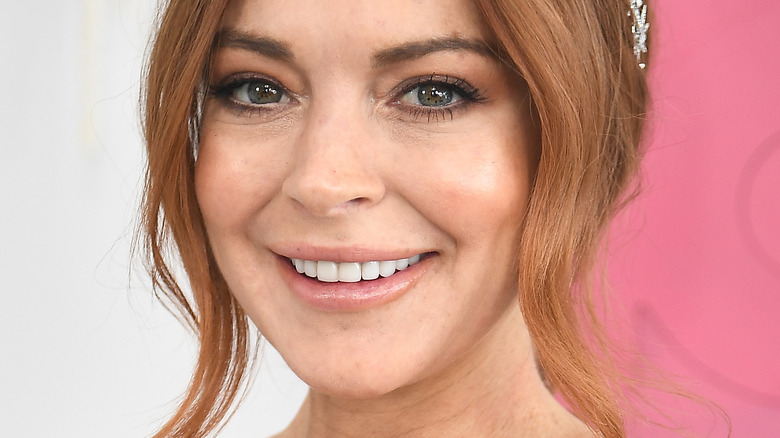 James Gourley/Getty Images
Lindsay Lohan and Jamie Lee Curtis go way back. The popular actors co-starred in the 2003 comedy "Freaky Friday," which follows a polar-opposite mother-daughter duo whose lives are turned upside down when they accidentally switch bodies. Their iconic performances received high acclaim. A Roger Ebert review said, "They're right for these roles not only because of talent, but also because of their essential natures." It is hard to imagine anyone but Curtis throwing hysterical temper tantrums like a disgruntled teenager. 
But fans might be surprised to learn that Curtis wasn't the original actor who signed on for the role. In a 2019 video for Vanity Fair, Curtis revealed, "'Freaky Friday' was a train that was moving and the actress that was gonna do the movie pulled out of the movie." According to BuzzFeed, Annette Bening was set to portray Lohan's mother.
While their on-screen dynamic was frequently explosive in "Freaky Friday," Curtis and Lohan's real-life relationship appears to be much less volatile. The former co-stars developed a steady friendship that has withstood the test of time. And Curtis has even given Lohan some valuable guidance on managing one pitfall of fame.
Jamie Lee Curtis gave Lindsay Lohan advice about fake friends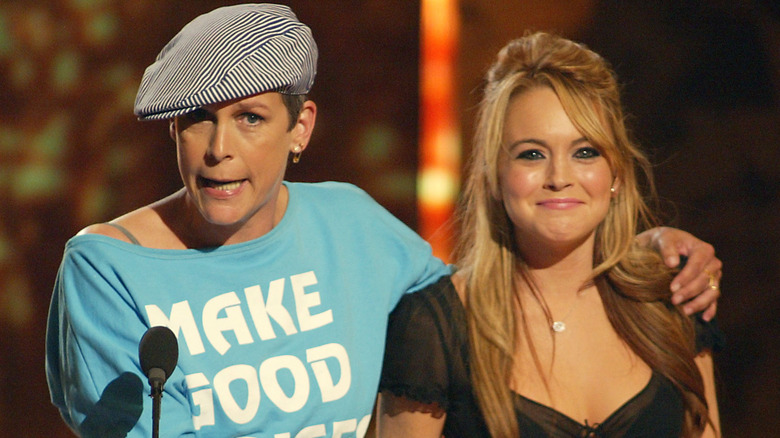 Kevin Winter/Getty Images
In a 2019 appearance on "The Howard Stern Show," Lindsay Lohan elaborated on impactful advice Jamie Lee Curtis gave her while filming "Freaky Friday." Stern asked, "Didn't she tell you to get rid of all the hangers-on?" According to the Cambridge Dictionary, a hanger-on is "a person who tries to be friendly and spend time with rich and important people, especially to get an advantage." Lohan said Curtis was "right." She admitted it was common for her to surround herself with people just for the sake of it. Referring to her loneliness, Lohan explained, "All the other people didn't realize that I didn't want to go out all the time; I didn't want to be seen all the time. But the only time I did want to was when they were around... And that's not a real friend."
There's no doubt that Curtis is a real friend, as the star majorly stood up for Lohan in 2016. When inappropriate remarks Donald Trump made about Lohan in 2004 resurfaced during the 2016 presidential election, Curtis took to Instagram to express her disgust toward the soon-to-be President. She summarized Trump's former comments, writing, "She's probably deeply troubled and therefore great in bed. How come the deeply troubled women, you know, deeply, deeply troubled, they're always the best in bed?"' Curtis then defended Lohan, stating, "I am appalled. Lindsay needed help and guidance. Not your gross, lecherous, lewd commentary. YOU are the Republican nominee for the Presidency."
Jamie Lee Curtis had kind words for Lindsay Lohan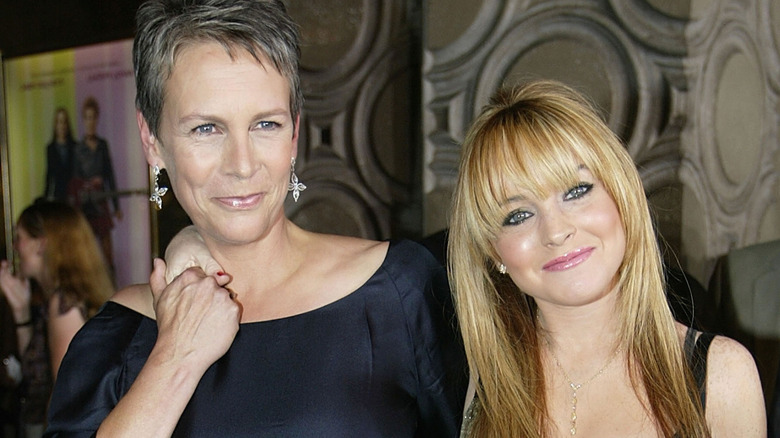 Carlo Allegri/Getty Images
Jamie Lee Curtis and Lindsay Lohan's friendship can be traced back to their "Freaky Friday" days. To verify their real identities, they created a special text code language, which involved some early 2000s pop music on-set. In a 2021 interview with Yahoo! Entertainment, Curtis explained how she and Lohan tried to memorize Justin Timberlake's song, "Like I Love You." She said, "We were writing them down, and then we would do the scene, and then we'd play the song and try to lip-synch the few words that we knew. I'm telling you, we laughed. And that is my secret code with her. 'What was the song we were lip-synching to in the car?'"
So, what's the current status of Curtis and Lohan's friendship? In March, Curtis spoke positively about Lohan to People. She said she saw Lohan's Super Bowl commercial, adding, "I'm just happy that she's happy." She also gushed, "She is a great talent. And she's had a lot on her plate at a very young age. It seems like she is settling into a really happy domestic life — she's engaged." Curtis added, "We're in contact, and the fact that she can poke fun at herself a little [means] we can all poke fun at ourselves, believe me. Show business is very difficult, and being in front of the tabloid press is very difficult, it's really brutal. So God bless her."