Here's What Meghan McCain Really Looks Like Without Makeup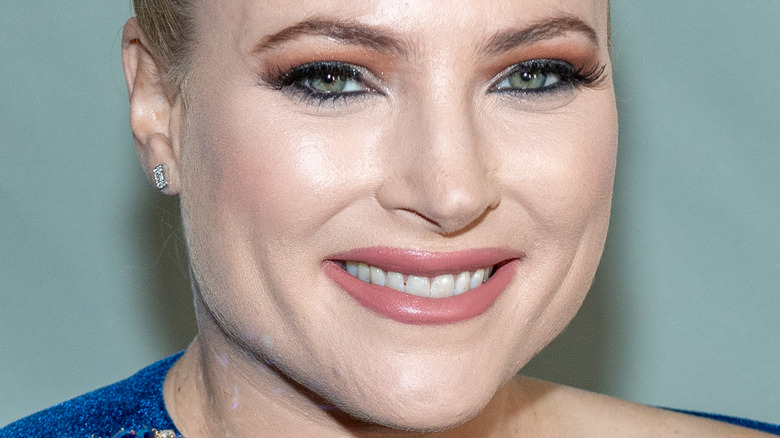 Roy Rochlin/Getty Images
Meghan McCain has grown up in the spotlight thanks to the visibility of her politician dad, John McCain. Today though, this star is probably most famous for her oftentimes somewhat controversial opinions on "The View," where she regularly clashed with the likes of Whoopi Goldberg and Joy Behar. Meghan revealed the exact reason she said goodbye to her daily TV gig while speaking to Variety in October 2021, claiming she knew it was time to leave following a fallout with her co-hosts while describing the show as being "unhinged and disorganized and rowdy." Yikes. But she wasn't quite done there.
During an August appearance on "The Commentary Magazine Podcast", she shed a little more like on her departure, telling hosts John Podhoretz, Abe Greenwald, and Noah Rothma, "My take on the show is that working at 'The View' brings out the worst in people. I believe that all the women and the staff are working under conditions where the culture is so f***ed up, it feels like quicksand." Double yikes.
But while Meghan has made no secret of the fact that she wasn't really having the best time on camera on the ABC series, there's no doubting she always kept it glamorous on the long-running daytime show. The star always appeared on the show looking super stylish and oh so glam, which begs the question... what does she look like without makeup? Here's a hint: Stunning!
Meghan McCain's makeup-free play days
It seems like, although she rocks a glamorous persona in front of the professional cameras, when it's time for a little downtime with her family, Meghan McCain isn't afraid to go makeup free. The star has shared a few snaps of her going without the cosmetics across social media, with her Instagram page playing host to a number of adorable snaps of her playing with her daughter while sporting a more natural look.
The gorgeous TV star ditched the cosmetics in a super sweet upload posted on June 30 as she played in the swimming pool with her daughter, Liberty. Meghan flashed a big smile in the snaps as she held her little girl up above the water while in Arizona. "Sweet child of mine," she captioned the photos. In another adorable look at her au naturale mom times, a September 12 upload of three photos showed Meghan making her way down a tiger-striped slide while holding her daughter's hand. The star went without makeup and rocked a white t-shirt with sweatpants, with her blonde locks up in a ponytail while her bare skin glowed.
John McCain's beloved daughter also showed off her natural beauty on the social media site shortly after Liberty was born. Meghan posted a gorgeous photo of her holding her new bundle of joy as she smiled with her blonde locked pushed away from her face. Told you she was stunning!
Meghan McCain clapped back over her makeup looks
But don't think that when Meghan McCain is ready to go for it when it comes to her appearance that she doesn't know how to have some fun with her makeup looks. In fact, the star's looks have been so vibrant over the years that she's even been forced to clap back at those who criticized her. "People have a lot to say about me in general but in regards to my hair and makeup... I'm just having fun switching up, playing around and experimenting," she hit back in a February 2021 tweet after doing her looks at home due to the Coronavirus pandemic. "It's covid and I just had a baby, let a b***h live!" she added alongside a GIF of Christina Aguilera in the music video for "Lady Marmalade." You go, girl!
When she's not at home though or taking the day off from the glam (like in the snap above with her dad, John McCain), Meghan has a little help in the hair and makeup department. The star has given a shoutout to her team — namely her hair and makeup artist Carmen — on a few occasions, including in February 2021 when she showed off her glam with a filtered video that even included rhinestones in her hair. "@ccprostyles is the most incredible, creative hair and makeup stylist — such a privilege to work together every day getting ready for @theviewabc," she captioned the Instagram upload.