Mark Zuckerberg Has Big Family News To Share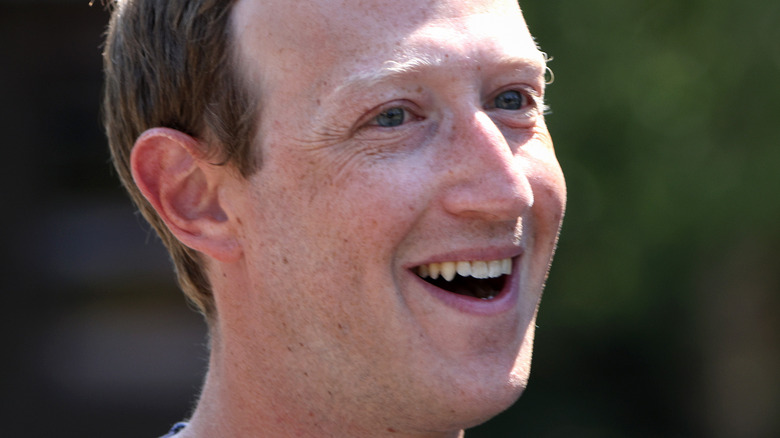 Kevin Dietsch/Getty Images
Mark Zuckerberg has been struggling in the technology industry since he changed Facebook Inc.'s name to Meta Platforms Inc. According to Bloomberg, the Facebook creator has lost a good amount of money since he's been making efforts to introduce the metaverse. His net worth has dropped $71 billion, and he's at his lowest rank of global billionaires since 2014.
A part of why this is happening is because the newly introduced metaverse has adults concerned about their children being immersed in the digital world, especially because they have easy access to content that may be abusive, harmful, and inappropriate. But according to Zuckerberg's sister, Randi, technology can still be useful for children. "If we can make screen time something that's valuable and connecting, I far prefer that as a mom [than] to just passively put kids in front of screens," she told CNBC in August.
Zuckerberg believes that technology can boost the imagination and creativity in a child at an early age, making people in today's generation more artistic. He explained on the "Lex Fridman Podcast" in February that he sometimes codes with his daughter, August. He mentioned that while he saw coding as building, his daughter sees it as an art, looking at the visual outcome rather than the process. Now, it looks like the social media platform creator will be able to teach another little one about technology in the world today.
Mark Zuckerberg and Priscilla Chan are extending their family
Mark Zuckerberg and his wife Priscilla Chan met in 2003 while they were both in college. According to People, Chan was at the Facebook creator's fraternity party, and they hit it off while waiting in the bathroom line. In 2010, they moved in with each other and tied the knot in 2012. In 2015, they welcomed their first daughter, Maxima, and their second daughter, August, in 2017.
Despite the success of the Zuckerberg family, it hasn't interfered with their personal life, as parenting is pretty normal for the two. In a 2021 interview with The Times of London, Chan gave an inside look at what it's like to raise their two daughters. She mentioned that she has morning duties, and her husband has the night shift. She also said that nighttime activities range from reading to coding.
And it looks like another little one will be hearing bedtime stories and learning about coding from Zuckerberg, as the social media CEO announced that his wife is pregnant with their third daughter. "Lots of love," Zuckerberg captioned his Instagram post. "Happy to share that Max and August are getting a new baby sister next year!"