Rosie O'Donnell Shares Details About Her 'Angel' Daughter's Autism Journey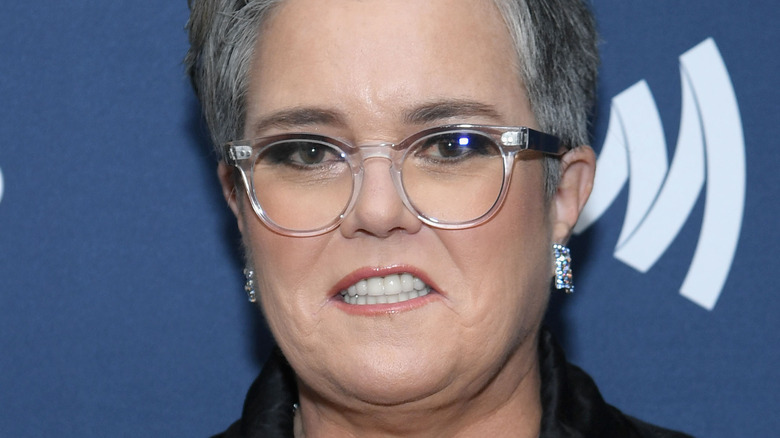 Dimitrios Kambouris/Getty Images
If you're a fan of comedy, then chances are you know who Rosie O'Donnell is, and why she disappeared from Hollywood. Back in the 1980s and 1990s, the beloved comedian wowed fans with her staple projects — including "Now and Then" and "A League of Their Own." Alongside her filmography, O'Donnell made a mark in the daytime talk show world with her successful show "The Rosie O'Donnell Show" and her brief yet controversial stint on "The View." During her time on the long-running show, the "Harriet The Spy" star was involved in numerous feuds with her co-hosts, including Elizabeth Hasselbeck.
Aside from her professional feats, the "Nip/Tuck" star has also made headlines due to her personal life. In 2002, O'Donnell came out as gay during a comedy appearance at the Ovarian Cancer Research benefit. "I don't know why people make such a big deal about the gay thing... People are confused, they're shocked like this is a big revelation to somebody," she said (per USA Today).
Since that fateful day, O'Donnell has remained an open book regarding her personal life, including motherhood. Recently, the "Tarzan" star reflected on raising her autistic child in an emotional essay for People.
Rosie O'Donnell describes daughter Dakota as a gift
On September 21, Rosie O'Donnell released an emotional essay in People about raising her youngest daughter Dakota, who is autistic. In the piece, the beloved comedian opened up about the early signs of her child's diagnosis. "She had a little bit of stimming [a repetitive behavior often associated with autism] she was doing with her hands," she explained. When Dakota was officially diagnosed with autism, O'Donnell said it felt like she was "punched in the stomach." After that fateful day, the "Now and Then" star revealed that she wanted to make sure her daughter felt seen. "I didn't want Dakota to feel shame about her diagnosis. I had told her from the start that autism is her superpower," she continued.
Towards the end of her insightful and heartwarming essay, O'Donnell expressed her fear of dying before Dakota turns 10 — which she said happened to her mother at that age. "I don't ever want Dakota to feel that," she said. The "Spin City" star then praised her daughter for helping her "see the world from a completely different place."
Over the years, O'Donnell has maintained an open rapport about her daughter's autism. On August 27, she revealed that Dakota was bullied at a summer camp for being neurodivergent (per Newsweek). "She came home and said, 'Mommy, I am sad. And I am mad. And that rhymes,'" she explained. "It broke my heart in half. It's hard for kids on the spectrum."