Why Camilla's Jewelry At Queen Elizabeth's Funeral Was So Meaningful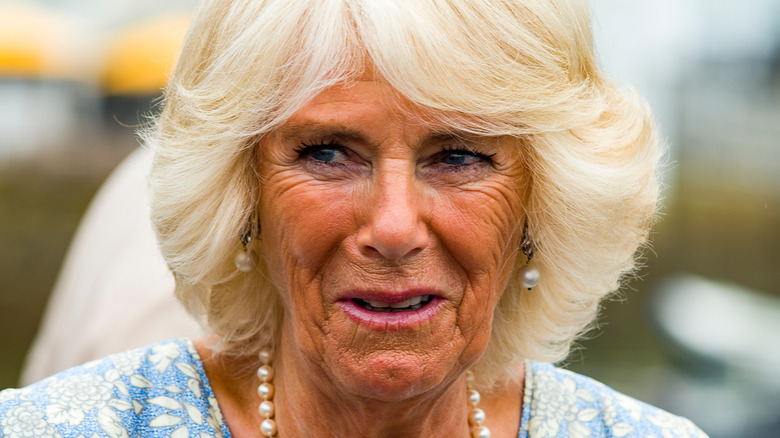 James Pearce/Shutterstock
The royal family has always been under a microscope, but recent years have seen the public's fixation with them increase more than ever. From Prince Harry and Meghan Markle's fairy tale wedding to their dramatic fall-out with the firm and Meghan's bombshell interview with Oprah, it's no surprise that royal watchers had their eyes peeled during Queen Elizabeth II's funeral to gauge the family's attire and find deeper significance. 
Over the years, the royal family has cleverly used fashion to communicate or call back to pivotal moments of their history. For instance, it's been widely theorized that the late monarch used to use her accessories to send silent communication to her staff and family during public outings. In particular, she used her lipstick and handbag to silently let her staff know that she was ready to depart from an event, via Glamour.
During Queen Elizabeth's funeral, which took place on September 19, Meghan Markle wore a black version of the (blue) Stella McCartney dress she previously wore to celebrate Queen Elizabeth II's 92 birthday, per Page Six. She accented the look with a pair of earrings, which were a gift from the queen. Meanwhile, Catherine Middleton also wore a dupe of a previous ensemble she wore while at an event for the queen in June, according to People. As for Camilla Parker Bowles, who the queen announced would called queen consort once King Charles III took the throne, well ... she honored the queen in a very sweet way. 
Camilla Bowles wore a brooch with special meaning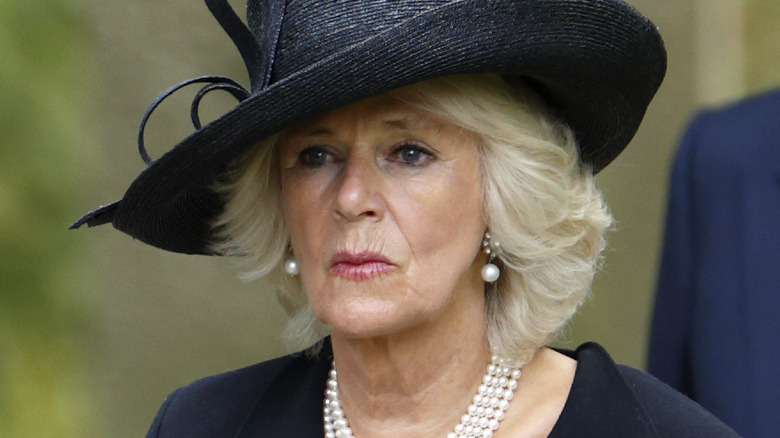 Max Mumby/indigo/Getty Images
Camilla Parker Bowles also paid tribute to Queen Elizabeth II during her funeral. The wife of King Charles III paid special care to her funeral attire, making very bold callbacks to her long association with the late monarch. The queen consort wore items that had special significance to her, her family, and Queen Elizabeth II.
Her main look consisted of a fashion-forward black coat dress and hat and half veil, which doesn't appear to hold deeper meaning outside of the fact that, as Express points out, the veil is more modern than state funerals usually call for.
However, royal watchers have made special note of Queen Victoria's Hesse Diamond Jubilee Brooch, which Bowles wore pinned to her coat. According to Page Six, the diamond-encrusted brooch is shaped like a heart and includes the number 60, which marks the number of years in a Diamond Jubilee. The publication speculates that Bowles chose this particular piece to celebrate Queen Elizabeth's 70 year-reign, which eclipses Queen Victoria's by seven years. According to Harper's Bazaar, the queen consort is no stranger to this brooch and has proudly sported it at numerous events over the past few years. 
Lastly, Bowles' choice of handbag is also likely a subtle nod to Queen Elizabeth II. According to Metro UK, Bowles sported a black leather Launer handbag, which is known to have been one of the queen's favorite fashion lines. Per Vogue, the late monarch developed a life-long liking of this particular brand.
How Camilla Parker Bowles has honored the queen in the past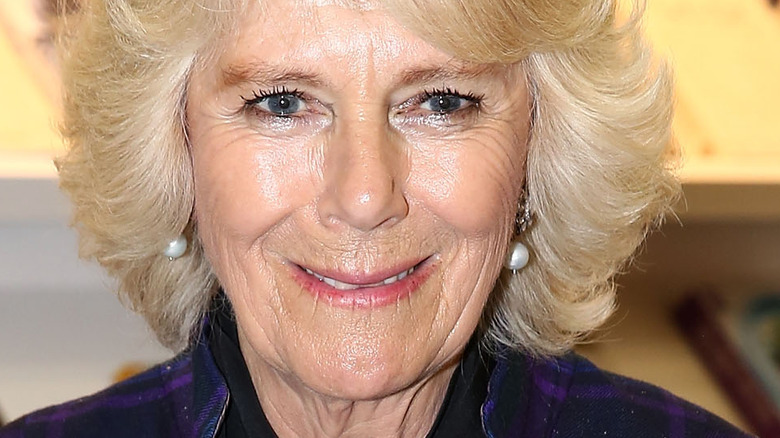 Tim P. Whitby/Getty Images
While Camilla Parker Bowles made a concerted effort to honor Queen Elizabeth II during her funeral at Westminster Abbey, before she was laid to rest at Windsor Castle, this isn't the first time that the queen consort paid tribute to the late monarch. During one of her initial outings in the days after the queen's passing, when she and King Charles III entered Buckingham Palace for the first time on September 9, Bowles donned a different diamond-encrusted broach that some speculate was a symbol of unity, per Page Six. 
Queen Consort Camilla also paid tribute to Queen Elizabeth II on September 14, during the processional ahead of her funeral on September 19. During the processional, which spanned from The Throne Room at the Palace of Holyroodhouse to St. Giles Castle, Bowles followed in a car, donning a chic, yet understated look of a black dress and hat. She accented the look with various pieces of jewelry, including a string of pearls; however, the star of the look was her diamond thistle brooch. According to Yahoo! Life, the queen gifted Bowles with the brooch, which originally belonged to Queen Elizabeth The Queen Mother. While the late queen regularly used brooches to accessorize her looks, the thistle is the national flower of Scotland, and a symbol of the place that the late queen loved.
Now that the queen has been laid to rest, Bowles' public obligation will likely increase, as will the interest in her fashions.