The Real Reason Harry And Meghan's Seats At The Queen's Funeral Were In The Second Row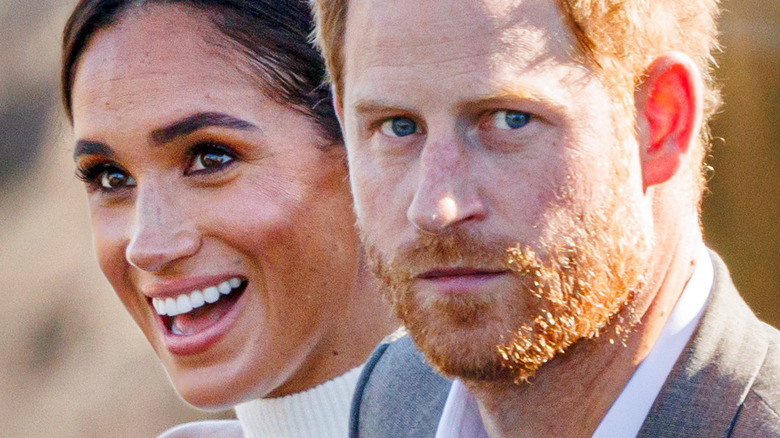 Patrick Van Katwijk/Getty Images
Prince Harry and Meghan Markle got the chance to reunite with the royal family upon Queen Elizabeth II's passing. The Duke and Duchess of Sussex made it a point to extend their stay in the U.K. to participate in the scheduled events during the period of mourning. From church services, to the funeral, the couple was notably present.
In Harry's statement in memory of the queen, he noted that he's "forever grateful for all of our first meetings—from my earliest childhood memories with you, to meeting you for the first time as my Commander-in-Chief, to the first moment you met my darling wife and hugged your beloved great-grandchildren." He said that his family would "sorely miss" the queen, which is indicative of the great relationship they had. Before she died, Queen Elizabeth II had been understanding of Harry and Meghan's decision to step down as senior royals, and while the couple's relationship with the rest of the royal family continued to sour, Harry reportedly kept in touch with his grandmother.
With the queen's death, Harry and Meghan lost one of their only allies in the family. Fans are looking forward to the possibility of them reconciling with everyone, but a friend close to the family told Yahoo! News that "behind the scenes, there hasn't been movement." Prince Harry is apparently waiting for his older brother to take "accountability," while Prince William is "still waiting" for his apology for airing out their family's dirty laundry. With the brothers' relationship at a standstill, people can't help but wonder if it was the reason why Prince Harry and Meghan had to sit in the second row at the queen's funeral.
The palace insists they didn't snub Prince Harry and Meghan Markle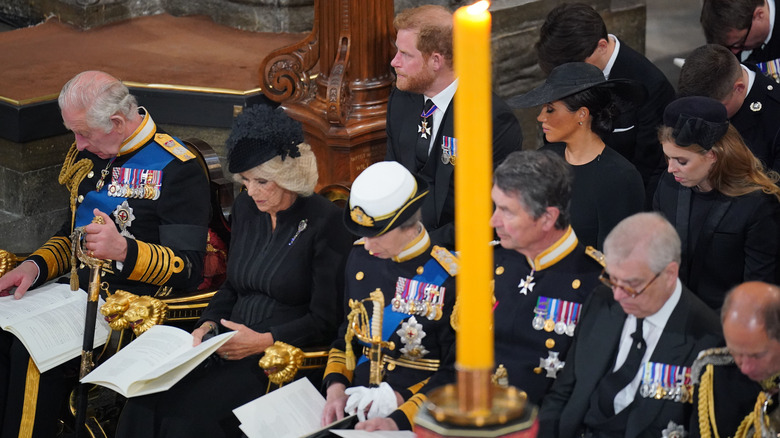 Wpa Pool/Getty Images
Fans were shocked upon seeing that Prince Harry and Meghan Markle were relegated to the second row during the queen's funeral. King Charles III and Queen Camilla were all stationed in the front row, along with Princess Anne and husband Sir Tim Laurence, Prince Andrew and Prince Edward, and Prince Edward's wife, Sophie. Rounding out the front row were William, Prince of Wales, Catherine, Princess of Wales, their two eldest children, Prince George and Princess Charlotte, and their cousins Peter Phillips and Zara Tindall.
Meanwhile, Hello! noted that Prince Harry was situated directly behind the king, and beside him was Meghan. They were joined by Princess Beatrice and Princess Eugenie, their mother, Sarah Ferguson, and their husbands, Edoardo Mapelli Mozzi and Jack Brooksbank. Prince Edward's children, Lady Louise Windsor and James, Viscount Severn, were also in the same row. Given this setup, many thought that both Harry and Meghan were snubbed, but Buckingham Palace claimed that the arrangement was based on age.
A source told the Daily Beast that Harry and Meghan's seats were not a slight to the couple. "The order was approximately age order but trying not to split families up," they noted. Aside from William, who's first in line to the throne, Peter and Zara were seated by age, given how they're 44 and 41, respectively. Meanwhile, Harry, who's 38, was seated in the second row, with Beatrice and Eugenie, who are 34 and 32 years of age respectively.
Prince Harry and Meghan Markle were uninvited to the state reception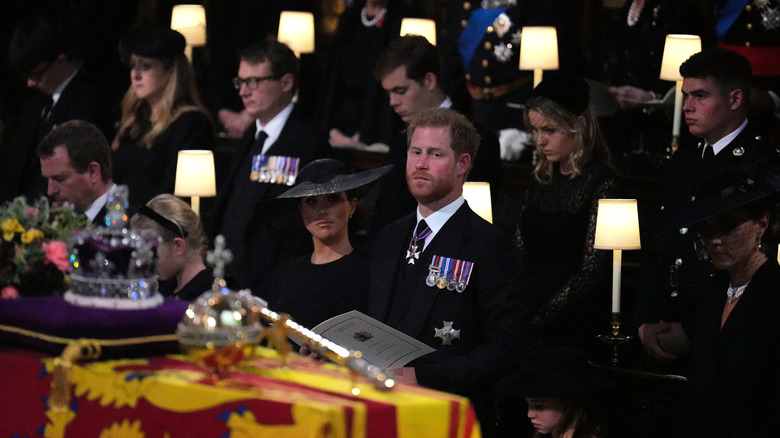 Wpa Pool/Getty Images
Prince Harry was in the middle of controversy throughout Queen Elizabeth II's mourning period, as there was much fuss about his attire. He was reportedly not permitted to wear his military uniform despite serving in the British Army for years, as he is no longer a working royal. King Charles III granted him permission to don the uniform at the queen's vigil, but during the funeral, he sported a morning suit along with his medals. There were also reports that, while he wore a military getup during the vigil, he didn't wear the queen's "ER" cipher that Prince William appeared to have.
"He is heartbroken," a source the Sunday Times of London (via Page Six). "To remove his grandmother's initials feels very intentional." However, a rep for the royal told the press not to worry about what he was wearing. "His decade of military service is not determined by the uniform he wears and we respectfully ask that focus remain on the life and legacy of Her Majesty Queen Elizabeth II," his statement read.
To make matters worse, he and Meghan Markle were also reportedly "uninvited" to the state reception at Buckingham Palace. Per People, they were initially asked to attend, but the palace did a 180 and said that the event was only "for working members of the royal family." A source close to the couple couldn't wrap their head around the decision, especially since it seemed like an important event. "It is beyond bonkers if they're not there," they told The Sunday Times. "Everyone is coming in from around the world to pay their respects to the Queen."