The Real Reason Queen Elizabeth Didn't Have An Open Casket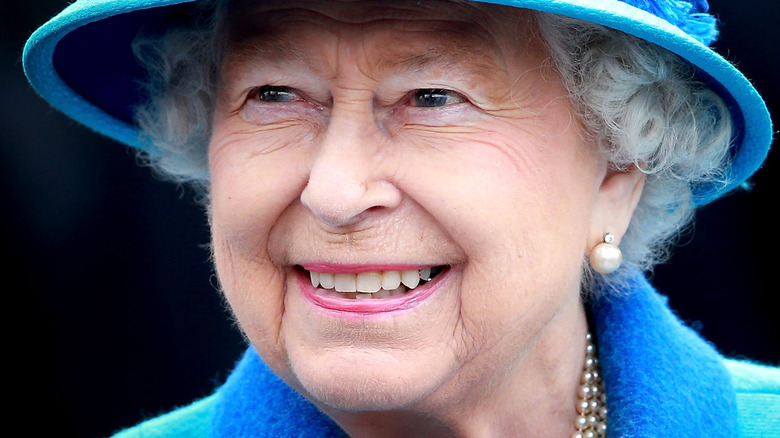 Chris Jackson/Getty Images
People from across the world mourned after the death of Queen Elizabeth II at the age of 96 on September 8. The longest-reigning monarch in British history died peacefully at Balmoral Castle, her summer residence in the Scottish Highlands. A 12-day period of national mourning ensued, leading up to Her Late Majesty's historic state funeral at Westminster Abbey in London, where she was also coronated and wed. Finally, on September 19, the queen was laid to rest at the King George VI Memorial Chapel during a private burial service, as confirmed by the Buckingham Palace. She was interred beside her husband of 73 years, Prince Philip, along with her father King George VI, mother Queen Elizabeth the Queen Mother, and sister Princess Margaret, per People.
During the week-long mourning period, tens of thousands of people flocked to London to pay their last respects to Queen Elizabeth II, including some famous faces: David Beckham, Susanna Reid, Holly Willoughby, Phillip Schofield, and Sharon Osbourne. Tears were shed as the queen's coffin — draped in the Royal Standard flag and bearing the Imperial State Crown — was driven in a somber procession through Scotland and through London. Many hoped to catch one final glimpse of the revered monarch, who has become quite the symbol and a cultural icon during her epic decades-long reign. But just like many royals before her, Queen Elizabeth II did not have an open casket during her funeral service. Here's why.
Queen Elizabeth II was buried in a specially designed coffin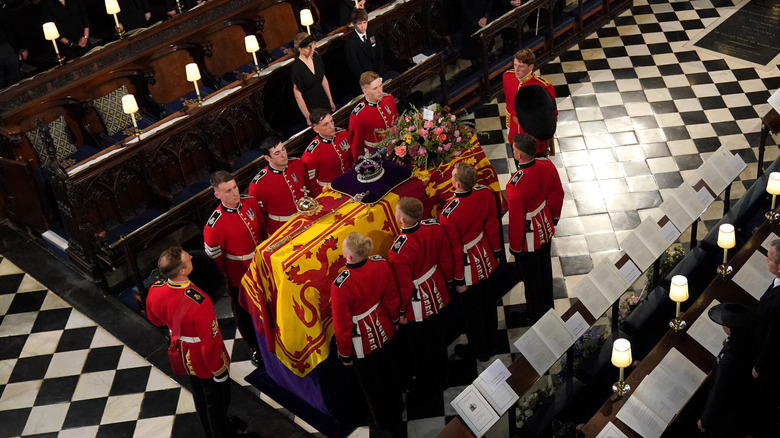 Wpa Pool/Getty Images
As is customary in British monarchy, Queen Elizabeth II did not have an open casket during her state funeral and committal service on September 19. This is because members of the royal family are typically buried in lead-lined coffins, which are to remain closed to prevent any moisture from getting in — and, in turn, help slow down the body's decomposition, per Mental Floss. As noted by the outlet, both Prince Philip and Princess Diana were also buried in similarly designed caskets, as were many royals before them, including Elizabeth I and Charles II, according to Westminster Abbey records.
Per The New York Times, plans for what happens next after the death of Queen Elizabeth II had long been set and decided by the monarch herself, together with the government, local authorities, and the news media. Codenamed the "Operation London Bridge", it ranged from succession plans down to the very small details of her burial service, including her choice of coffin, which was more than 30 years old and made of rare English oak. According to The Telegraph, the queen's casket was originally manufactured by the specialist firm Henry Smith, and was inherited by J.H. Kenyon before Leverton and Sons took responsibility in 1991. Speaking to The Times, the firm's Andrew Leverton said, "It is made from English oak, which is very difficult to get hold of ... It is not something you can just make in a day." Per Express, Her Late Majesty's coffin is estimated to weigh between around 500 and 700 pounds, and had to be carried by eight pallbearers instead of the normal six. 
What the flowers on her coffin meant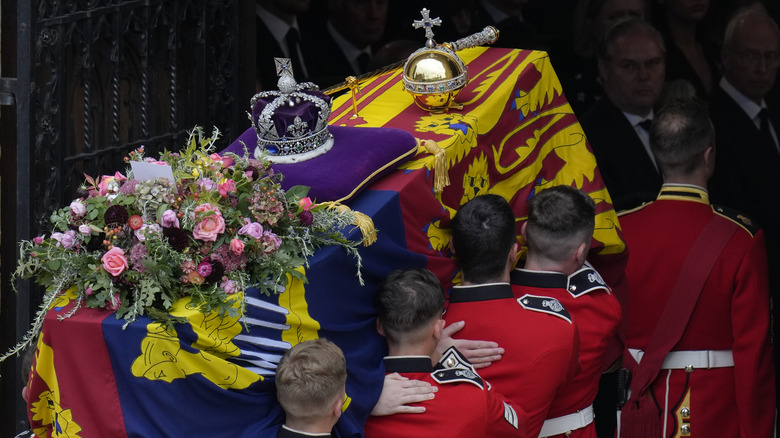 Wpa Pool/Getty Images
Aside from the Royal Standard flag and the Imperial State Crown, Her Late Majesty's coffin was adorned with other items from the royal family's crown jewels during her funeral service. Per Us Weekly, the Sovereign's Orb and the Sovereign's Sceptre with Cross — which were given to the queen during her coronation in 1953, when she ascended to the throne following the death of her father, King George VI — were also placed on top of her casket. (The jewels, of course, will be passed down to her eldest son now that King Charles III has succeeded to the throne.)
Special flower arrangements and a handwritten note from King Charles III were also seen sitting atop her coffin. Per the Mirror, the floral wreath was a sweet reference to her late husband, Prince Philip, as it contained the same sprig of flowers from their royal wedding back in 1947. In addition, the wreath also included flowers and foliage from the gardens of Buckingham Palace, Clarence House, and Highgrove House — rosemary for remembrance, English oak to symbolize the strength of love, and myrtle as a symbol of a happy marriage, per CNN. For the flowers: scented blooms, such as roses and dahlias, were included and chosen in colors to reflect the Royal Standard.
Tucked between the special floral arrangement was the handwritten note from King Charles III, which read, "In loving and devoted memory, Charles R." The "R" in his new signature means Rex, which is Latin for "king."