Tom Hardy Secretly Took Home A Gold Medal In This Intense Competition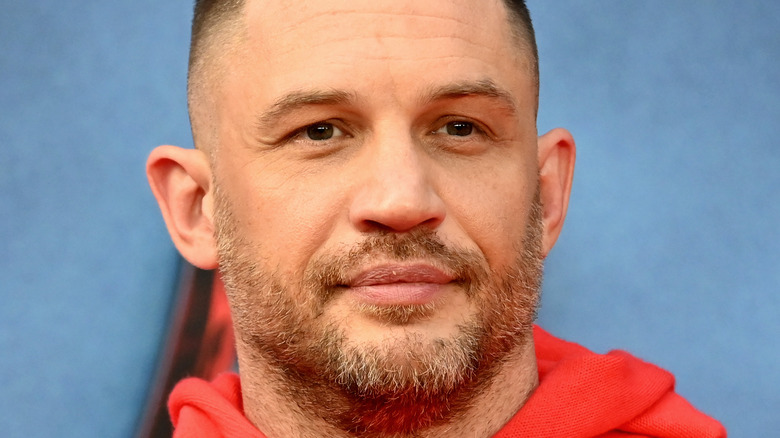 Dave J Hogan/Getty Images
British actor Tom Hardy once found himself on a path that could have ended in the type of failure that you don't come back from. In an interview with Esquire, Hardy spoke about his struggles with alcoholism and addiction. "I'm f***ing lucky to be here, to be honest," he said.
Hardy eventually got his life back on track, and now all he can seem to do is win. The streak started way back in 1998 when he won a modeling competition on "The Big Breakfast Show." At the time, he listed Gary Oldman as one of the actors he most looked up to — and he would go on to work with the star on a number of films, including "Tinker Tailor Soldier Spy" and "Lawless."
Another big win came when Hardy was cast alongside Oldman as the villain Bane in "The Dark Knight Rises," which wouldn't be the first time he portrayed an iconic comic book villain. In fact, he got to slip into the slimy skin of "Spider-Man" baddie Venom for three films centered on the sinister symbiote. But in real life, Hardy can boast being a true Hollywood hero — not only did he catch a moped thief, but he later reached out to the teen culprit in hopes that he, too, would decide to turn his life around, per Esquire. Hardy has also put a positive spin on his former fondness for getting into fights, and he earned some new hardware for his trophy shelf.
Tom Hardy is a jiu-jitsu champ
Tom Hardy's roles often call for him to brawl, whether he's breaking Batman's back in "The Dark Knight Rises" or bare-knuckle boxing in "Bronson." He confessed to Esquire that he once got in the type of fights that didn't involve a stunt coordinator, but said, "I don't get into fights anymore. Oh, I used to, back when I was a naughty boy ... But it's too dangerous now. There are too many real athletes out there, men who can do you real damage."
As it turns out, Hardy is one of those "real athletes." According to The Guardian, Hardy secretly competed in the 2022 Brazilian Jiu-Jitsu Open Championship, which was held in the U.K. city of Milton Keynes. He defeated every opponent he faced and won his division. "Everyone recognized him but he was very humble and was happy to take time out for people to take photographs with him," said a spokesperson for the event.
According to LADbible, Hardy — who is a blue belt — previously won a charity jiu-jitsu competition hosted by the nonprofit REORG. At that event, one of his opponents said that he submitted during their fight because he didn't want to end up with a broken arm. But when Hardy first started doing jiu-jitsu, it wasn't so that he could win competitions — per The Guardian, it was part of the prep for his role as a MMA fighter in the 2011 movie "Warrior."
Tom Hardy breaks his silence on jiu-jitsu win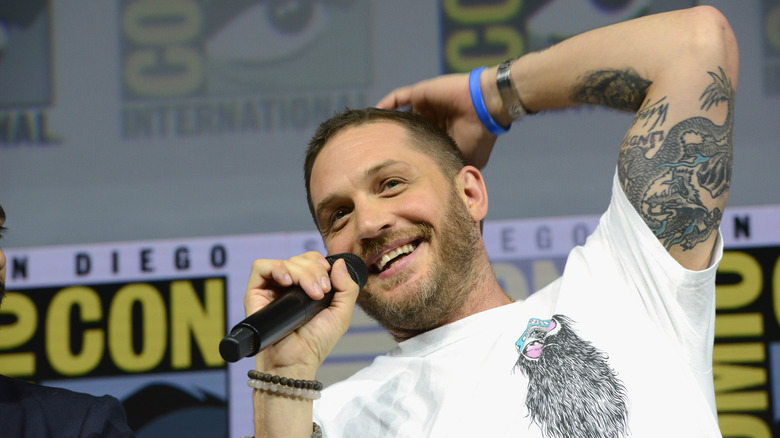 Albert L. Ortega/Getty Images
Shortly after news broke of his Brazilian Jiu-Jitsu Open Championship victory, Tom Hardy took to Instagram to open up about the win. The competition is more than just a surprising place for him to turn up — it's also a therapeutic outlet. The "Venom" actor shared, "Simple training, for me (as a hobby and a private love) has been fundamentally key to further develop a deeper sense of inner resilience, calm and well being. I can't stress the importance it has had and the impact on my life and my fellow teammates."
Hardy connected the hobby to his previous struggles, saying, "Addiction is difficult and complex stuff to navigate; as is mental health. Subjects which are both deeply personal for me and extremely close to my heart." He went on to highlight REORG, the nonprofit organization that teaches Brazilian jiu-jitsu to veterans with PTSD and disabilities as a therapy treatment. While Hardy has only ever played soldiers on camera, his own mental health journey has connected him to the charity's mission.
The competition may be over, but Hardy's jiu-jitsu journey is just getting started. Long fascinated by martial arts, his action-heavy upcoming movies will see him doing more stunt work. In preparation for the Netflix film "Havoc," he was doing an hour of jiu-jitsu training daily. In 2021, Hardy told Esquire he wanted to do "whatever [stunts] I'm not a liability for." By winning this championship, he's raised awareness of an important cause and revealed a cool hobby.