Olivia Wilde Finally Clears Up The Bizarre Harry Styles Spit Rumor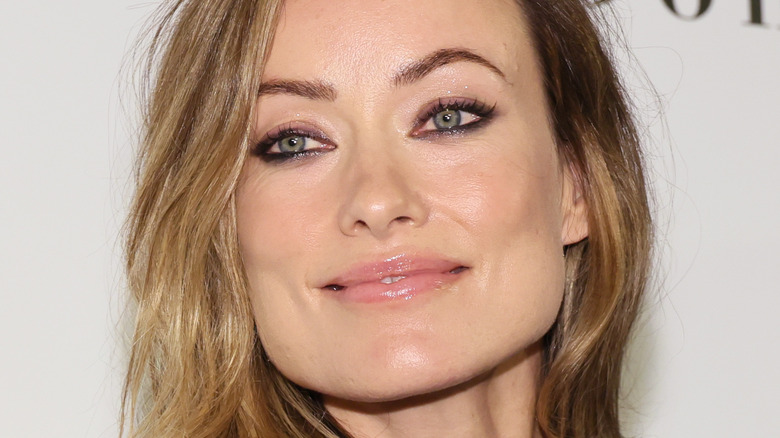 Dia Dipasupil/Getty Images
As people immediately recognized the tension among the "Don't Worry Darling" cast at the Venice Film Festival, the internet couldn't resist making a short moment go viral. It wasn't long until people caught on to a video of Harry Styles seemingly spitting on his co-star Chris Pine. As the former One Direction member was sitting down, his mouth was facing the "Star Trek" actor, and Pine's face made people speculate and even start a small debate on whether or not Styles spit on the actor.
Although the singer's team hasn't addressed anything about the rumor, Styles did make a small joke about it during a concert in New York City. He started his small speech by expressing his excitement to be back onstage. He then said, "I just popped very quickly to Venice to spit on Chris Pine," making a subtle jab at the viral moment.
The rumor even spread to "America's Got Talent" judge Simon Cowell, who's known for forming many successful music groups, including One Direction. "That doesn't sound like Harry," he said during a September 9 interview on "Jimmy Kimmel Live." "Harry's very polite and charming, he wouldn't do that." He added that maybe something just flew out of the "Watermelon Sugar" singer's mouth at that moment, but not intentionally. And now, it looks like the "spit-gate" rumors are being shut down by none other than the film's director (who also happens to be Styles' girlfriend).
Harry Styles did not spit on Chris Pine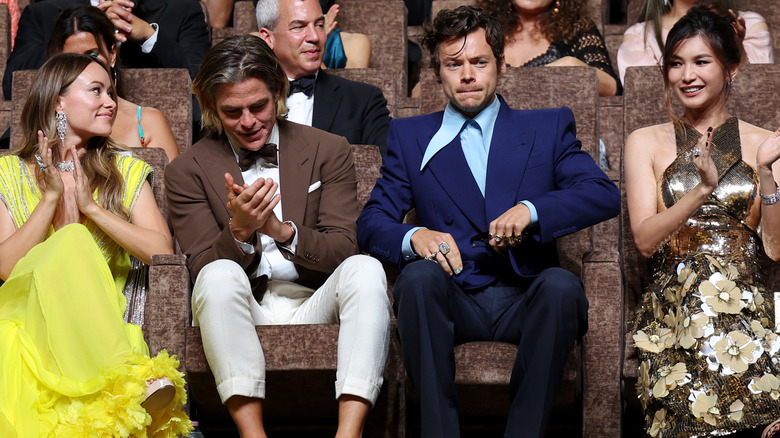 Vittorio Zunino Celotto/Getty Images
On September 6, People asked Chris Pine's rep about the rumor that Harry Styles spit on the actor. "Just to be clear, Harry Styles did not spit on Chris Pine," the actor's rep told the media outlet. "There is nothing but respect between these two men and any suggestion otherwise is a blatant attempt to create drama that simply does not exist." Pine's rep also called the story "ridiculous" and "fabricated," implying that the whole thing was just speculation that got blown out of proportion.
Olivia Wilde seems to agree with that. During a September 22 interview on "The Late Show with Stephen Colbert," the late night talk show host asked the director about the many rumors swirling around the cast. "Another one of our weird rumors, 'spit-gate,' which you might have heard about," the "House" actor responded. "Harry did not spit on Chris in fact." She also said that this is a case of people creating drama for clickbait, adding that Styles spitting is the version people want to see and believe to stir something up.
Just Jared pointed out a video that Ramin Setoodeh, the co-editor-in-chief at Variety, posted. It's the same moment, but filmed from a different angle. The media outlet mentioned that the singer's mouth is "not lined up" with Pine's lap, so if he did spit, it would've landed on the floor rather than on the actor.