Here's How Old Anne Hathaway Was When She Got Her Breakout Role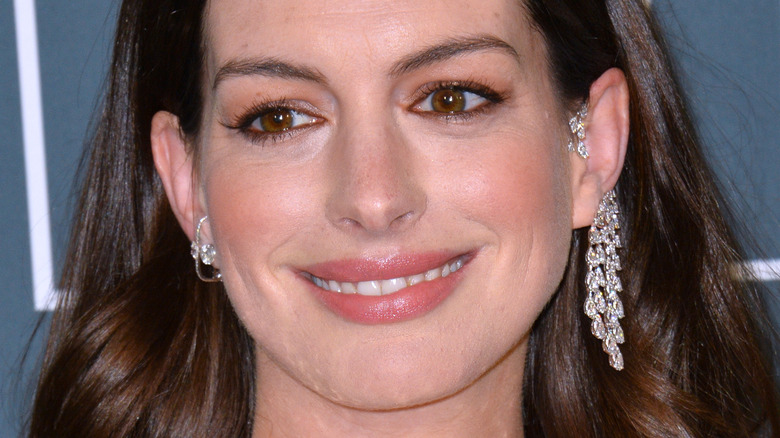 Featureflash Photo Agency/Shutterstock
It's hard to believe that it's been more than two decades since "The Princess Diaries" was released. The film that catapulted Anne Hathaway to superstardom became an unexpected hit, earning $165 million worldwide at the time of its release. And despite being a new actor, Hathaway managed to beat Hollywood heavyweights for the role, including Drew Barrymore, Brittany Murphy, and Kristen Dunst (via Us Weekly).
In 2021, upon the movie's 20th anniversary, Hathaway made sure to offer a little tribute to her royal roots. "Miracles happen," she wrote. "Happy 20th Birthday to #theprincessdiaries, AKA the film that launched a thousand sleep overs." She joked that the movie turned her into "a superstar to six-year-olds," for which she's eternally grateful. Hathaway knew from the get-go that the film would be a hit. "Getting the script, it just had that feeling," she told People in 2019. "I touched it, and it was electric." Starring in it was a "dream come true" for her, too. "Getting to make it and be on set every day, I got to hug Julie Andrews every day," she added. "That part was also very, very, very magical. Then it came out and it was received. That part even, by the way, was magical."
Hathaway has come a long way since playing Princess Mia Thermopolis — she even has an Oscar under her belt. And since she did a wonderful job on the film, people are sometimes surprised to find out that she was so young when she bagged the part.
Anne Hathaway was only 18 in The Princess Diaries
Anne Hathaway only had one other acting credit before clinching the lead role in "The Princess Diaries." Entertainment Tonight noted that she was merely 18 years old then, and she got the job thanks to director Garry Marshall's granddaughters.
"I show up [to the audition] and I looked around, there were so many other young actresses there, and I knew all of them. They were all recognizable. And here I am, this nobody walking in," Hathaway shared in her tribute to Marshall upon his death in 2016. "Garry showed the auditions to his granddaughters, Lily and Charlotte, and said, 'Which girl do you think should be the princess?' And Lily and Charlotte said that I should be the princess. And he said, 'That girl's name is Annie. Why do you think she should be the princess?' And they said, "Because she's got the best princess hair.'" She also said that she never got to do a screen test and that her audition tape had been enough for Disney to hire her.
Even though Hathaway insisted that she had "no idea what [she] was doing" at the time, Julie Andrews says otherwise. "The surprise with Annie was that she didn't need anything from any of us," the award-winning actor told Today in 2004. "She has great instincts, good talent, she's beautiful. She has this ability to do humor, comedy, very well. So other than actually honing her craft and learning from the doing, she has it all."
Will there be a Princess Diaries 3?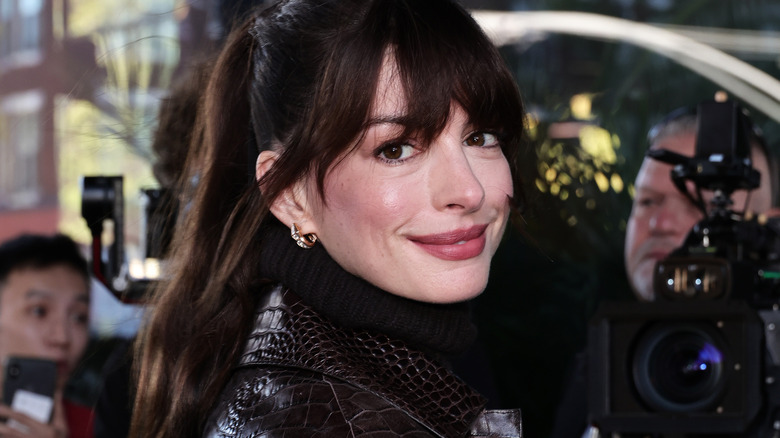 Jamie Mccarthy/Getty Images
"The Princess Diaries" series is so universally loved that fans are still holding out to hope that there will be a third installment. Before he passed, director Garry Marshall expressed interest in a third film, saying he had even discussed it with Anne Hathaway. "I was with Anne Hathaway a couple weeks ago, it looks like we want to do Princess Diaries 3 in Manhattan," he told People in 2016. "Anne Hathaway is very pregnant, so we have to wait until she has the baby and then I think we're going to do it."
Hathaway also let it casually slip that there's already a script in the works. "There is a script for the third movie," Hathaway dished during an appearance on "Watch What Happens Live with Andy Cohen" in 2019. "I want to do it, Julie want to do it, Debra Martin Chase our producer wants to do it. We all really want it to happen, it's just we don't want to do it unless it's perfect."
Meanwhile, Andrews thinks she might be too old for it, but she hasn't closing any doors. "I don't know, I think I'm the one — she's probably still ok for it, but I might just be a little too old a granny for it," she told Entertainment Tonight in June. "It depends what the story is, and if they can come up with something, that would be wonderful, but if not, there will be other things."