What Really Happened Between Sandra Bullock And Matthew McConaughey?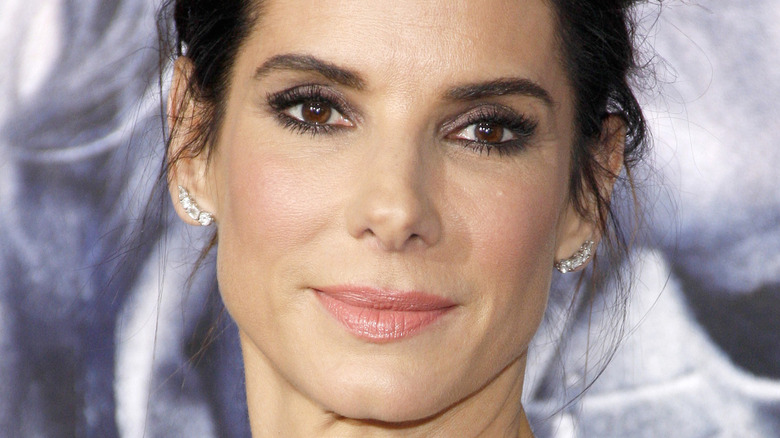 Tinseltown/Shutterstock
Sandra Bullock has had her fair share of ups and downs when it comes to her love life. The actor, who is best known for her roles in "Miss Congeniality" and "Bird Box," was seemingly living her best life when her marriage to reality star and West Coast Choppers founder Jesse James was rocked with a cheating scandal in 2010. The pair ended up getting divorced, and James admitted to the allegations many years later, telling the Daily Mail, "Yeah, I did cheat on my wife. ... In general, both women and men cheat. It's part of life." (Big yikes.)
Fortunately, even after going through a scandalous divorce, Bullock did not lose all hope for love and started dating photographer Bryan Randall in 2015. According to People, the two met when Bullock hired Randall to capture her son's birthday party earlier that year. (Bullock has two children, Louis and Laila, who are both adopted.) "I found the love of my life," Bullock said of Randall on "Red Table Talk" in 2021. "We share two beautiful children — three children, his older daughter. It's the best thing ever."
That being said, Randall and James aren't the only two men in Bullock's quite complicated relationship history. Throughout her decades-long career, Bullock has been linked to a slew of high-profile folks, including Tate Donovan, Bob Schneider, Ryan Gosling, and even Chris Evans. Perhaps her most famous ex, though? Matthew McConaughey, with whom Bullock co-starred in the blockbuster film "A Time To Kill" in 1996. 
Sandra Bullock and Matthew McConaughey had an ultra low-key relationship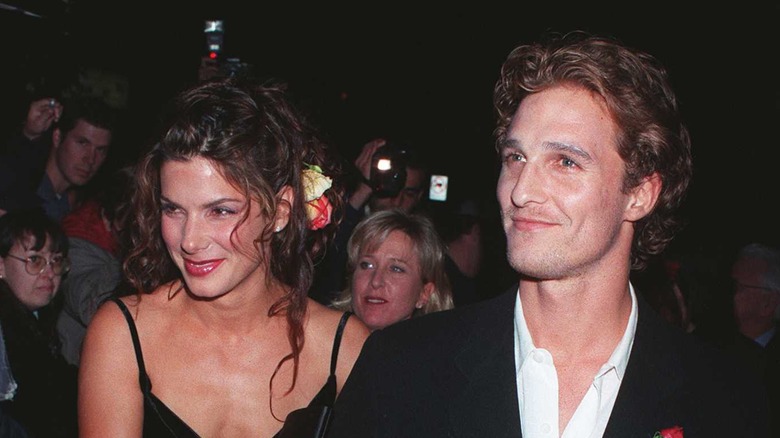 Denny Keeler/Getty Images
There appeared to be an immediate spark between Sandra Bullock and Matthew McConaughey when they worked together in "A Time to Kill." Per Who's Dated Who, the two started dating shortly after the Joel Schumacher film was released in 1996. They lasted for more than a year, although in true Bullock and McConaughey style, they had mostly kept their relationship away from Hollywood's prying eyes. Bullock even flat-out denied having romantic ties with McConaughey initially and insisted they were "just friends." That said, she has gushed about McConaughey in interviews, once describing the actor as someone who's "become a powerful force in my life," per People. McConaughey, for his part, has also never kept his admiration for Bullock a secret, previously telling InStyle (via MagForWomen), "I just look at her and I think, 'Wow!'" 
Nevertheless, Bullock wasn't the only actor with whom McConaughey shared an instant chemistry on the set of "A Time to Kill." According to Pop Sugar, McConaughey also fell for their co-star Ashley Judd, who played his wife in the said legal drama, and the two had a brief fling. In a chat with Entertainment Weekly, McConaughey suggested that he developed a crush on Bullock while he and Judd were still seeing each other. "Yeah, yeah, she's one of a kind," the actor said of Bullock. 
Are Sandra Bullock and Matthew McConaughey friends?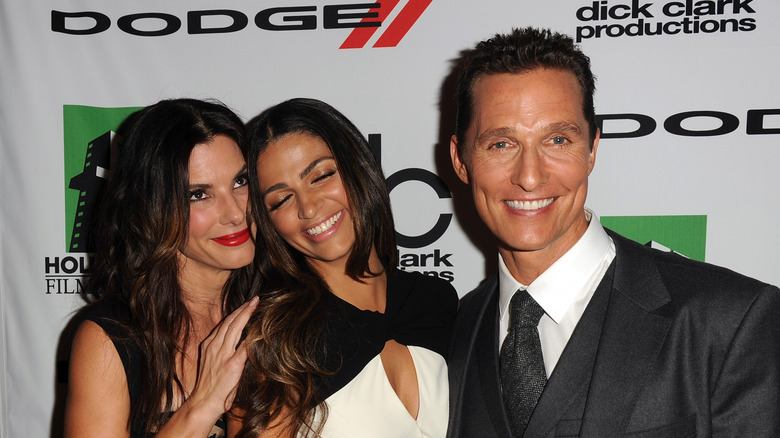 Kevin Winter/hfa2013/Getty Images
Sandra Bullock and Matthew McConaughey have remained great friends over the years since they parted ways in 1998. In an interview with Cosmopolitan in 2003, Bullock shared how she and McConaughey manage to have a good relationship despite their romantic past. "It's the work we both put in. There's a great amount of respect and love," said the actor. She then added that she feels "very cared for" by McConaughey. "No matter where he is in his life or where I am in mine — he could be married — I know we would stay close." 
And indeed they have. In 2013, Bullock joined McConaughey and his wife Camila Alves for a red carpet photo op at the annual Hollywood Film Awards. As seen above, Bullock and Alves were a picture of gal pals, as they cozied up to one another next to McConaughey, who was all smiles. This sweet exchange took place just several months before McConaughey — along with Bullock's other famous leading men, Hugh Grant and Keanu Reeves — presented the Decade of Hotness Award to the "Ocean's 8" star at Spike TV's Guys Choice Awards in 2014.
"I've worked with you, I've tried to kiss you — successfully and unsuccessfully. I've been directed by you in a short film and also to the exit door of many bars," jested McConaughey in his speech. "So Sandy, here is to your decade of hotness. I'm proud to say that I knew you the decade before."