John Cena Just Set The Most Heartwarming Record Of All Time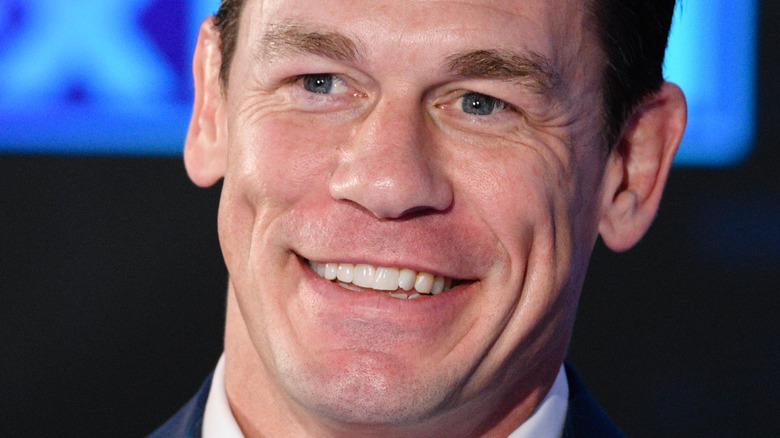 Noel Vasquez/Getty Images
Sadly, it's not every day we here at Nicki Swift get to report some good news, but it seems like we can always count on John Cena to bring in the good vibes. If there's one thing we know about this wrestling legend turned movie star, he's all about giving back and has repeatedly made his fans' dreams come true with sweet meetings.
Case and point? Back in June, when the "F9" star met with a non-verbal teenage fan named Misha Rohozhyn, who also has Down syndrome who had been forced to fled his home country of Ukraine due to the conflict with Russia. In adorable video shared by WWE showed Cena meeting up with the fan in Amsterdam, who had been told by his mother that they were leaving so they could go on an adventure to meet the WWE legend. The two shared a few adorable hugs and Cena even presented Rohozhyn with a t-shirt emblazoned with the slogan, "Respect. Never Give Up. Earn it." Cena reshared the sweet video on Twitter, writing, "What a wonderful way to spend a Saturday. Misha and his mother, Liana define #NeverGiveUp."
But that's hardly the first time Cena has proven what a heart of gold he has. In just one of a slew of sweet moments, he also had us in tears back in 2020 when "Today" shared a video on Instagram that showed him visiting the home of a 7-year-old fan who had stage four cancer on his birthday.
John Cena has granted the Make-A-Wish Foundation's most wishes
In addition to those two heartwarming moments, John Cena has actually met up with hundreds upon hundreds of fans over the years, many through the Make-A-Wish Foundation which grants wishes to children with serious illnesses. Guinness World Records confirmed that Cena has now officially granted more wishes than anyone else ever via the charity, stepping up to make special memories a whopping record 650 times. Not only that, but Cena is also the most requested celebrity for those involved with the non-profit — which is probably no surprise!
Cena's dedication is not only admirable but also incredibly consistent. It was only in 2015, that the WWE celebrated the star granting 500 wishes via the Make-A-Wish foundation, sharing a compilation video of some of the sweetest moments he shared with fans.
Cena spoke out about his love for the charity on "The Drew Barrymore Show" back in January, telling the "E.T." star, "The reason I love Make-A-Wish so much is because those are those families' wishes. You can do anything you want, and Make-A-Wish's list is enormous, they literally will do anything you want. 'I want to kick it with John Cena and go see him wrestle.' That is the coolest thing I have ever heard in my life. But all things considered, I love all that, I love that joy." Never change, Cena. Never change.