How The Queen's Funeral Showed The World A Glimpse Into Kate Middleton's True Parenting Style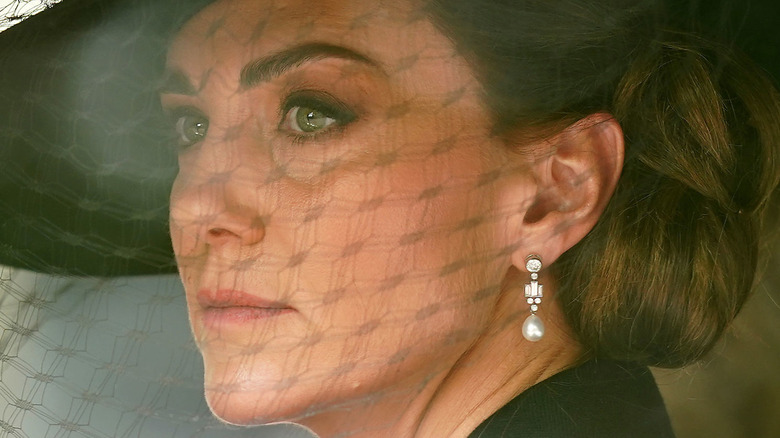 Wpa Pool/Getty Images
The funeral of Queen Elizabeth II, who died at age 96 on September 8, was obviously a big deal — not just for her immediate family, but for England and the world. Its massive television ratings attest to this, with Deadline reporting 37.5 million U.K. viewers watching, and an estimated worldwide audience of around 4 billion. That's a big funeral!
Of course, the royal family didn't have to watch the ceremony on television, as they were there in person, many in the front row — which means that the television audience was watching them too. Right in front were the queen's children: King Charles, Princess Anne, Prince Edward, and Prince Andrew, along with their respective spouses. Prince William and Princess Catherine also sat in front, while Prince Harry and Meghan Markle were relegated to the second row. Two of the queen's young great-grandchildren were in the front row with their parents: Catherine's children Prince George and Princess Charlotte, who are ages 9 and 7. Kate and Harry's youngest child, 4-year-old Prince Louis, wasn't in attendance, per The U.S. Sun. With Elizabeth's death, King Charles dubbed Prince William "Prince of Wales" and his direct heir, which makes Catherine "Princess of Wales" and their children, who were formerly princes and princess "of Cambridge," are now princes and princess "of Wales." This also makes Prince George next in line for the throne after William, per the royal website. Sorry Harry, you're fifth in line, after Charlotte and Louis.
With the whole royal family on display, people naturally had their opinions, including thoughts about Kate's expertise as a mother.
People were impressed with the young royals' behavior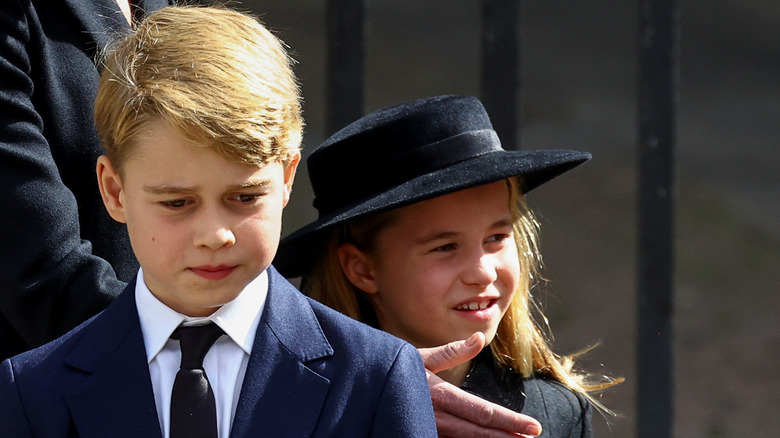 Wpa Pool/Getty Images
Many people were impressed with Prince George and Princess Charlotte's behavior. "They looked like really incredibly well-behaved kids," former Olympian Mark Tewksbury told People, noting that it was probably overwhelming for them. Parenting expert Gifty Enright agreed, telling The U.S. Sun the kids' behavior was "impeccable." This, of course, reflects well on parents Prince William and Kate Middleton.
"They intuitively understood how important it would be for the children to be included," Enright said, calling the decision "a masterstroke." She also liked how Princess Catherine comforted her children during the ceremony with a gentle touch. "This again was Kate showing how confident and intuitive she is as a mother," Enright said. "Rather than shielding the children from the realities of life, she exposes them to it, but puts strategies in place to support them." This, said Enright, is how children build resilience, and prepares these particular children for a life surrounded by ceremony and service, one played out in the public eye. "There is no better training for the job ahead than attending their [great-]grandmother's funeral at such a young age with the full glare of the world's media on them."
Non-experts were impressed too. "i'm so incredibly proud of prince george and princess charlotte," one royal-watcher tweeted. "They handled today with the respect and maturity beyond their years." At a photo of Catherine's hand on Charlotte's back, another tweeted, "That's a good mama right there!" But not everyone felt they should have been there in the first place.
Not everyone thinks the children should have attended the funeral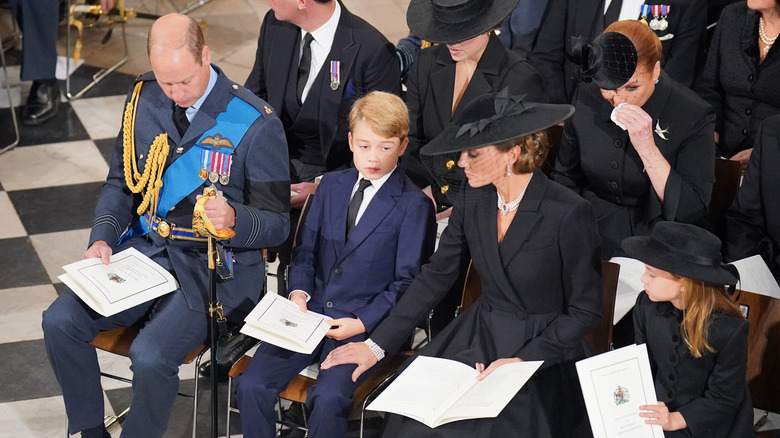 Wpa Pool/Getty Images
Given the public scrutiny, many felt the children should not have attended the funeral, often comparing it to Princess Diana's funeral in 1997. One person tweeted, "Has William learned nothing from his mothers funeral?" At the time, Prince William was 15 and Harry was 12. One tweeter even anticipated the response to this criticism, saying, "Waiting for the British Media to line up all of these child 'experts' who will insist this is perfectly fine, in order to justify their money shots...."
And yes, experts and non-experts both weighed in. "Part of life! They will be fine!" one tweeter responded, while another wrote, "Trust the parents' judgement." Historian David Starkey mentioned the stark differences between the situations, telling GB News, "This is not a dramatic tragedy, this is something that is in the course of human life." Psychiatry professor Susan Rees told Yahoo News Australia, "The literature is clear that if children are well prepared for a funeral, they know what to anticipate and what to expect, and they have a lot of support around them, they are okay with attending a funeral."
Parenting expert Gifty Enright agreed, telling The U.S. Sun, "It would have been a shame to rob [the children] of sharing their personal grief with others who loved [Elizabeth] just as much by excluding them from the funeral." Even the decision to leave 4-year-old Prince Louis at home showed how "the Prince and Princess of Wales [are] very astute when it comes to their parenting."