Eli Manning's Undercover Character Has Fans Going Wild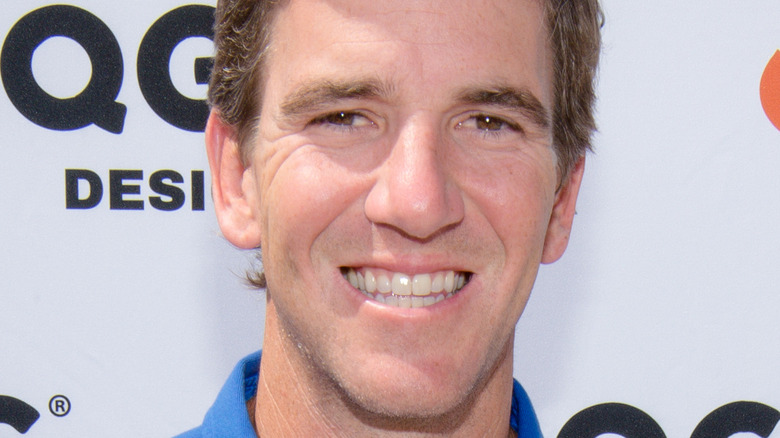 Marcus Ingram/Getty Images
Football may be serious — and uber profitable — business. But sometimes amid the grueling training, tense games, and intense fan support, are moments that allow for a bit of levity. Often, flat out laughter. During these times, it's always nice to see serious athletes let loose and lean into their humorous side. One football star who, in addition to once being the highest paid football player in the NFL, per Insider, is also not not afraid to go for the laugh is Eli Manning. Over Manning's 16-season career with the New York Giants, which concluded in 2020, he's proven to have quite the comedic streak. 
In 2021, Eli traded dad jokes with former Giants center Shaun O'Hara. During his turn, Eli shaded Tom Brady. "What is Tom Brady's favorite wine?" he asked, pausing a beat before continuing, "I can't beat the Giants!" As Yardbarker points out, the dig references that fact that two of the three Super Bowl losses Brady endured were against the Giants. Then there was the time that Eli channeled Shakira, when he mocked Dak Prescott's on-field hip motion, while chatting with his big brother, Peyton Manning. While demonstrating the move, Eli joked that it was about "creating torque" to "open up the hip," before finishing with, "These hips don't lie. I'm like Shakira," per SportsCenter. 
Much to his fans' delight, Manning is back with his comedic antics, which has caused social media to go wild.
Eli Manning goes undercover as a college football hopeful
At 41, Eli Manning's college days are long behind him. At least, they were. However, the two-time Super Bowl champion recently headed to Penn State University to try out for its football program, unbeknownst to the players and most of the staff. Disguised under prosthetic makeup and a (really horrible) wig, the decorated athlete posed as Chad Powers, a homeschooled player with plenty of potential, but questionable social skills. During the 15-minute video, which has since racked up over eight million views on YouTube, Manning flagrantly boasts about his own talent. "Chad Powers, you ain't seen nothing like him. Not just good looking, I can throw it baby," said the football star. "Chad, Chad, Chad. That's what they're going to be calling in Penn State stadium." Ultimately, Manning didn't make it to the next round despite impressing both the students and the coaches, but he did get the satisfaction of tearing off his makeup and revealing his true identity at the end. 
Since the video has made rounds on social media, fans have shared their delighted reactions. Sports writer Kendall Baker tweeted the video, which has accumulated over 220,00 likes and 23,000 retweets. "The Manning bros are next level funny since they hung up their cleats," wrote one Twitter user. Another simply tweeted, "Gold." Manning even earned himself a new fan, with one user tweeting, "Hate how much I can't hate Eli Manning anymore. The dude is absolutely hilarious."