Eyebrow-Raising Claims Emerge About Olivia Wilde And Florence Pugh's Rumored Feud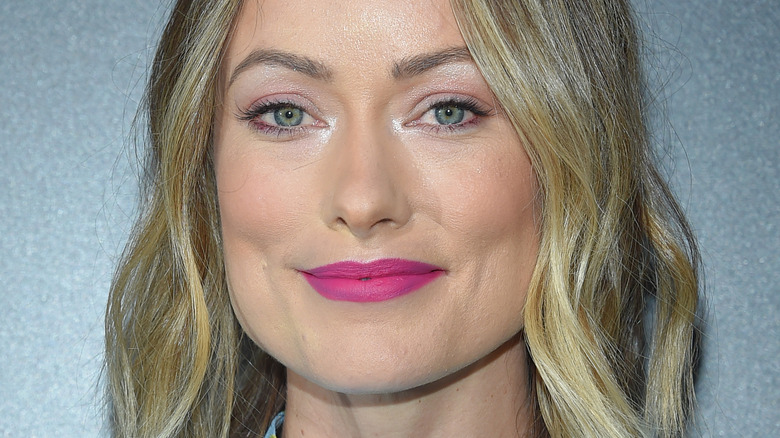 DFree/Shutterstock
It is "Don't Worry Darling" Release Day, but the psychological thriller's drama started a long time ago. From the Shia LaBeouf firing controversy to reported tensions between Florence Pugh and director Olivia Wilde, the offscreen story may be as interesting as the one crafted for the big screen. After the second trailer for the film debuted in July, the Internet went abuzz about Pugh supposedly taking issue with Wilde's on-set PDA with boyfriend (and costar) Harry Styles. As sources claimed to Page Six, Pugh felt uncomfortable around the two, given rumors that an affair with Styles caused the demise of Wilde's relationship with ex-fiancé Jason Sudeikis. 
After a video shared by LaBeouf in August showed Wilde referring to Pugh as "Miss Flo" and suggesting she needed "a wake up call," the feud rumors intensified. Although Pugh did attend the Venice Film Festival world premiere of "Don't Worry Darling," she skipped its press conference, supposedly because of her hectic schedule shooting "Dune: Part Two," per the Independent. However, an Instagram video posted by stylist Rebecca Corbin-Murray showed the "Midsommar" star looking anything but hectic in Venice, strutting in head-to-toe Valentino with an Aperol spritz in hand. As a fan commented on the vid, via Independent, "Florence Pugh is literally me because I too would ditch the awkward press conference to drink Aperol spritz."
After Pugh noticeably missed the New York premiere of the film, shocking additional reports have surfaced from the set of the high-profile flick. 
Olivia Wilde and Florence Pugh reportedly had a verbal altercation filming Don't Worry Darling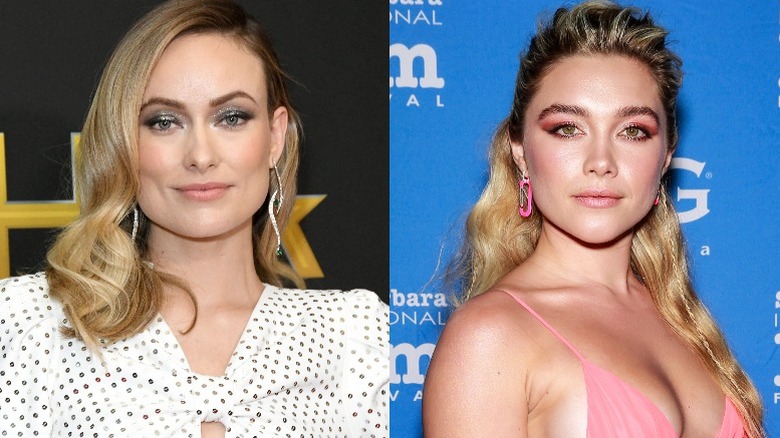 Quinn Jeffrey & Ovidiu Hrubaru/Shutterstock
The Olivia Wilde-slash-Florence Pugh feud may have manifested in an actual altercation at one point. According to an anonymous Vulture insider, who was reportedly a regular presence on the set of "Don't Worry Darling," the two women had a "screaming match" on-set in January 2021, when the film was three-quarters of the way into shooting. The alleged verbal argument didn't come out of nowhere, the source said, claiming that Pugh had grown annoyed with how Wilde and beau Harry Styles "would just disappear" mid-shoot. Tensions reportedly reached the point where Warner Bros. executive, Toby Emmerich, was forced to play the role of mediator between Pugh and Wilde. According to the source, there was a "long negotiation process" in which Emmerich secured Pugh's cooperation in promoting the film.
Amidst all this drama, Pugh steered clear of mentioning Wilde on her social media, including Instagram posts promoting "Don't Worry Darling." In two back-to-back posts on September 23 (the film's opening day), Pugh discussed her general experience filming the thriller and thanked fans for supporting it. "To all of you who helped make this, your dedication and love was seen daily — thank you," Pugh wrote in one post, neglecting to name Wilde, its director and costar, or any other cast member for that matter. In this and the subsequent upload, Pugh shared photo carousels of cast and crew hard at work ... with Wilde nowhere to be seen. Icy.