Who Is Brooke Shields' Husband, Chris Henchy?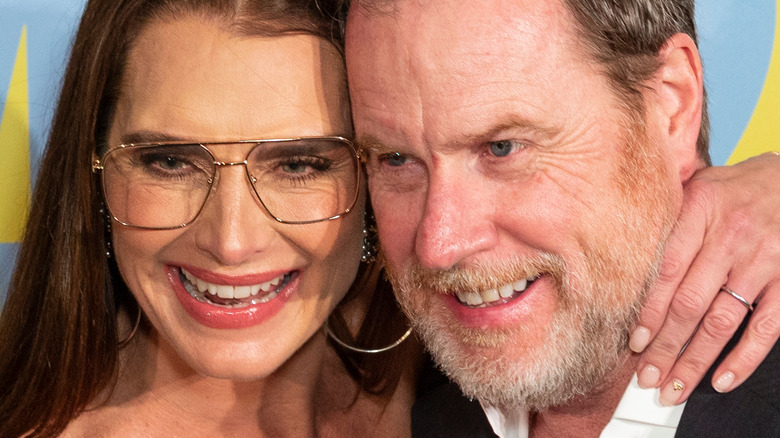 lev radin/Shutterstock
Brooke Shields survived childhood stardom after appearing in "Pretty Baby" and "The Blue Lagoon" — movies with mature themes. She simultaneously modeled while continuing to pursue an acting career, and her famous Calvin Klein ad helped ensure that she would be the caliber of celebrity whose love life would fascinate the public.
Shields told Rolling Stone she had to turn down multiple marriage proposals from her good pal Michael Jackson, and she lost her virginity to "Lois & Clark: The New Adventures of Superman" star Dean Cain, per The Guardian. Her other famous beaus included singer George Michael and actor Liam Neeson, but tennis star Andre Agassi was the first man to put a ring on it. Agassi and Shields' two-year marriage ended in 1999, after Shields learned that Agassi had been secretly struggling with an addiction to crystal meth. In a 2013 appearance on "Today" (via TV Guide), Shields revealed that there was some animosity on Agassi's part during their divorce. "He — quote, unquote — did say to me, 'Be happy that we don't have children or I would not have made this easy for you,'" she recalled.
The marriage was a learning experience. "I think I got out pretty unscathed," Shields told The Guardian. "Yet I also think I couldn't have even been with my [now] husband had I not been in that relationship with Andre." She went on to have kids with husband No. 2, Chris Henchy, after meeting him in a very Hollywood way.
Brooke Shields and Chris Henchy's meetcute inspired a sitcom
Chris Henchy is a producer, writer, and director, but he and Brooke Shields weren't working on the same project when they met. In her book "Down Came the Rain," Shields recounts how her dog, Darla, decided to go exploring when she brought the canine with her to the Warner Bros. lot. "Chris brought her back. He was writing for a show filmed on the lot and loved dogs," she recalled. "He chatted and he made me laugh."
When Henchy and Shields crossed paths again weeks later, a friendship developed, and that eventually blossomed into a full-fledged romance. After getting married in 2001, the pair set their sights on starting a family ASAP. "Knowing we wanted children helped us decide we wanted to be married," Shields told People. The couple had to turn to in vitro fertilization to accomplish this goal, undergoing seven rounds of IVF and mourning a miscarriage before their first daughter, Rowan, was born in 2003.
That same year, the short-lived sitcom "I'm With Her" premiered on ABC. It was created by Henchy and inspired by his relationship with Shields. But on the show, a teacher meets an actor after her dog bites him. Describing how art imitated life, Henchy told Deseret News, "It's the world of going into a restaurant with her and getting the best table and then showing up three days later with your buddies and sitting waiting an hour and sitting by the kitchen."
The role Chris Henchy's daughters played in his directorial debut
When he first started pursuing a career in comedy, Chris Henchy also worked on Wall Street. "I was not good," he told The Second City of his financial acumen. He eventually landed a gig writing for "The Larry Sanders Show," and its creator, Garry Shandling, invited him to a celebrity basketball game that would change his life. There he connected with Will Ferrell and reconnected with Adam McKay, whom he had previously met in the writer's room for a "Scooby-Doo" film, per Screenwriting Magazine. The comedy trio would later collaborate on the HBO series "Eastbound & Down" and create the Funny or Die website. Eva Longoria said it was Henchy who convinced her to film a viral fake sex tape for the latter, per The Oklahoman.
Henchy's producing credits include the sitcom "Spin City" and the movies "Get Hard" and "The Other Guys." However, as of this writing, he has directed just one feature film: "Impractical Jokers: The Movie." His daughters, Rowan and Grier, were watching the "Impractical Jokers" reality series when he was first introduced to it. "I watched two minutes and then four episodes later, I had to go upstairs," Henchy told SIlive.com. His familiarity with the show helped him connect with the cast when the opportunity to potentially direct the movie came along. While explaining to Movieweb why Henchy got the job, cast member Joe Gatto said, "He got the show. He understood our dynamic."