How Sarah Ferguson Really Lost So Much Money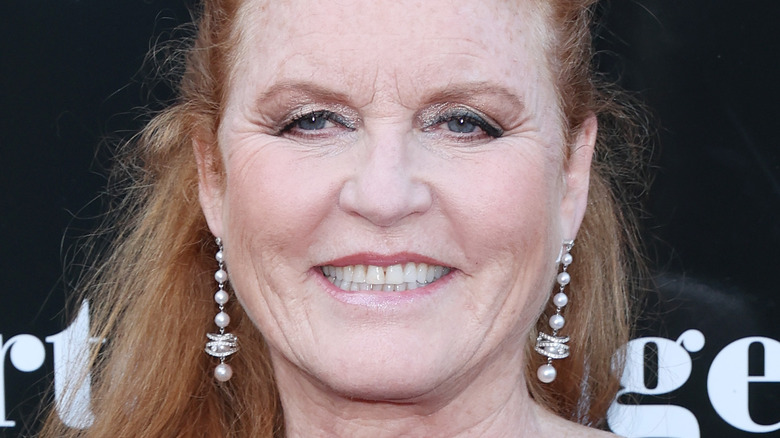 Daniele Venturelli/Getty Images
As Notorious B.I.G., Sean "Puff Daddy" Combs and Mase once waxed poetic, "Mo money, mo problems."
Some might argue that Sarah Ferguson, the Duchess of York's life reads more like a cautionary tale than a fairy tale. The story goes that Ferguson was swept off her feet by Prince Andrew in 1985 after receiving an invitation to Royal Ascot at Princess Diana's behest. (Think: princess by day, matchmaker by night.) Per The Week, the young royal couple wed in 1986 and welcome two little princesses of their own: Beatrice in 1988 and Eugenie in 1990. Alas, their love story did not end happily ever after. In 1992 the pair legally separated amid rampant allegations that Ferguson had been unfaithful and by 1996 Prince Andrew and Ferguson were officially divorced. Sadly, however, the separation and subsequent divorce would prove to be only the beginning of a series of unfortunate events in Ferguson's life. 
It was widely reported in 2010 that the duchess was on the verge of filing for bankruptcy — a first for any member of the royal family. But how did the duchess lose so much money including her divorce settlement and earnings as a spokesperson for Weight Watchers? The answer just might surprise you.
Sarah Ferguson's Hartmoor proved to be a financial nightmare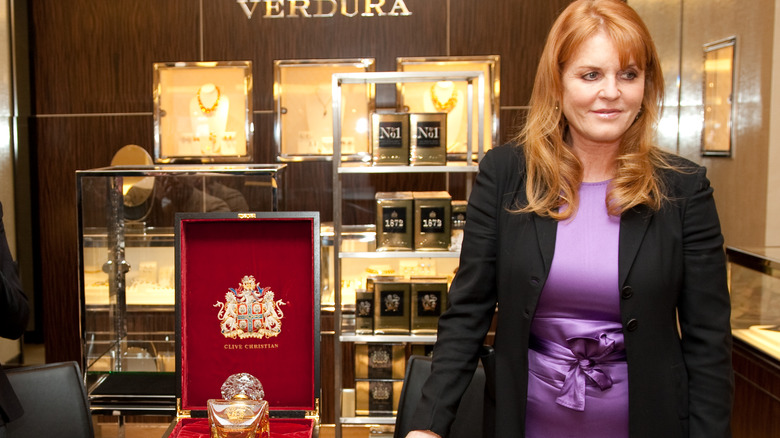 Annette Brown/Getty Images
Hartmoor broke Sarah Ferguson's heart and burned through her wallet.
Ferguson told Hello magazine in 2009 that it was her lifestyle and wellness brand that left her "teetering on the edge of bankruptcy," (via Royal Musings). "I put all my money into Hartmoor, my American lifestyle company, everything I earned from the 'Young Victoria' film [as producer] and my 'Little Red' books and I lost it all," she revealed. Sadly, however, the calculated risk didn't pay off. "I could write a really interesting book about finance for women, and the first bit of advice I would give is never sign away your intellectual property. You won't have any control over your own life. That's what happened to me," she confessed (via ABC News).
Still, Ferguson was adamant that while she had been down, she certainly wasn't out. "I'm not broke, I'm not going bankrupt, nor am I giving up," she declared. And as for her investors? The duchess promised that she would take care of them as well. "I am out of the woods now and I won't let down the people who invested in me." And while it appears Ferguson did eventually make good on all of her outstanding debt, how she paid them off would come into question as well.
Jeffrey Epstein helped Sarah Ferguson with her outstanding debt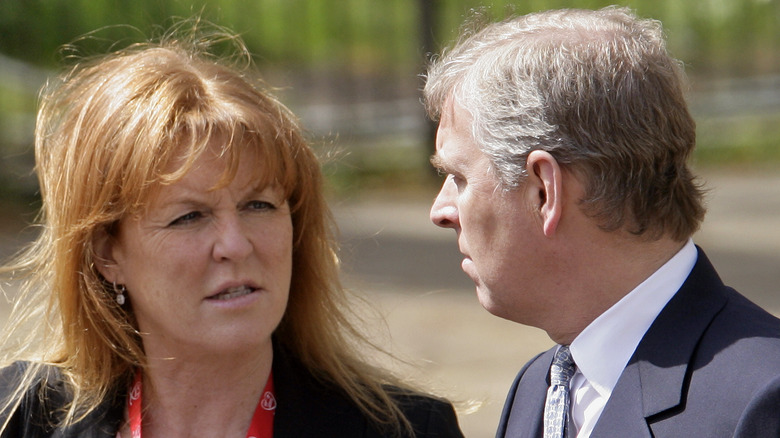 Max Mumby/indigo/Getty Images
All roads lead back to convicted sex offender Jeffrey Epstein.
As reported by The Telegraph in 2011, it was Epstein who helped dig Sarah Ferguson out of the financial hole she found herself in... to the tune of £15,000 or roughly $24,000. As one can imagine, that particular decision proved to be one that would come back to haunt the duchess. "I personally, on behalf of myself, deeply regret that Jeffrey Epstein became involved in any way with me. I abhor pedophilia and any sexual abuse of children and know that this was a gigantic error of judgment on my behalf. I am just so contrite I cannot say," Ferguson told the Evening Standard in 2011 (via Daily News). "Whenever I can I will repay the money and will have nothing ever to do with Jeffrey Epstein ever again," she vowed. Alas, Epstein did manage to rear his ugly head in Ferguson's life yet again. In April 2015, it was her ex-husband's dealings with Jeffrey Epstein that would cast a dark shadow over the entire royal family. As a result, Prince Andrew was stripped of his military titles and royal patronages. 
As the old proverb goes, "if you lie down with dogs, you will get up with fleas."