Coolio's Last Words To Vanilla Ice Are Unforgettable Now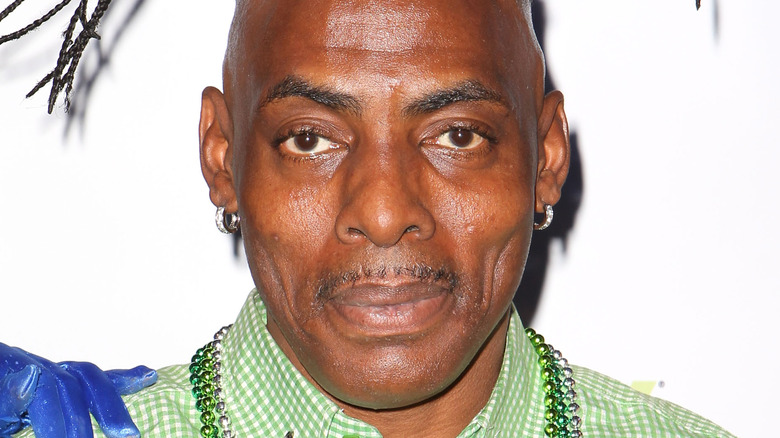 Jeff R. Bottari/Getty Images
Some of the biggest music stars of the '90s are mourning the loss of Coolio, who tragically died on September 29. The hip-hop star was just 59 years old and still performing, per TMZ, so his death came as a shock to many.
N.W.A. member Ice Cube was among the chorus of hip-hop stars who paid tribute to Coolio on Twitter. "This is sad news. I witness first hand this man's grind to the top of the industry. Rest In Peace," he wrote. "Coolio was the West Coast Flavor Flav, He loved telling everyone that," tweeted Flavor Flav. "We was supposed to perform together this Tuesday. RIP my friend." As for "It Takes Two" hitmaker Rob Base, he offered his Instagram followers a look back at some of the memories he made with Coolio in the form of a slideshow set to the late singer's smash hit "Gangsta's Paradise." His caption read, "Can't believe you are gone. Dealing with death has always been hard for me now I know it doesn't get easier."
Base and Coolio were among the large group of rotating entertainers who teamed up for "The I Love the '90's" tour, with TMZ reporting that Coolio's final performance was at the tour's stop in Cypress, Texas, on September 23. The other acts that took the stage during the concert included Color Me Badd, Young MC, and Vanilla Ice, who has revealed Coolio's unforgettable last words to him.
Coolio was expecting to see Vanilla Ice again soon
Vanilla Ice reacted to the news of Coolio's death on Instagram, writing, "IM GOING TO MISS YOU BROTHER. You where the coolest." The "Ice Ice Baby" singer also spoke to TMZ about the sad news, revealing that he suffered a sleepless night over the loss. He recalled that Coolio appeared perfectly fine when they had a friendly chat after their concert. But before they parted ways, Coolio uttered the last words he would ever say to Vanilla Ice: "See you tomorrow, homie."
Before Vanilla Ice and Coolio became tourmates, there were some interesting parallels between the lives of the men responsible for two of the '90s tunes that once dominated so many radio stations' rotations. For one thing, they both appeared in reality series centered on their non-musical hobbies: Vanilla Ice renovated homes on "The Vanilla Ice Project," and Coolio whipped up tasty dishes on "Cookin' with Coolio." One Twitter user also noted that there's a random Amish connection between the singers in the form of Weird Al's parody song "Amish Paradise" and the reality series "Vanilla Ice Goes Amish."
In 2016, Coolio was supposed to join Vanilla Ice in Dallas for a '90s-themed music event, but according to the Dallas Observer, he got detained at the airport because he had a loaded, stolen weapon in his luggage. Instead of worrying about potential felonies, he assured fans that he'd soon be dropping dope melodies in a future concert with Vanilla Ice.