Is Julia Roberts' Smile Really Insured For $30 Million?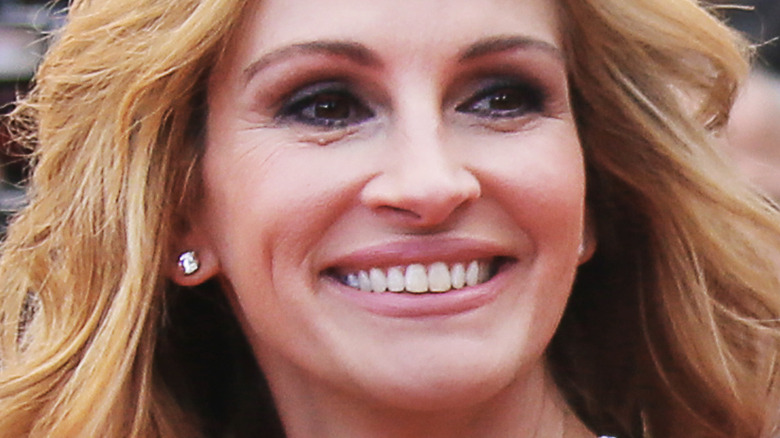 Denis Makarenko/Shutterstock
Celebrities love to talk about their "money-makers." For those whose appearance is inextricably tied up with their personal brand and social value, it's important to invest in and protect their looks. According to ABC News, Dolly Parton insured her famous breasts for $600,000, and while Kim Kardashian has long been rumored to have insured her most famous asset, there are no confirmed reports of a policy placed on her butt. However, following her Paris robbery, Kardashian's bodyguard was sued for failing to protect her — to the tune of $6.1 million, according to The Sun. 
Needless to say, it's not just celebrities' bank accounts that hold a lot of wealth ... but their literal bodies, too. For someone as multi-talented as Julia Roberts, it's hard to pinpoint what her most valuable asset would be. According to The Numbers, movies in which Roberts has played a leading role have grossed nearly four trillion dollars in the worldwide box office. She's also served as an executive producer on two films, which brought in around $160 million. 
Needless to say, Roberts is a highly valuable person to have on you team. And, if her acting and producing chops weren't enough, many point to her sparkling smile as a money-maker, leading some to wonder if it could be insured. 
Julia Roberts denied smile insurance rumors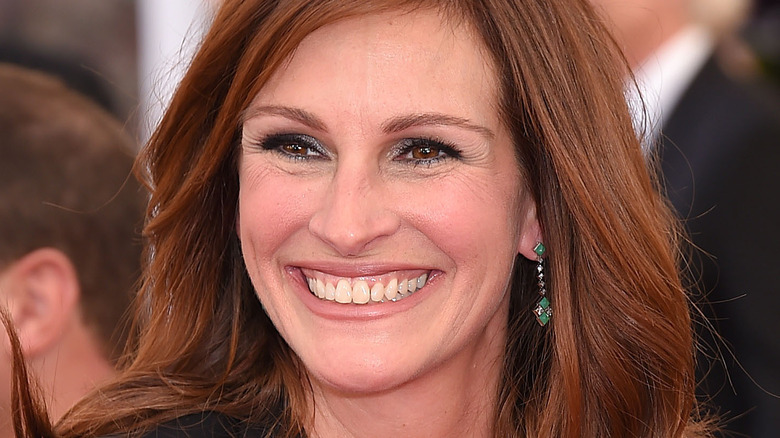 DFree/Shutterstock
Julia Roberts' glowing smile has long been rumored to be insured. Back in 2014, Parade reported that the actor's pearly whites were protected by a $30 million policy, alongside claims that Mariah Carey's legs were insured for $1 billion. While Elle also shared reports of Carey's pricey gams (citing a slightly more reasonable $40 million), allegations of Roberts' smile insurance were largely unsubstantiated. 
Despite a lack of evidence, outlets like Beauty Haven continued to share the news as recently as 2020. It's unsurprising that many are so willing to buy into the idea. On Twitter, fans affectionately refer to Roberts and her "million dollar smile." Another wrote, "i used to have the baddest crush on julia roberts. that smile is something else."  
Although the value of her smile is widely agreed upon, Roberts has since laid the insurance rumors to rest. In an interview with The New York Times, she addressed the allegations with her signature humor. "I mean, if my smile was insured, there would be someone at my house on a nightly basis saying, 'You need to floss longer.'"
Julia Roberts has many beauty secrets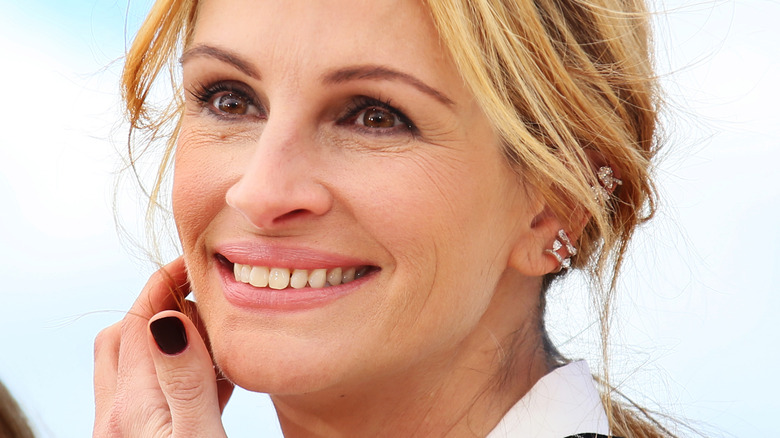 Denis Makarenko/Shutterstock
It's been nearly 20 years since the release of "Mona Lisa Smile," but Julia Roberts continues to exhibit a beauty worthy of a painting. Now in her mid-50s, Roberts has defied the path of many aging Hollywood celebs, opting to stay natural. As she told You Magazine (via The Telegraph), she took "a big risk" in not getting a face-lift. 
A lack of smile insurance or facial surgery doesn't mean that Roberts doesn't invest in her looks, however. The actor is an ambassador for Lancôme, a luxury makeup and skincare brand. She also partakes in healthy habits, which no doubt influence her ageless appearance. "We definitely try to eat mindfully," she told the Toronto Sun, speaking of her family's meals. "You have to eat the good stuff to get the good stuff." 
Perhaps the biggest influence on preserving her pearly whites was quitting smoking. In 2004, she expressed her frustrations to Oprah Winfrey about magazines reporting where she likes to buy her cigarettes. "I get aggravated, because I don't smoke," she said.