What Jennifer Hudson Was Doing Before American Idol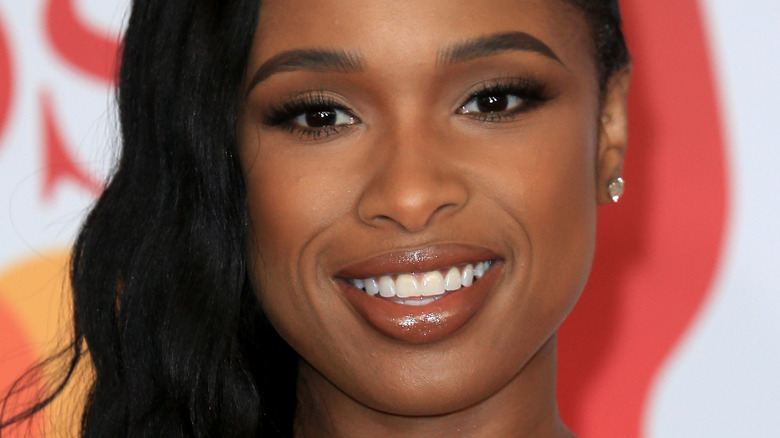 Fred Duval/Shutterstock
Jennifer Hudson is a top-tier Hollywood performer who became known in the industry by competing on "American Idol." Hudson first auditioned for the show when she was only 21. As she was gearing up to sing at the audition, "Idol" judge Randy Jackson asked Hudson if she thought she had what it takes to become the next winner of "Idol." Hudson simply responded, "Yes, I do," before belting out an impressive rendition of a classic song by Aretha Franklin, "Share Your Love with Me."
Jackson eventually stopped Hudson during the performance to compliment her vocal skills. "Brilliant. Absolutely brilliant," Jackson said. "The best singer I've heard so far." Jackson and fellow judges Paula Abdul and Simon Cowell all voted in favor of Hudson making it through to the next round of the show. But, despite a string of solid performances, Hudson was eliminated, coming in seventh place, per ScreenRant. Hudson then spoke to MTV about her send-off, which the news outlet wrote had been considered one of "the most shocking in 'American Idol' history." The singer was asked about theories as to why she was sent home, to which Hudson said, "Nobody knows what really happened, but I feel like whatever it is, it was meant to be." However, prior to "Idol," Hudson was singing in a much different setting.
Jennifer Hudson sang on a Disney cruise ship before American Idol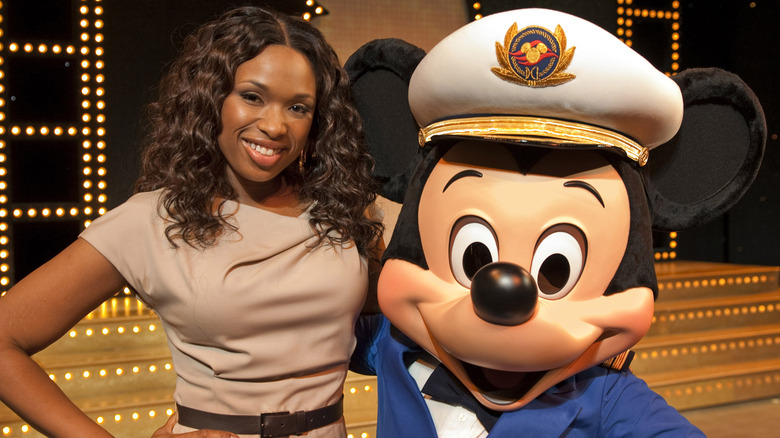 Handout/Getty Images
Leading up to her rise to fame, Jennifer Hudson was the singer for a cruise ship. Billboard reported on the subject in 2014, when Hudson was set to return to her roots and perform for the Carnival Live cruise show. "I used to work on a cruise ship, a long time ago," Hudson said at a Carnival Cruise Lines press conference. "That's what I did before I did 'American Idol.'" The acclaimed entertainer also said that she believes her job as a cruise ship singer got her ready to make a strong impression as an "Idol" contestant as she called this gig her "test." Hudson auditioned for the reality show only two days later, which kickstarted her thriving career. 
In 2015, Hudson opened up to W Magazine about her time singing on the cruise ship. She stated it was a Disney cruise, and Hudson played Calliope for "Hercules: The Muse-ical." In addition, Hudson performed "The Circle of Life" during the cruise. "That was the last time I was on stage doing theater," Hudson said. The multi-talented star not only sang for the cruise ship, but she also performed choreography and narrated the production. This credit on Hudson's résumé later ended up earning her a breakthrough acting role.
Jennifer Hudson's past prepared her for a life-changing opportunity
Jennifer Hudson's previous job as a cruise ship singer later helped her score one of her biggest roles to date. During her 2015 interview with W Magazine, Hudson explained that performing in a Disney cruise production was a contributing factor when securing the role of Effie White in "Dreamgirls." "It's part of how I got 'Dreamgirls' because they took that as an acting credit," Hudson said. This proved to be a huge part for Hudson, who later won the 2007 Academy Award for Best Supporting Actress for her performance, per Playbill. 
Former "American Idol" judge Simon Cowell sat down with Hudson on her talk show, the "Jennifer Hudson Show," to discuss her "Idol" elimination. The TV personality cited the track Hudson performed the week she was sent home — "Weekend in New England" by Barry Manilow — as the primary factor behind her being voted off the show. "I remember thinking, 'This is not a great song.' It wasn't your fault," Cowell said. Hudson then shared that she would not have changed her song choice, as this was another experience that prepared her for "Dreamgirls." "Barry Manilow structured that song as if it was 'And I Am Telling You,' and a lot of people thought that's what I was singing," Hudson said. In addition, the star detailed how she maintained her drive to succeed after "Idol," saying, "I kept that goal in mind, and I didn't give up."