The Meaning Behind Jennifer Lopez's Unique Nickname For Her Kids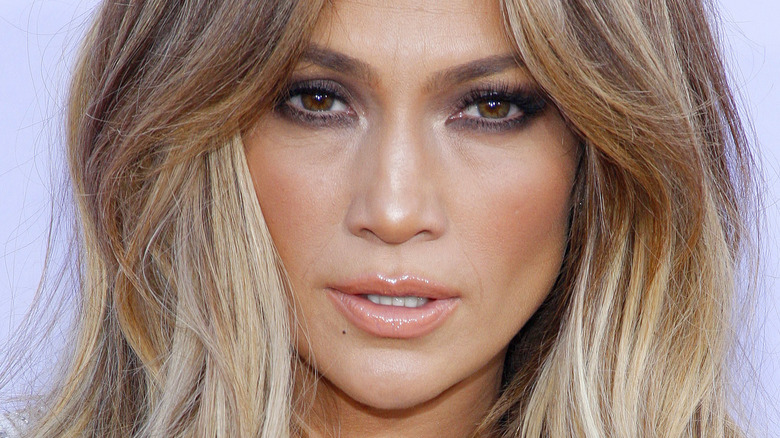 Tinseltown/Shutterstock
If you're a fan of Jennifer Lopez (or have even ever seen one of her adorable family Instagram posts) you may already know that she's a fan of a nickname. Of course, this star has gone by JLo for decades now, but she's also bestowed the honor of a cute moniker on her nearest and dearest, including her kids and the partners.
During Lopez's days with Alex Rodriguez, he earned himself a sweet pet name. Prior to their 2021 split, Lopez would often refer to the baseball legend in her Instagram posts about his as "macho bello," which means in Spanish, "beautiful male." Though the star wiped her account of pretty much any memory involving her ex-fiancé when they announced their breakup, PopSugar reported she described him in one of her uploads, "Macho bello cono." As for his nickname for her? Bronx! Lopez revealed that during a 2019 interview with "The Breakfast Club," confirming Rodriguez first saved her name in his phone as that when they started dating as a nod to her New York roots.
But now we know how JLo used to refer to A-Rod, what about her kids? You may know that Lopez likes to sweetly refer to her twins as "Coconuts" — and we know why.
Why Jennifer Lopez calls her twins Coconuts
Ever wondered why Jennifer Lopez refers to her and Marc Anthony's children as Coconuts? Well, the star dished on how the adorable moniker stuck during a February appearance on "Live with Kelly and Ryan," as she recalled the cute reason she came up with the nickname for Max and Emme. "I call them coconuts because, obviously, they're twins. There are two of them. And when they were in the crib, they were very, very little [and] their hair looked like coconut hair. You know, on a coconut. So I used to call them coconuts, and it just stuck," she revealed. Even though her babies being small enough to fit in a crib was a few years ago now, it turns out Lopez still calls them Coconuts to this day. "I think that they like it. I like to think that they like it. It's cute," she shared. Cute it sure is!
The "Marry Me" star previously dished on the adorable nickname in 2012, admitting on "The Tonight Show with Jay Leno" that it even inspired some custom jewelry. "They are my Coconuts," she told Leno, who asked where the nickname originated. "That comes from when they were little and in their cribs and started growing hair, it looked just like a coconut to me, they both look like coconuts," she shared. "I have this beautiful necklace which was given to me at Christmas, there are two coconuts and their initials on it." Aww!
Jennifer Lopez's kids will always be her Coconuts
It looks like Jennifer Lopez's twins will always be her little coconuts, as the star hasn't refrained from using the nickname no matter how old her children get. Back in February, she celebrated Max and Emme's 14th birthday with an adorable video shared to Instagram in which used that super cute moniker once again. "So this is 14!!!! My babies, my sunshine, my loves. Happiest of birthdays to my two coconuts #MaxAndLulu," she wrote, in part, in the caption, alongside two coconut emoji. "You have taught me the true meaning of life and have changed me forever in the most amazing way...I am so grateful for you both!!!" JLo added, also using the hashtag #HappyBirthdayCoconuts.
Prior to that, Lopez posted two adorable throwback photos on Instagram in November 2021 that showed her reading a book to her twins when they were younger. Writing in the caption, she told her followers, "Miss these moments ... #Cocos" alongside two coconut emoji. How sweet!