The Sweet Code Name Alex Rodriguez Used For Jennifer Lopez In His Phone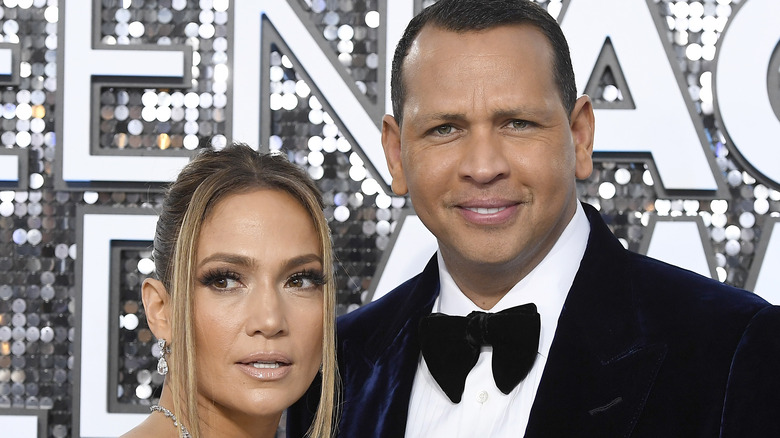 Frazer Harrison/Getty Images
It's no secret that Jennifer Lopez and Alex Rodriguez didn't exactly ride off into the sunset together. The once happy couple split in April 2021 after hitting a very widely reported rocky patchy in their romance (who could forget those rumors A-Rod may have made a bit of a faux pas involving "Southern Charm" star Madison LeCroy?), parting ways after around four years of dating, including two years of engagement. "We have realized we are better as friends and look forward to remaining so. We will continue to work together and support each other on our shared businesses and projects," the couple told "Today" in a statement. "We wish the best for each other and one another's children. Out of respect for them, the only other comment we have to say is thank you to everyone who has sent kind words and support."
Before that, though, there's no doubting the superstar singer/actor and the baseball legend had pretty much everyone interested in their romance, so it's no wonder they were constantly being hounded by the paparazzi every time they stepped out the door. Heck, the paps were even on their tails as they rode their bikes around their neighborhood! So with all that intense media attention came a few tricks to getting a little privacy, including A-Rod using a pseudonym for his then lady love in his phone.
Alex Rodriguez called Jennifer Lopez 'Bronx'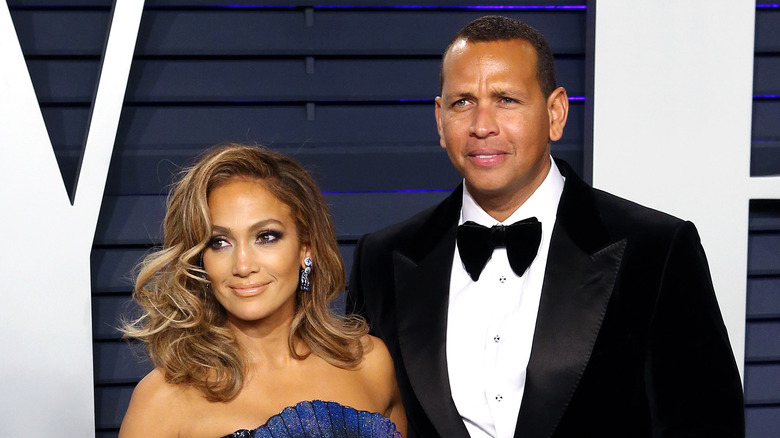 Joe Seer/Shutterstock
To borrow a line from Jennifer Lopez's hit "Jenny From The Block," "South side Bronx, from the Bronx!" Lopez's beloved hometown name checked in her signature song was actually the sweet pseudonym Alex Rodriguez chose for his then lady love, giving a sweet nod to her New York City roots. Lopez made the confession during a 2019 interview with "The Breakfast Club" as she opened up about how she used to speak with a very heavy Latinx/Bronx accent when her career was just starting out, something she barely even recognizes in herself now when watching old videos. But it seemed like Rodriguez always found it endearing, as she revealed he first entered her name in his phone as "Bronx" but later changed it to something a little more romantic like wifey.
So, now we know A-Rod had a sentimental nickname for Lopez, did she have one back? Well, it certainly seems like it. The "Marry Me" star often gushed about her then fiancé in various sweet Instagram posts (which have since been deleted) and would regularly call him by the nickname "macho bello." The words translate from Spanish to mean, "beautiful male." How cute! JLo used the phrase a few times across social media, per PopSugar, including in June 2017 when she commented on a headshot he posted to Instagram, "Macho bello cono," before later captioning a photo of herself and her man on the red carpet, "Me and my macho bello..."
Alex Rodriguez also called JLo his 'dream date'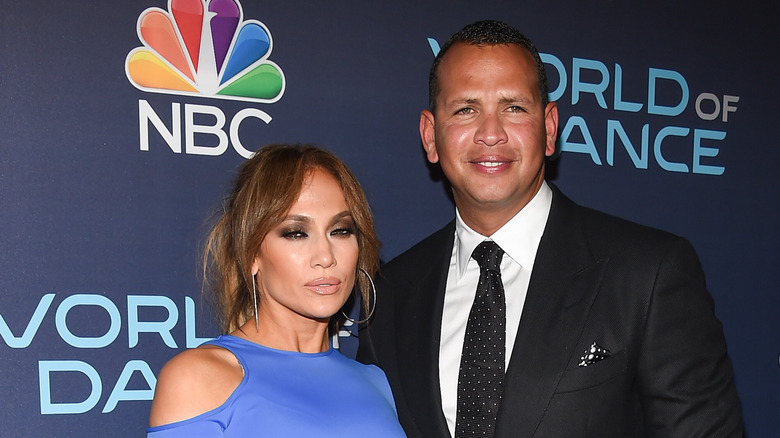 DFree/Shutterstock
It turns out "Bronx" wasn't the only thing Alex Rodriguez ever called his former fiancée Jennifer Lopez, as he also said something pretty adorable about her years before they ever got together... and then broke up. All the way back in 1998, A-Rod described Lopez as his "Dream Date" when asked by a MLB Network's "Intentional Talk" reporter what his ideal date night would look like. "Hopefully you can find me a date with her!" he quipped at the time. "The Tonight Show Starring Jimmy Fallon" resurfaced the clip over two decades later and played it to him during a November 2019 appearance, to which A-Rod gushed, "That means that dreams actually do come true in America."
Rodriguez later shared the unearthed clip on his Instagram account (though seems to have now removed it), which inspired a sweet interaction between the now defunct couple. He captioned it, "I just had a feeling," per Oprah Daily, to which Lopez commented, "OMG... i love this too much." A-Rod then responded, "When you know, you know."
That's all just a tad awkward now, as we know both have very publicly moved on from their romance. Lopez, of course, went on to reconnect with her former love Ben Affleck and the two tied the knot in Vegas in July, while Rodriguez started dating Kathryne Padgett, but it was reported the two split in September.