The Heartbreaking Story Behind Jon Hamm's Rehab Stay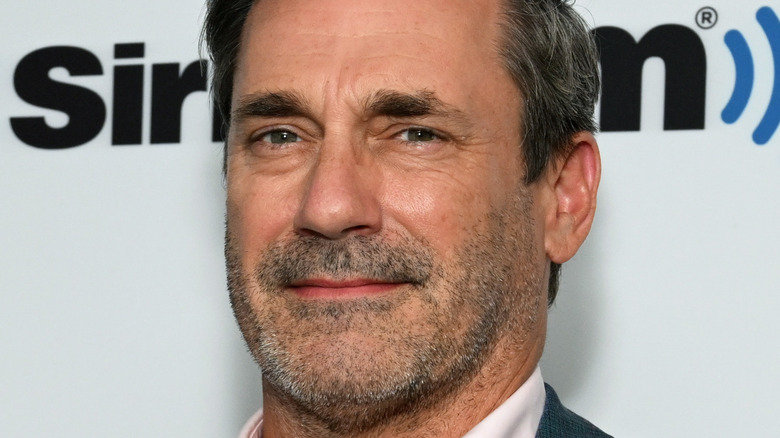 Slaven Vlasic/Getty Images
Jon Hamm has had a complicated relationship with alcohol for most of his life.
When he was 20, he lost his father, causing him to sink into depression and develop the habit of drinking for a bit of solace. "It just changed everything," he told GQ of that phase in his life. "It was just a profound sense of being alone. And that lasted a while. I was in college, and I had to start over again. It was definitely a moment." While he admitted that he "could have gone the wrong way," he also confessed that it was when he "started drinking."
Years later, he would star in "Mad Men" as Don Draper, a hard-drinking, womanizing advertising executive with a troubled past. In 2012, he clarified that he wasn't a heavy drinker like his iconic character. "I don't drink as much as Don Draper," he told the Daily Mail. "I would be unconscious if I did." He didn't even smoke as much as he had already quit smoking in his 20s. He smoked herbal cigarettes instead, which he thought were "terrible" and tasted like "a mixture between pot and soap."
For years, Hamm wasn't exactly open about his private life and personal struggles, until March 2015 when it was revealed that he had completed rehab for alcoholism.
Jon Hamm's marriage fell apart after his rehab stint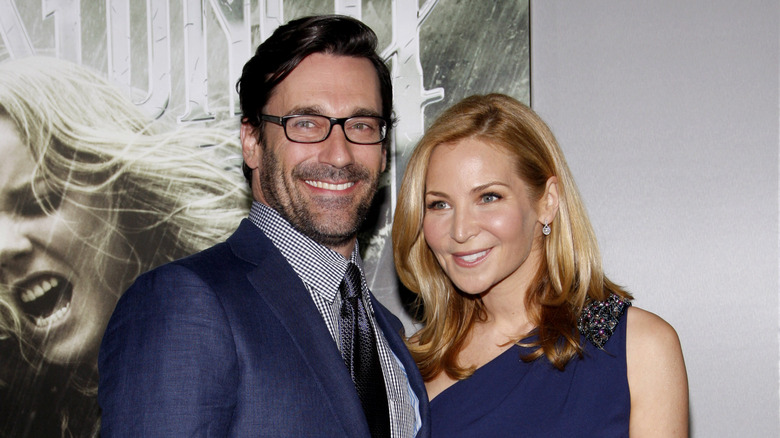 Tinseltown/Shutterstock
In March 2015, before the final season of "Mad Men," Jon Hamm completed a 30-day rehabilitation program for unhealthy alcohol use. Per TMZ, he stayed at the Silver Hill Hospital in Connecticut. At the time, representatives for the actor confirmed his rehab stint.
"With the support of his longtime partner Jennifer Westfeldt, Jon Hamm recently completed treatment for his struggle with alcohol addiction. They have asked for privacy and sensitivity going forward," the statement read, per Entertainment Weekly. However, in September 2015, Hamm and Westfeldt ended their 18-year-long relationship. "With great sadness, we have decided to separate, after 18 years of love and shared history," they shared in a statement. "We will continue to be supportive of each other in every way possible moving forward."
It's unclear whether alcoholism was the main reason behind the split, but sources told People that at the end of their relationship, Westfeldt had functioned as his "mother" instead of as his partner. "He has always had demons and needed a mother figure in his life," the insider dished. "It was generally assumed that they would break up once he got sober, because he didn't need to lean on her to take care of him so much."
Jon Hamm shared how rehab changed him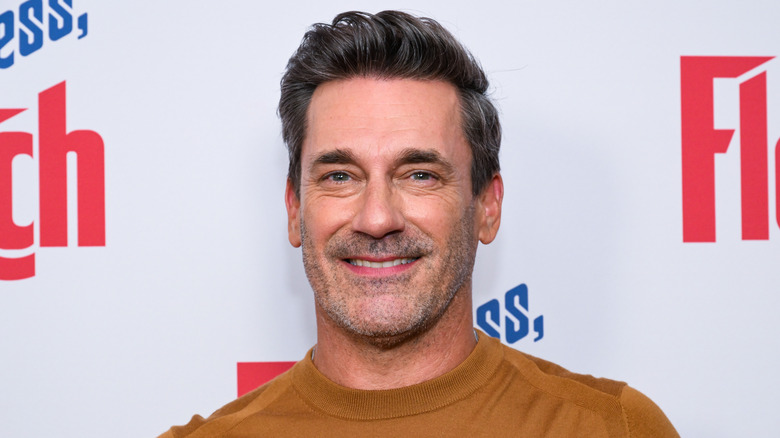 Michael Kovac/Getty Images
If it were up to him, Jon Hamm's time in rehab would have never gone public, but he has since accepted it. "Life throws a lot at you sometimes, and you have to deal with it as much as you can," he told Australia's TV Week (via Entertainment Tonight). "I understand it constitutes news these days, but it's between me and my family and not something for public consumption."
And while the news became public fodder, he shared that rehab had done wonders for him. In 2017, Hamm spoke to the New York Times about his experience: "Recalibrate. Re-evaluate. Just sort of re-establish where you are." The actor then compared his life before and after seeking treatment to an amusement park ride, specifically the Tilt-A-Whirl. He continued, "When you navigate to something that's whirling, it's difficult ... It's all about growing older and getting better at living. And I hope I did."
Hamm also hoped that the stigma surrounding rehab should be abolished. "It has all these connotations, but it's just an extended period of talking about yourself," he shared with Mr. Porter. "People go for all sorts of reasons, not all of which are chemically related. But there's something to be said for pulling yourself out of the grind for a period of time and concentrating on recalibrating the system. And it works. It's great."