Are Will Smith And Martin Lawrence Friends In Real Life?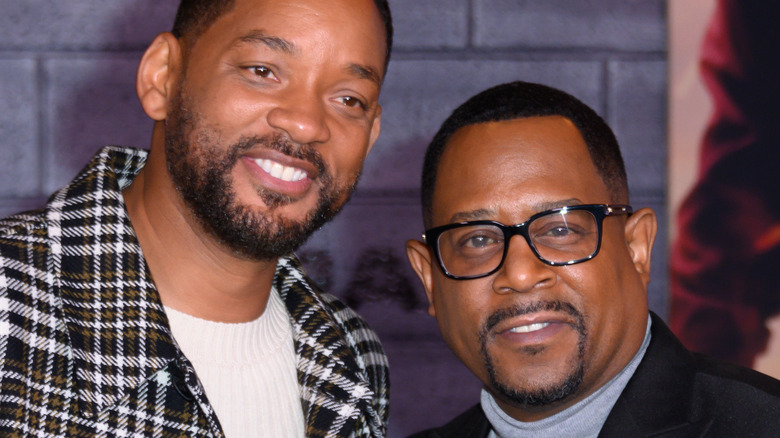 Silvia Elizabeth Pangaro/Shutterstock
The onscreen chemistry between Will Smith and Martin Lawrence was undeniable, and translated to box office success for the first two "Bad Boys" movies. After a nearly two decade-long delay it appeared the third installment in the franchise would never happen. "I don't think we're going to get one ... Will is off doing another movie, and I don't think it's going to happen," Lawrence told Entertainment Weekly in 2017. Around that time, the sequel had been pulled from Sony's calendar. In 2018, the two stars had good news for fans, as the "Independence Day" actor uploaded a video to Instagram announcing that the next "Bad Boys" movie was officially happening. Smith was joined by his co-star in the candid clip as he excitedly delivered the news.
While making promotional rounds for the third film titled "Bad Boys For Life," Smith said the action-comedy was rooted in the relationship between the two lead characters. "Because it's really about friendship, and about the reality of what it's like when somebody's life takes a different turn," he said on "The Tonight Show Starring Jimmy Fallon" in 2020 ahead of the film's release. "There are some really powerful scenes about friendship," Smith added.
Following Smith's controversial Oscars moment with Chris Rock, the status of another "Bad Boys" film seemed in jeopardy, but Lawrence confirmed during an interview with Ebony in July that the duo would be teaming up again. The relationship between Smith and Lawrence appeared to extend beyond the big screen.
Will Smith and Martin Lawrence have an unspoken bond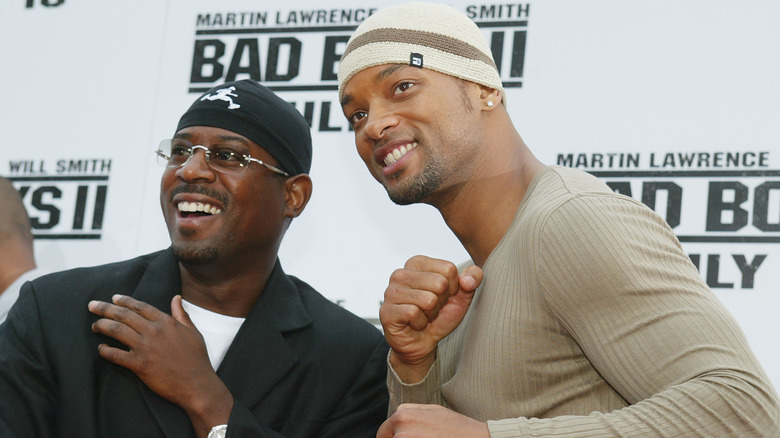 Kevin Winter/Getty Images
As Will Smith and Martin Lawrence did press for "Bad Boys For Life," they were often asked about their off-screen relationship. "[We have a] great deal of respect and love for each other," Lawrence told Vibe while discussing his co-star in 2020. After knowing each other for years, the two had developed an unspoken bond. "We just understand each other. We know how to support each other," Smith said. "When you just understand each other it's like such a deep gift to not have to explain what you need," the "Wild Wild West" star added while saying he could tell that Lawrence was fatigued. 
Even though the two actors had not worked together since 2003 for "Bad Boys II," it had not impacted their friendship. "I just love Will, and we always stayed in touch over the years as good friends," the "Martin" star told the Las Vegas Review-Journal in 2020. That made filming together that much more special. "I'd look across the room and there was my friend. It felt good," Lawrence added, as he mentioned how he and Smith would crack jokes with each other "between takes."
That chemistry between the pair was apparent even before they worked together. Lawrence recalled his first time meeting Smith. "We talked for a little bit and it just felt natural. We made each other laugh," he told the LV Review Journal. In fact, it was Lawrence who handpicked Smith to be in the first "Bad Boys."
How the two support each other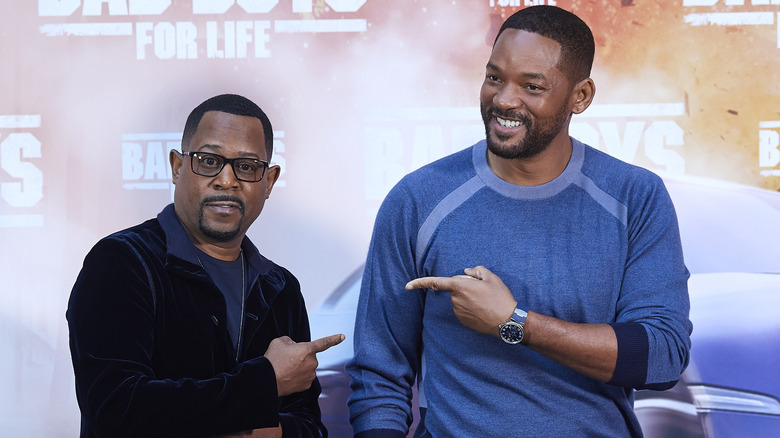 Carlos Alvarez/Getty Images
When producers were casting "Bad Boys" in the mid-'90s they chose Martin Lawrence as the comedic lead, but needed somebody to play his partner. The "Big Momma's House" star's sister suggested that he recruit Will Smith as his co-star. "I called Will, and we set up a dinner and Will came to my house," Lawrence said on "The Ellen DeGeneres Show" in 2020. "Five minutes after talking to Will, he got the job."
After the success of "Bad Boys," Smith's movie career skyrocketed. Through it all, the "I Am Legend" actor still stayed close with his "Bad Boys" co-star. "Will is one of my good friends," Lawrence told The New York Times in 2020. Their friendship transcended their business relationship. "I could call Will about anything, and he could call me about anything," the comedian added.
When Smith won his Best Actor Academy Award, his night was overshadowed by the infamous Oscars slap of Chris Rock. To his credit, Lawrence only focused on his friend's achievement, and the following day took to Instagram to congratulate the "King Richard" star on taking home the coveted award. Regardless of whether the two work together again, the "Bad Boys" stars appear to be friends for life.