The Truth About Loretta Lynn's Relationship With Carrie Underwood
Grant Lamos Iv/Getty Images
Loretta Lynn, an iconic country singer known for her hit single "Coal Miner's Daughter," has died at age 90, according to NBC News. Lynn won three Grammys over the span of her career — but was impressively nominated 18 times – and amassed 21 No. 1 singles and 11 No. 1 albums, per TMZ.
Lynn was active in the country music world her whole life. She toured for over 50 years before suffering a stroke in 2017 that caused her to halt going on the road again due to health concerns. Her career and music is undeniably legendary. According to CNN, Lynn was inducted into the Country Music Hall of Fame in 1988 and her hit single, "Coal Miner's Daughter," was added to the Grammy Hall of Fame in 1998. 
Over the course of her life, Lynn collaborated with countless artists, both up-and-coming and established, including Carrie Underwood. So, what was Lynn's relationship like with the "Before He Cheats" singer?
Loretta Lynn and Carrie Underwood enjoyed collaborating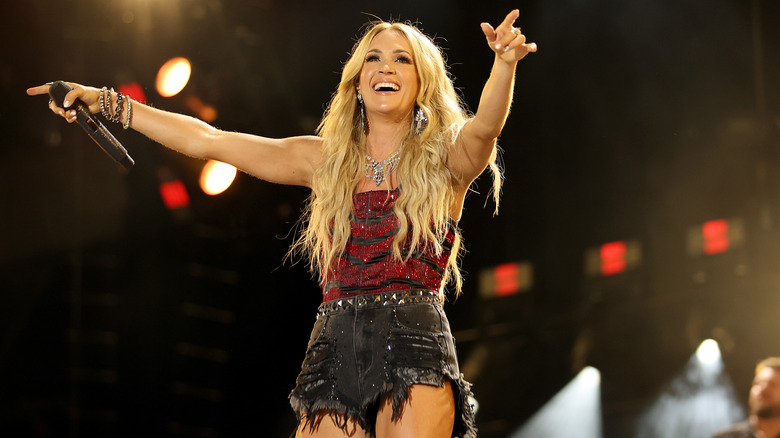 Jason Kempin/Getty Images
Loretta Lynn decided to team up with Carrie Underwood and Reba McEntire for the track "Still Woman Enough" in 2021. Lynn's daughter, Patsy Lynn Russell, opened up to Taste of Country about her mother's decision to feature two notable female artists on the song. "Mom's way smarter than all of us," Russell said. "She saw a broader picture, that this is really about girlfriends standing together ... I think that's part of Loretta Lynn's genius, is knowing those moments."
Lynn told Sounds of Nashville, "As soon as I had the first verse, I told Patsy, 'I'm going to get Reba to sing this with me' and shoot, having Carrie was a big treat for us." And the feeling appeared to be mutual, as Underwood seemed to be just as honored to work with Lynn. While speaking about "Still Woman Enough," Underwood said, "This is the first time I have had the honor of getting to sing with Loretta. I've sang for Loretta, I've sang around Loretta ... all of those things are really great, but this is just the icing on the cake."
In April 2021, Lynn reposted quotes from Underwood on Twitter that praised her as a singer. One said, "being able to sing with her [Lynn] is a dream come true." Lynn praised Underwood in the tweet as well, revealing Underwood's "voice is undeniable–she is one of the very best." The song "Still Woman Enough" is just one of Lynn's iconic collaborations she released during her career.