Loretta Lynn Sent A Powerful Message With Her Final Album
Dimitrios Kambouris/Getty Images
The world may have lost another icon, but her legacy will live on forever. Loretta Lynn, a country music legend, died in her sleep at her home in Tennessee, her family confirmed to Variety. She was 90. Lynn had been a force in the country genre for more than 50 years. The singer had an extensive catalog and was widely-known for songs like "I'm a Honky Tonky Girl," "Whispering Sea," and "Blue Kentucky Girl," according to Rolling Stone. 
Aside from her undeniable talent, Lynn was also known for creating relatable music that people could resonate with. "I wasn't the first woman in country music," she said during a 2007 interview with Esquire. "I was just the first one to stand up there and say what I thought, what life was about." In addition to her touching lyrics, the Grammy-winning artist won CMA's Entertainer of the Year Award — the first woman in history to win the title, per the Country Music Hall of Fame.
Given everything that Lynn accomplished, the singer always made sure to send off her fans with a powerful message. 
Loretta Lynn was big on supporting women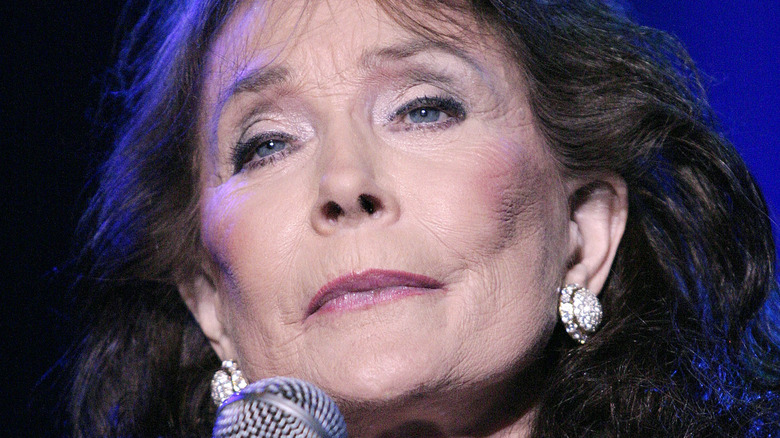 Donald Kravitz/Getty Images
Loretta Lynn broke down barriers for women in the industry and stayed true to that message all the way through her last project. The "Coal Miner's Daughter" singer released "Still Woman Enough" — her 50th studio album — in 2021, and it's all about "celebrating women in country music," according to her official site. Lynn featured some of the biggest country stars on her latest body of work — and they were all women. Carrie Underwood, Reba McEntire, Margo Price, and Tanya Tucker all joined forces to be a part of "Still Women Enough," which is no surprise considering Lynn's message has always been about supporting women as a whole.
"I am just so thankful to have some of my friends join me on my new album," the country singer said in a statement obtained by Good Morning America. "We girl singers gotta stick together." In addition to supporting one another, Lynn also shed light on how resilient women can be. "I've been knocked down / But never out of the fight / I'm strong, but I'm tender / Wise, but I'm tough," she sings on "Still Women Enough." Although Lynn's final project was full of powerful messages, it wasn't the first time the singer had been open about some of the difficulties she's faced. 
"When I sing those country songs about women struggling to keep things going, you could say I've been there," she wrote in her memoir (via CNN). Although Lynn is no longer here, her messages will continue to live on.