Jimmy Kimmel Praises Seth Meyers, Talks Hosting The 2018 Oscars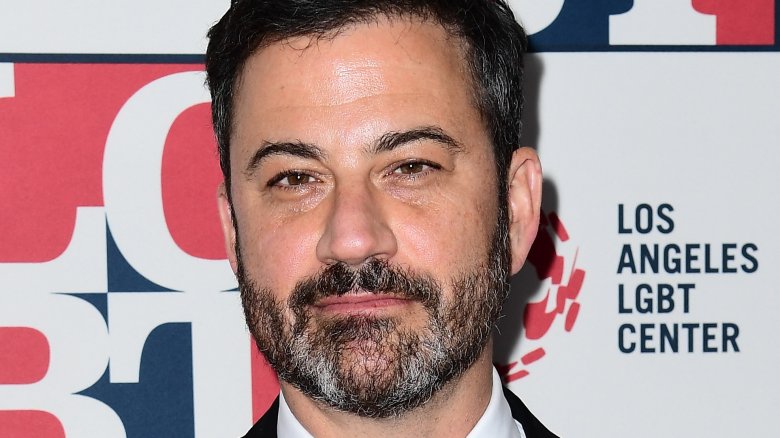 Getty Images
The late-night host is preparing to return to the Oscars stage.
On Monday, Jan. 8, 2018, Jimmy Kimmel opened up about his upcoming hosting gig at ABC's Television Critics Association press tour — namely, he revealed whether or not he plans to tackle Hollywood's multiple sexual harassment scandals.
"I felt Seth made a joke specifically for me and my wife," Kimmel began, in reference to a one-liner Seth Meyers told during his 2018 Golden Globes monologue on Sunday, Jan. 7, in which he equated himself to the first dog that was sent into space just to see if it survived (via Entertainment Tonight). "And I did feel that way, 'I have to see what Seth says and how it's received,' and I thank him for being that litmus test."
"It's a bit like getting into a hot tub. You can't really tell the temperature until you get into it," the comedian quipped. "But suffice it to say, it will be a part of the show unless there's a nuclear weapon heading to Sacramento that night."
Just don't expect Kimmel to cover healthcare during his opening monologue. The Jimmy Kimmel Live host became a surprising advocate on behalf of the Affordable Care Act after his son, Billy, who was born with a heart defect, underwent emergency open-heart-surgery in April 2017.
"Ultimately you have to remember why you're there, and it's not about you. You're there to entertain people who are there on the biggest night of their lives, and if it gets too heavy, it takes away from that," he explained. "I will always be focused on children's healthcare, and healthcare in general, but unless something major happens that makes me compelled to do it, I don't necessarily see it as something I'll focus on."
As Nicki Swift previously reported, Kimmel, 50, was chosen to host the Oscars for the second year in a row in May 2017. Academy President Cheryl Boone Isaacs had called him "one our finest hosts in Oscar history" at the time of the announcement.
The 90th Academy Awards will air live on Sunday, March 4, 2018, at 7 p.m. EST on ABC. While we wait to tune in, read up on the craziest moments of last year's ceremony.