Pete Davidson May Be Erasing The Last Reminders Of His Relationship With Kim Kardashian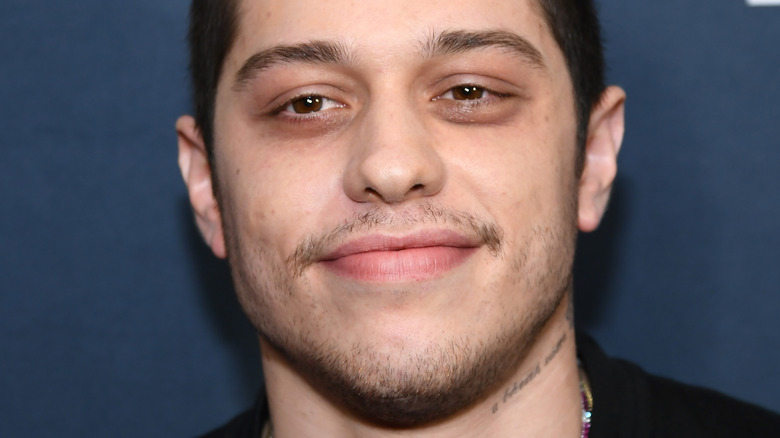 Dimitrios Kambouris/Getty Images
Months after his split with Kim Kardashian, Pete Davidson is reportedly going through the post-breakup phase in his own way. The comedian and the reality mogul first sparked dating rumors after she hosted an episode of "Saturday Night Live" in October 2021. Just one month after the taping, Kardashian and Davidson confirmed their relationship to the world.
Davidson is famous for his smorgasbord of impulsive tattoos, so it was no surprise that he got some body modifications to commemorate his and Kardashian's newfound love. This includes a tattoo of Kardashian's kids' initials and another one with "Jasmine and Aladdin," referring to the skit they performed together when she hosted "SNL." Davidson even took it a step further by getting "Kim" literally branded onto his chest.
Despite the permanence of the body modifications, the couple confirmed their breakup back in August, and many wondered what was going to come of these tattoos. Well, now we know what happened to one of the tattoos "The King of Staten Island" actor got for his former girlfriend.
Pete Davidson suspected of removing 'my girl is a lawyer' tattoo
One of Pete Davidson's most eye-catching Kim Kardashian-inspired tattoos was the infamous "my girl is a lawyer" piece on his upper neck. This was in reference to the fact that Kardashian had been studying law in an effort to pass the baby bar exam for the state of California. During her March interview on "The Ellen DeGeneres Show," Kardashian gushed that it "really cute" and called it her "favorite" tattoo of his.
Well, Davidson was recently spotted with a white bandage on his neck that was covering the area where the "my girl is a lawyer" tattoo was originally located. According to Page Six, a source close to Davidson claims the bandage was for the movie he is currently filming and not due to any tattoo removal process.
But Davidson has had plans in the works to remove his tattoos for a while now. On "Late Night with Seth Meyers" in 2021, he confirmed that his many tattoos would keep him from getting cast as an actor. "You have to get there three hours earlier to cover all your tattoos," he explained. "So now I'm burning them off. But, like, burning them off is worse than getting them."
With the demise of their relationship, is Davidson expediting the removal process of his Kardashian-inspired body art? Time will tell.