Kanye West Doubles Down On Controversial Fashion Show Appearance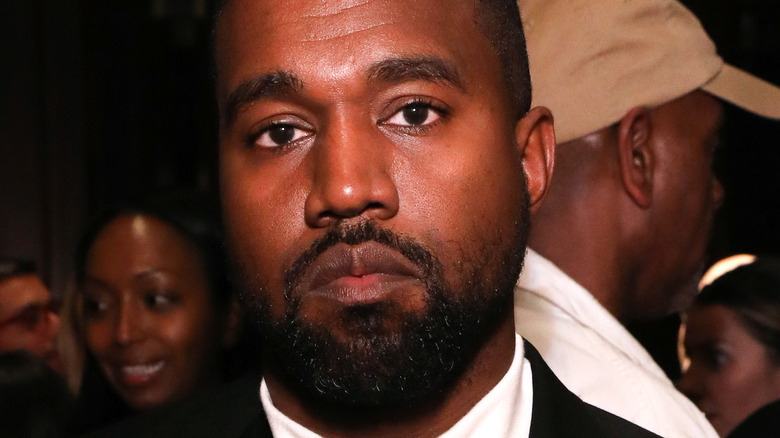 Robin Marchant/Getty Images
Kanye "Ye" West is not backing down from his decision to include a "White Lives Matter" sweatshirt in his upcoming Yeezy collection. Ye debuted the controversial garment at a surprise show for Paris Fashion Week, where he was accompanied by political pundit Candace Owens. The show began with Ye delivering a lengthy speech, which addressed his recent conflict with GAP, Kim Kardashian, his gripes about the media, and more.
"I am Ye, and everyone here knows that I am the leader," he exclaimed (per USA Today). "You can't manage me."
Following the show, Ye was slammed for the move, with celebrities like Jaden Smith revealing that he walked out of the show in disappointment. "I can't stand behind what Kanye's saying, he does not have the full support of the youth," Smith wrote in a since-deleted tweet (per Yahoo! News), while professor and political commentator, Marc Lamont Hill, called Ye's move "disgusting, dangerous, and irresponsible." Despite the overwhelming amount of criticism the "All of the Lights" rapper has faced, he is not backing down from his stance.
Kanye Ye West called Black Lives Matter a scam
Kanye "Ye" West is facing mounting backlash for his choice to create a "White Lives Matter" sweatshirt. Vogue editor Gabriella Karefa-Johnson, who attended Ye's Paris fashion show, shared her dismay for the new Yeezy collection. "I guess I get what he tried to do — he thought it was duchampian. It wasn't," Karefa-Johnson wrote following the show (per Billboard), adding, "The t-shirts this man conceived, produced, and shared with the world are pure violence... There is no excuse, there is no art here." Following Karefa-Johnson's remarks, Ye took to Instagram and attempted to drag the fashion editor. "This is not a fashion person You speak on Ye Ima speak on you Ask Trevor Noah," Ye wrote in a since deleted post, alongside a photo of Karefa-Johnson.
However, the rapper's biggest declaration of beliefs came when he called the Black Lives Matter organization "a scam." "Everyone knows that Black Lives Matter was a scam now it's over you're welcome," Ye wrote on his Instagram Story (via Page Six). And while Ye did not elaborate on his thoughts about the social justice group, he made it clear that he has no intentions of apologizing to the BLM movement. After his social media attack against Karefa-Johnson, Ye shared a screenshot of a text he got from designer Mowalola Ogunlesi — who suggested he apologize for his comments. The rapper has since shared with his followers that he met the Vogue editor and the two "apologized to each other."