The Parenting Advice Mindy Kaling Received From Reese Witherspoon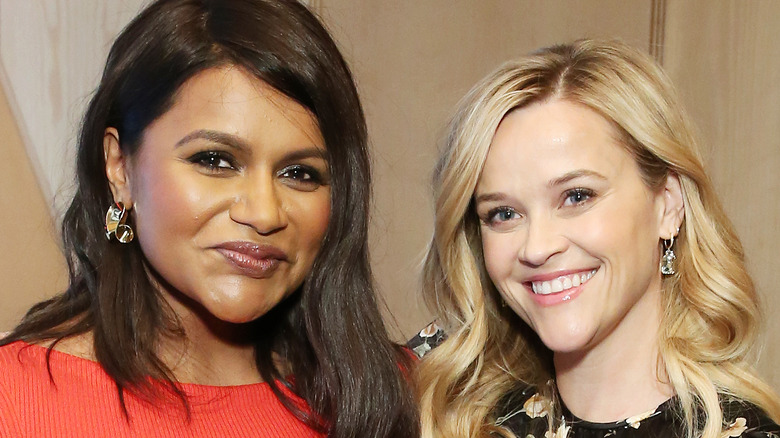 Monica Schipper/Getty Images
Mindy Kaling and Reese Witherspoon are the showbiz BFFs you never knew you needed to witness.
The two have been friends since 2017, back when Witherspoon made a cameo on "The Mindy Project," per W Magazine. The following year, they starred together in "A Wrinkle in Time," and in 2019, Kaling bagged a recurring role on "The Morning Show," in which Witherspoon serves as lead actor and executive producer. But perhaps Kaling's most exciting joint project with Witherspoon is "Legally Blonde 3." Witherspoon tapped Kaling to write the script, along with "Brooklyn Nine-Nine" co-creator Dan Goor.
According to Witherspoon, she and Kaling are incredibly tight. "We talk all the time," she told Entertainment Weekly. And one of the things they talk about the most? Motherhood, of course. Kaling, a single mom, is grateful that she has a support system in Witherspoon. She said that she looks up to the veteran actor for managing to raise kids, all while maintaining a flourishing career in show business. "What's so cool about Reese's journey is that she was a mom when she was at the beginning of the height of her career, 22 to 24, and it didn't slow her down at all," she shared with Access.
With all the parenting advice Witherspoon dispensed to Kaling, the "Ocean's 8" star revealed that there are two insightful tidbits that stood out to her the most.
Reese Witherspoon taught Mindy Kaling the importance of me-time and investing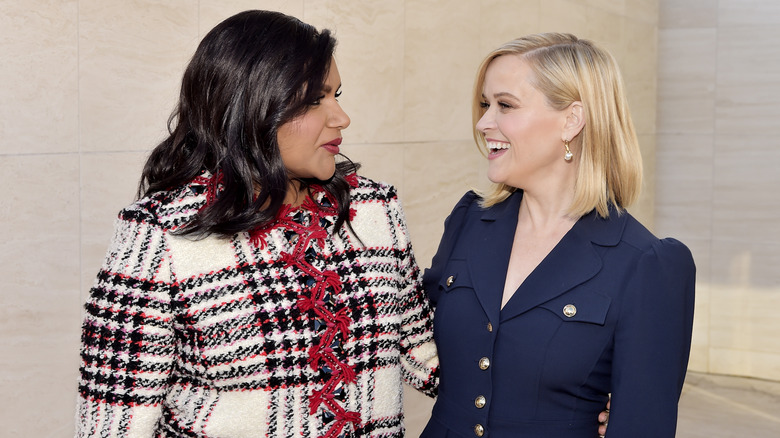 Stefanie Keenan/Getty Images
Mindy Kaling applauds the fact that Reese Witherspoon was able to raise such wonderful kids at various stages of her life. "She was able to raise two kids and be a young mom. Then she experienced it again in her 30s with her third," she told Access. "So, she's really seen it at every stage, and her kids are so close to her. So I really look to her for a lot of parenting advice."
And while Witherspoon likely doles out lots of helpful advice, the one thing that Kaling is most grateful for is how the "Big Little Lies" actor taught her the value of me-time as a mom. "She's the one that has taught me the importance of making time for myself so that I could be a good parent for my kids," she told People.
Apparently, Witherspoon also taught her the importance of investing, too. "That's something that people might not know, but she loves to invest. And she's really smart about it," Kaling continued. "That's not strictly parenting advice, but I think she's doing it because she wants to provide for her children and make sure their futures are secure. ... She's just so good at that kind of thing."
Reese Witherspoon spoils Mindy Kaling's kids with gifts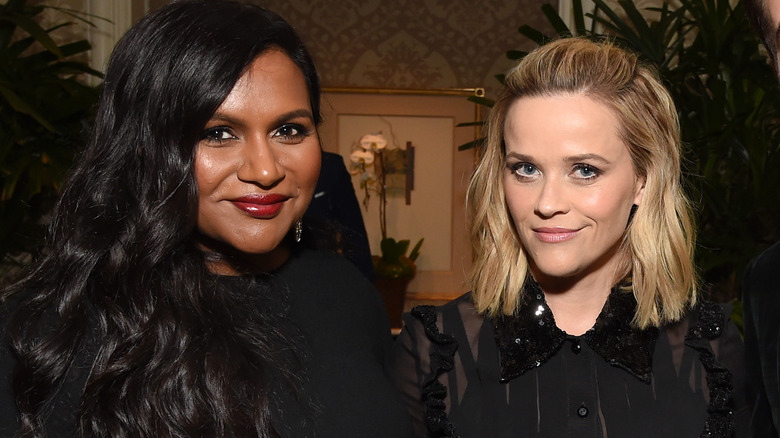 Michael Kovac/Getty Images
Mindy Kaling also revealed that Reese Witherspoon is an excellent gift giver — maybe even more so than Oprah. Speaking with PopSugar in 2020, the comedian said that Witherspoon sent over a massive package when she gave birth to her second child, Spencer Witherspoon. 
"I felt like the minute I got back from the hospital, there was a gorgeous gift for Spencer, with beautiful clothes and toys," she recalled. "And this is why you know a gift is from Reese Witherspoon — she also got my older kid something. My daughter, who didn't do anything, got all these beautiful clothes and toys, too." Witherspoon also sent food to her house, so "we didn't have to cook for four days." Per Kaling, it just highlights the kind of friend Witherspoon is — attentive, loving, and kind. "She really knows what's going on in your life," she added.
Kaling, of course, adores Witherspoon's kids, too. She worked with her son, Deacon Phillippe, on "Never Have I Ever" and thinks he's incredibly talented. Kaling said she could tell that he was Witherspoon's child with the way he treated everyone on set. "He is like his mom where after he wrapped, he sent me a handwritten note, thanking me for being on set," she told Extra. She would also love to have the opportunity to work with Ava as well, perhaps on "Legally Blonde 3," which is still in early production. "Listen, I think I can do anything, and if that's something she wanted to do, what a joy to have her in that," she said.