Inside Shania Twain's Heartbreaking Childhood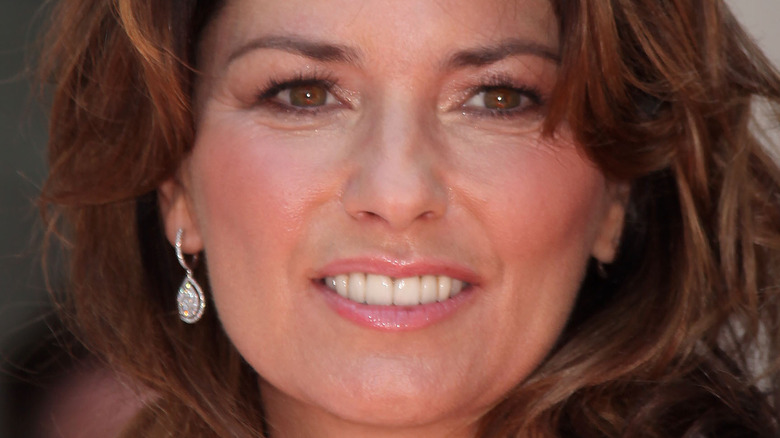 DFree/Shutterstock
It seems like Shania Twain has it all. The country/pop sensation is one of the most successful artists of any genre in history, with her third album, "Come on Over," being one of the most successful albums of all time. Having sold a whopping 40 million copies across the world (yes, you read that right, 40 MILLION!) it boasts a whole host of Guinness World Records, including being the highest selling studio album by a female solo artist ever and the bestselling county album in the USA by a solo artist. Not bad. Not bad at all.
But behind all that incredible success, glitz, and glamour, Twain went through the childhood from hell to get her where she is today, one that she credits with only making her stronger. "Sometimes I get overwhelmed coping with things, but experience also teaches you how to manage. When you get older, you have so much experience at falling and getting up. You're not going to stop falling. But you will get better at getting up and brushing yourself off. I believe that. I've lived it," she explained to AARP in 2020, which is unbelievably strong and courageous considering the heartache that has plagued her, particularly during her difficult younger years.
Shania Twain was abused as a child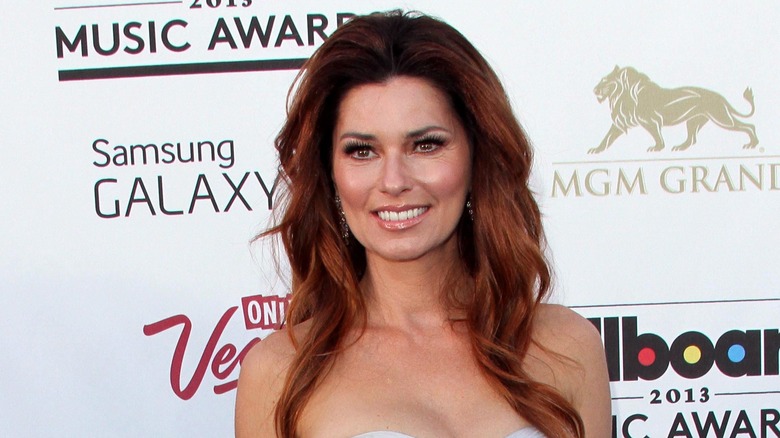 s_bukley/Shutterstock
Tragically, Shania Twain experienced abuse at the hands of her adopted father, Jerry Twain. Shania explained that she felt much of what was directed at her was a result of the Twain family being poor, so poor she was almost always left hungry.
"[It was] overwhelming for any child to never know what to expect from one day to the next. [The abuse] could happen anytime. But also you don't know if they're going to survive it," she told "Nightline" in 2011, sharing that Jerry would also abuse her mom, Sharon Morrison, to the point Shania thought he'd killed her on at least one occasion. "I feel the sexual abuse goes hand in hand with the physical and psychological abuse when it's somebody you know. I learned to block it out. Abusers need to manipulate you," she told The Guardian in 2018.
In her 2001 memoir, "From This Moment On," Shania detailed some of the physical fights they got in, sharing she punched Jerry when she was 11 years old after seeing him hit her mom, only for him to punch her back. Shania also opened up about that horrific time in her life to "60 Minutes Australia" in 2017, explaining that she felt Jerry had two sides to him. "I would get physically involved sometimes with my parents' fights because I just thought that he would kill her. One of these times, he was gonna kill her," she said.
Shania Twain's parents died in a car crash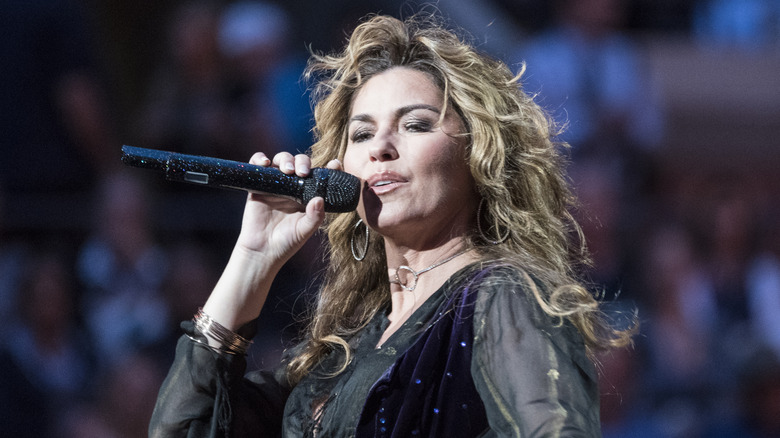 lev radin/Shutterstock
Sadly, the abuse Shania Twain experienced was only one part of the tragedy that was her childhood. The heartache was only just beginning, as 1987 brought the sudden death of Shania's mom and dad, Jerry Twain and Sharon Morrison, in a car crash. Shania was 22 years old at the time and showed her astoundingly dependable true colors when she moved back home following the tragedy to take care of her siblings. "At that point in my life, I would have rather gone with them. It was like, 'This is way too much to handle,'" Shania confessed on "60 Minutes Australia."
But, thankfully, amid the tragedy did come some light at the end of the tunnel. By moving back home, she found herself a job singing locally, which eventually led to her being discovered and becoming the global superstar we know today, as well as developing her into an incredibly strong woman "[It] brought me up to where I should have been in the first place at that age," she told CBC back in 1995 of that poignant time in her life. "I didn't raise them, they moved in with me for a couple of years after my parents died. We kind of all bunked together, took care of each other," she added of her siblings, noting, "I learned a lot from it. I matured a lot from it."
If you or anyone you know has been a victim of sexual assault, help is available. Visit the Rape, Abuse & Incest National Network website or contact RAINN's National Helpline at 1-800-656-HOPE (4673).
If you or someone you know may be the victim of child abuse, please contact the Childhelp National Child Abuse Hotline at 1-800-4-A-Child (1-800-422-4453) or contact their live chat services.