Brittney Griner's Wife Shares Heartbreaking Update On The Athlete's State Of Mind In Custody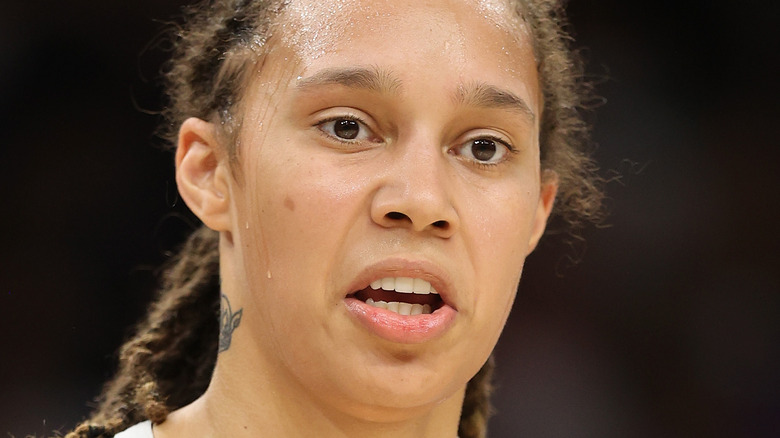 Christian Petersen/Getty Images
While she is still incarcerated in Russia and awaiting her appeal trial, WNBA star Brittney Griner can't tell us how she's holding up in Russian custody herself. However, the basketball star's wife, Cherelle Griner, can talk to the media. And so far, her latest update on Brittney's mental state is truly heartbreaking. 
Brittney was found guilty of transporting illegal drugs into Russia and sentenced to nine years in a Russian penal colony, according to The New York Times. If that sentence seems particularly harsh for a vape cartridge containing just .7 grams of cannabis oil, many of her supporters think that Brittney would not be facing such a severe outcome if it were not for the war in Ukraine and the athlete's own high visibility. Per the Times, President Joe Biden has called the sentence "unacceptable," and said that she is being "wrongfully detained."
Brittney's wife, Cherelle, used a different word when speaking in an interview with Gayle King for CBS Mornings: "hostage."
Cherelle says Brittney Griner is at her 'weakest' point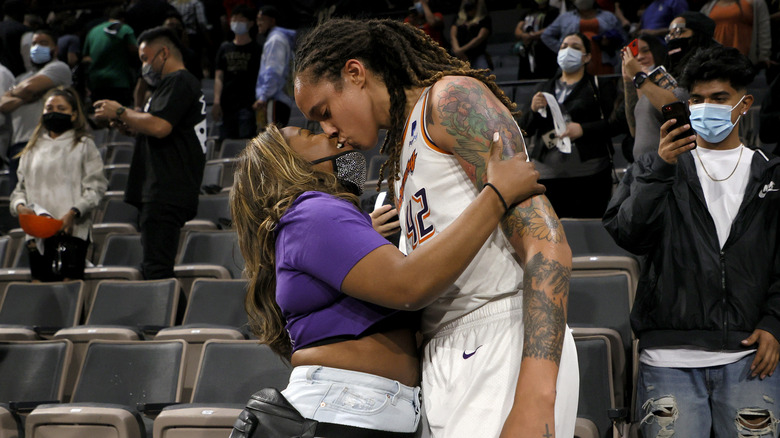 Ethan Miller/Getty Images
In her "CBS Mornings" interview with Gayle King, Cherelle Griner said her wife Brittney Griner has not been treated fairly by the Russian government. "It tears me to pieces to see that this is not balanced for my wife right now. So I want people to see that," Cherelle said. "To see, has she suffered enough. BG [as Cherelle affectionately refers to her] has truly suffered beyond her crime already." While Cherelle said her first conversation with her wife in custody went well, she doesn't sugarcoat how Brittney was coping the second time they spoke. 
"The minute I hung up, I think I cried for about two, three days straight. I did not get out of my bed. It was the most disturbing phone call I'd ever experienced," Cherelle said. "I didn't have words — because at this point, I'm like, I don't know if she has anything left in her tank to continue to wake up every day and be in a place where she has no one." Brittney, her wife says, is at her "absolute weakest moment in life right now."
Brittney's appeal date is currently set for October 25, according to the Associated Press. Meanwhile, the Biden administration has been attempting to negotiate with the Russian government to secure her release, potentially via a prisoner swap. After the interview, King reported that the White House currently "has a substantial deal on the table" and is hopeful the Russians will accept it.