Olivia Culpo Breaks Down In Tears Discussing A Difficult Past Relationship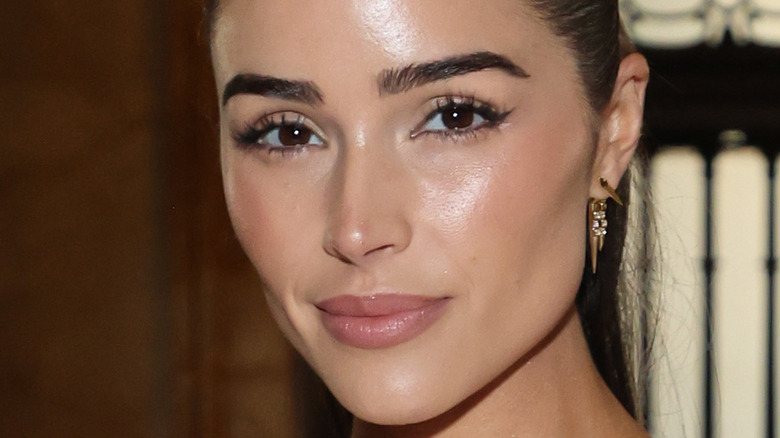 Cindy Ord/Getty Images
Olivia Culpo has had a great career in the spotlight. She won Miss Universe in 2012 and has since become a social media influencer — and now, a reality TV star. Now, in her upcoming reality TV series, "The Culpo Sisters," Olivia is sharing her life on TLC. She will be joined by her sisters, Aurora and Sophia, in what appears to be a Kardashian-esque show that follows the three sisters in Los Angeles and trips to their parents in Rhode Island.
With her life in the limelight, Culpo has also dated or been connected to some well-known men. According to The Sun, the model potentially dated Ryan Lochte in 2012 (although she denied it). She then dated Nick Jonas, in 2013. In 2014, Jonas told Wendy Williams that he wrote the song "Jealous" about Culpo because he saw a guy looking at her a "little too long" one night out (via Us Weekly). She even starred as a love interest in the music video. Culpo then dated three NFL players, with her current boyfriend being Carolina Panthers running back, Christian McCaffrey. 
But in the trailer for her new show, Culpo revealed a dark secret from a past relationship she's never shared before.
Olivia Culpo discusses a horrible past relationship in her new show's trailer
The trailer for "The Culpo Sisters" gives a good idea of what viewers can expect from Olivia Culpo and her sisters. They're loud and don't care about boundaries when it comes to each other. They tell each other how it is, even if it's not nice to hear. On a more serious note, Culpo shares that she thought she'd have all of her family goals by 30. She worries about the future, and it seems her hopes were derailed because she was with a guy who was not a healthy partner. "I was with somebody that did really horrible, horrible things," Culpo tells the camera. "I was made to feel like a less-than-human in every sense of the word." The now-30-year-old breaks down crying as she says, "I've never talked about it before."
Culpo's most negative breakup was with her most recent ex, Danny Amendola, in 2018. The New York Post reported that the former NFL player was photographed on the beach with a journalist in a not-so-platonic way. Sources at the time said that Culpo was "very disappointed and shocked." Currently, Culpo is dating Christian McCaffrey. On her 30th birthday in May 2022, she wrote that he "restor[ed] her faith in love." She said her "expectations were low," but she gave it a shot and now they're three years into a seemingly loving relationship.