The Sweet Meaning Behind The Photo Jeff Bridges Carries In His Wallet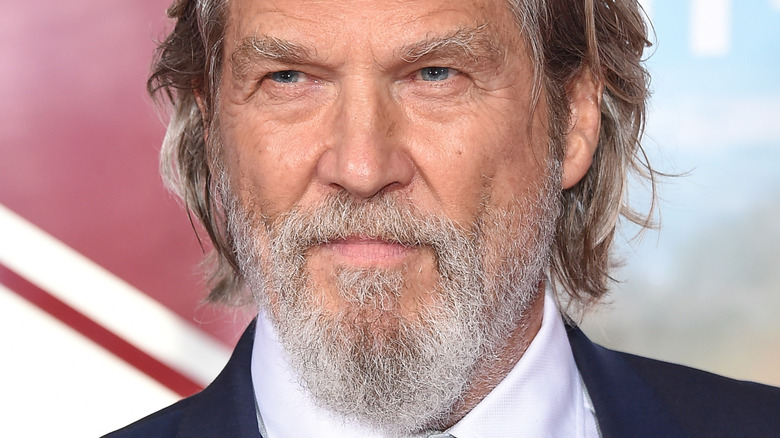 DFree/Shutterstock
Jeff Bridges is a man of many talents. The world knows and loves him for his acting work, which has earned him an Oscar win and six nominations. But the "Crazy Heart" star is also an accomplished musician with three recorded albums, released in 2000, 2011 and 2015, according to Discogs. "I had a hard time choosing: was I an actor or a musician, or could I be both?" he told Guitar Aficionado (via Far Out).
In addition to acting and music, Bridges in also passionate about photography — an art he began exploring in high school, as he wrote in his book "Pictures By Jeff Bridges" (via his website). After getting his hands on a Widelux camera, the teenager began to record the world around him. Bridges, the son of actor Lloyd Bridges, had been acting since infancy, the New York Magazine noted in 1984, a career that took off more quickly than photography, so he put it in the back burner.
Jeff took it back up in 1976, inspired by his "King Kong" character. "Jack [Prescott] ... happened to carry a motor-driven Nikon with him wherever he went. In preparation for the role, I started taking pictures again," Jeff wrote. In 2004, he released his first photography book (mentioned above), followed by a 2019 compilation. Photography followed Jeff even when he wasn't looking. Back in the 1970s a film crew member captured one of the most important moments of Jeff's life, which he carries in his wallet to this day.
Jeff Bridges carries a photo from the night he met his wife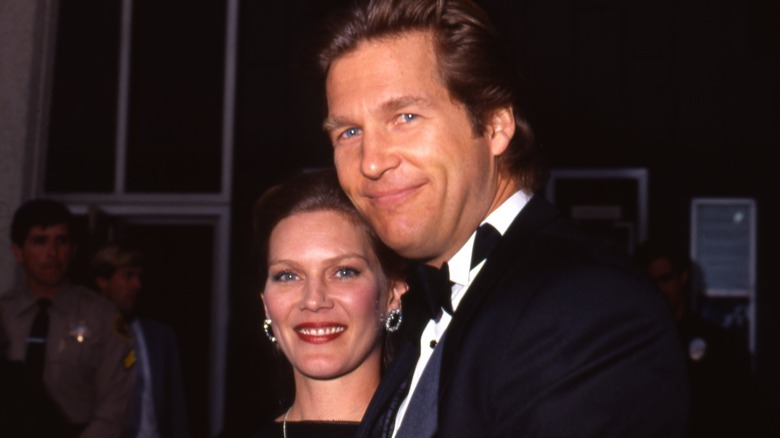 Donaldson Collection/Getty Images
Jeff Bridges met Susan Geston when he was filming "Rancho Deluxe" in Montana in 1975. Bridges noticed a young server with facial injuries from a car accident and was immediately drawn to her, he told "Today" in 2020. "I couldn't take my eyes off her. Gorgeous girl with two black eyes and a broken nose," Bridges explained. "The juxtaposition of that disfigurement and the beauty, it had me." Bridges worked up the courage and asked Geston out. She rejected him.
But, with Chico Hot Springs being a small town, Bridges and Geston kept running into each other. "She came to the wrap party, and we danced and fell in love and boom, that was it," he noted. About 10 years after marrying Geston in 1977, Bridges received a letter in the mail that included a few pictures. They showed the moment Bridges and Geston spoke for the first time.
As it turns out, the "Rancho Deluxe" makeup artist captured the special moment without them knowing, Bridges told "Oprah's Master Class" in 2015. The crew member forgot he had taken them until he accidentally stumbled upon some old files. "These two pictures of the first words I ever spoke to my wife," he said. "I have them in my pocket. They're my prized possession." One of them shows a smiling Geston dressed in a blue, checkered shirt, paired with a brown jacket and a head scarf, standing in front of Bridges in a cowboy hat.
The secret to Jeff Bridges' long-lasting marriage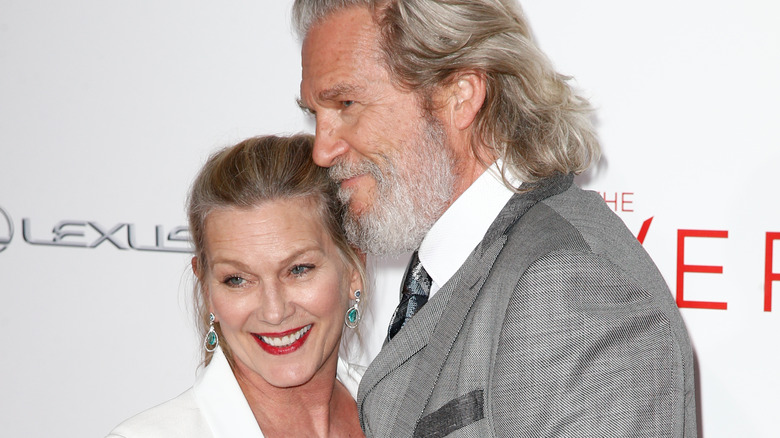 Debby Wong/Shutterstock
Jeff Bridges didn't believe in marriage. He wanted nothing to do with it. "I thought it was a giant step toward death. So I did everything in my power to resist it," he wrote in a 2006 Reader's Digest essay. But, then he met Susan Geston. "And I thought, 'Now, this is interesting.'" Bridges never looked back. "I'm so in love with her," he told The Sun (via Irish Independent). "The relationship just keeps getting better and more intimate and sexier and all that stuff."
The secret to their successful union is simple. "We are quite different as people, and we celebrate that rather than making it drive us apart," he told People in 2020. But Bridges and Geston also have quite a bit in common. Like Bridges, Geston also takes pictures and writes music, according to a 2017 Daily Beast profile.
Producer David Greenwalt, who has been close with Bridges for decades, believes Bridges and Geston's relationship works because she was never dazzled by his fame. "I think the thing that happens in a good relationship — and clearly it's a good relationship, since it lasted so long — is that she was never that impressed by him," he said. Their marriage has also served as inspiration for their three daughters. "They love each other, but they like each other, they spend time together," Isabelle Bridges told People. "They make an effort to ask each other questions about what the other is interested in."