Why Jon Hamm And Jennifer Westfeldt Called It Quits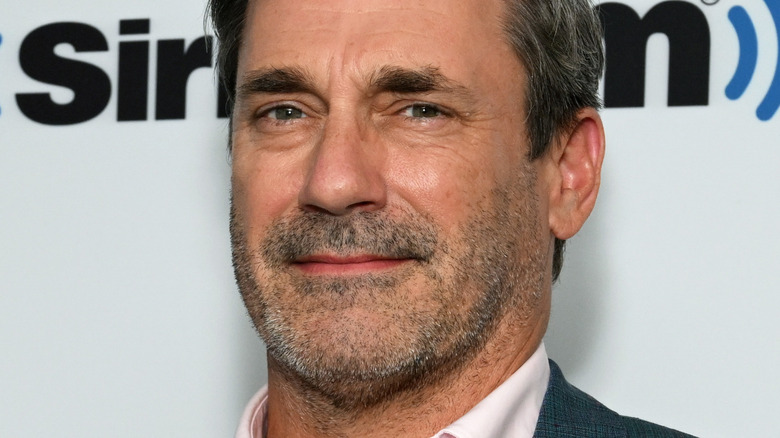 Slaven Vlasic/Getty Images
On "Mad Men," Don Draper was a womanizer in every sense of the word, but the actor playing him, Jon Hamm, is far from it. "Playing this guy does not come without its own difficulties," he told Variety. "It's not fun to live in this guy's headspace year after year... It's relentless. And it can be hard on you as a person."
Hamm is fiercely loyal to his partners. He even once told Elle that he's turned off by the idea of cheating, which is a far cry from his character's behavior on TV. "I'm not a cheater. I've never cheated in my life," Hamm said. And that rings true since he had an almost two-decades-long relationship with actor and screenwriter Jennifer Westfeldt. The two were together for 18 years before calling it quits. "With great sadness, we have decided to separate, after 18 years of love and shared history," the former couple told People in a joint statement in 2015. "We will continue to be supportive of each other in every way possible moving forward."
Their split left many dumbfounded, especially since they spoke highly of their relationship when they were an item. "We may not have a piece of paper that says we're husband and wife, but after 10 years, Jennifer is more than just a girlfriend. What we have is much deeper and we both know that," Hamm told the New York Post in 2008. To fans' disappointment, they parted ways anyway, and it was apparently due to a variety of reasons.
Jon Hamm and Jennifer Westfeldt had a lot of issues as a couple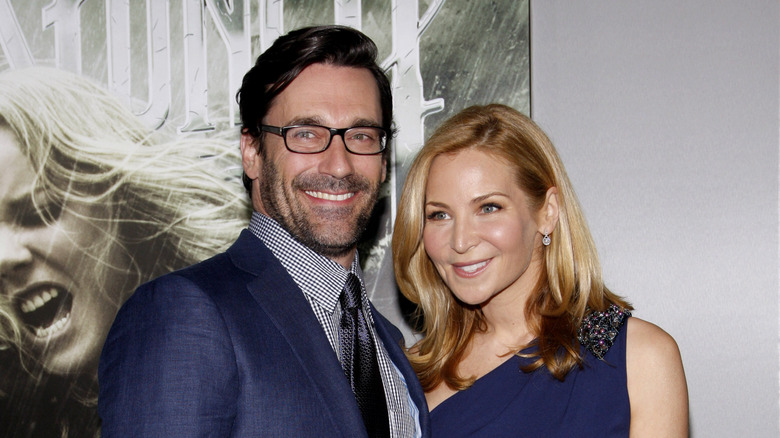 Tinseltown/Shutterstock
Jon Hamm and Jennifer Westfeldt didn't split because of a single incident. According to sources, they were dealing with a string of issues that were simply too tough to come back from. An insider told Entertainment Tonight that Westfeldt grew tired of acting like Hamm's "mother." The source claimed, "It's no secret that Jon likes to go out and leads a very party-heavy lifestyle. And Jennifer was just tired of that... She wanted him to grow up... and he never wanted to."
Another source claimed that it was because of Westfeldt's unwillingness to have children. "There's always been a rift," they shared with Us Weekly. "Because he wanted kids and she didn't." But in a 2012 interview with The Guardian, Westfeldt noted that having kids was never their priority. "I think kids should have something grounded," she shared. "Jon and I are both children of divorce. I'm not sure we can do it without a proper home base."
Apparently, Hamm had a rough time coming to terms with the split. He got candid about singlehood in a 2017 interview with InStyle, saying that it wasn't the ideal situation. "It's hard," he confessed. "It's hard to be single after being together for a long time. It's really hard. It sucks."
Jon Hamm is now dating his Mad Men co-star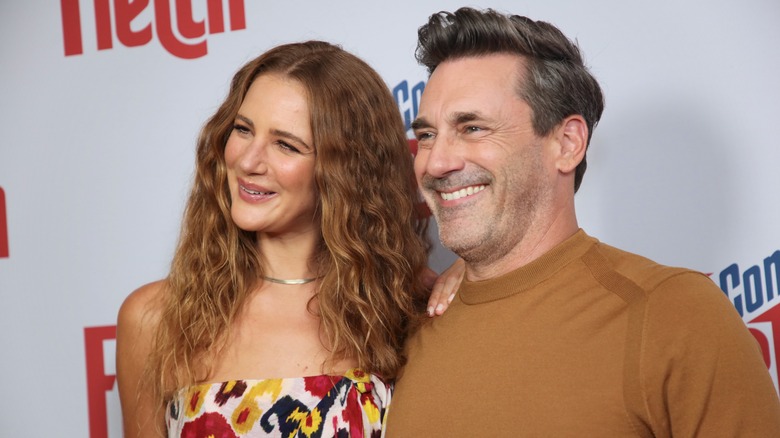 Robin L Marshall/Getty Images
While Jon Hamm took the breakup hard, he eventually realized that it was "necessary." Speaking with Esquire, he said, "It was tricky, and the dust is still settling in many ways. Good, bad, indifferent: It's ephemeral. So sit in it for a minute and experience it. If it sucks, it too will be gone in a minute."
It looks like he has moved on, as he's now in a happy relationship with "Mad Men" co-star Anna Osceola. The two met during the filming of the show's finale, but didn't start dating until 2020, per Us Weekly. However, they seem to be going strong, with Hamm himself saying that he's not ruling out the idea of marriage and building a family. "I'm in a relationship right now and it's comfortable," he said on Howard Stern's SirusXM radio show. "It's a feeling of taking care of someone else and being taken care of."
He also said that, in the past couple of years, he'd been actively working on his personal issues, and that opened him up to things he has never considered before. "That's made the relationship that I'm in now even more meaningful and opened up the possibility of things like being married, having kids, defining a new version of happiness, life, wellness — all that stuff that sounds hokey and whatever but it's real and it's what I'm working for." And when asked if he was in love, he said: "I very much so am."