How Barron Trump's Height Compares To The Rest Of His Family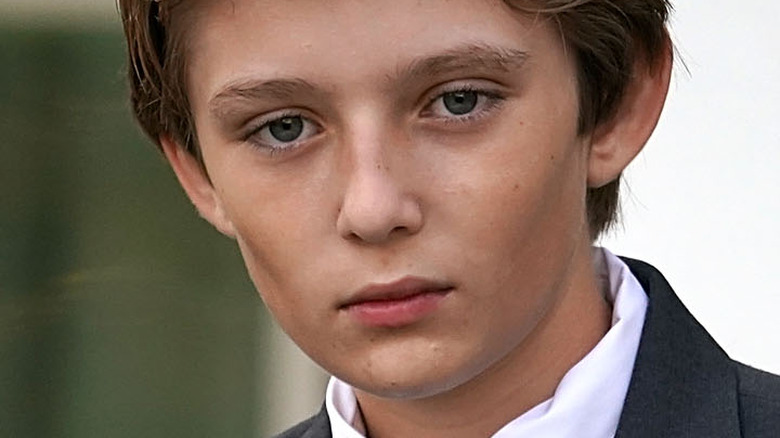 Chip Somodevilla/Getty Images
The Trump family may be known for many things — among them the four-year tenure of Donald Trump's controversial presidency, and his long history in the spotlight in the decades before that. However, what many may forget is that Donald Trump, who stands at 6-foot-3, is actually one of the tallest presidents in American history — coming behind only Lyndon Johnson at 6-foot-3.5, and Abraham Lincoln, at 6-foot-4. Trump is also about 6 inches taller than the average American male height, which is about 5-foot-9.
Barron Trump, meanwhile, is widely known as one of the quieter Trumps for his relative seclusion from politics, especially when compared to his father and elder half-siblings. In fact, one netizen speculated that Barron's reticence stems from being "11 when his father was elected" and also being a "shy and introverted child." However, he has clearly inherited at least some of his father's genes — most notably his height. "I can't get past the fact that Barron Trump is like 6'6" at 14," one observer tweeted in August 2020, to much public discussion (and some right-wing outrage). "He doesn't even fit in the picture when he stands up."
So how does Barron Trump's tall stature compare to the rest of his family? And does Donald Trump's tall genes indeed extend to his other children? Well, even though Donald Trump has had children with a number of different women — all of whom are relatively tall — it turns out that none of the Trump children compare to the height of his youngest child.
Barron is by far the tallest Trump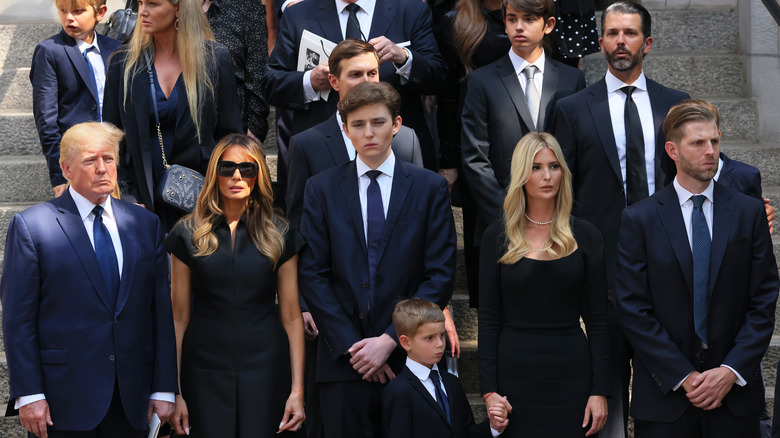 Michael M. Santiago/Getty Images
Although Donald Trump may be one of the tallest presidents in American history, it turns out he isn't even the tallest Trump. That title belongs to his youngest son, Barron Trump, who turned 16 in March. As many observers have been one to note, Barron has grown quickly ever since his time in the White House.
While Barron entered the White House in January 2017 around the height of a normal 11 year old, he sprouted quickly, and he grew to around 6 feet by August 2020. By July 2021, however, he grew to 6-foot-7 — eclipsing all of his other siblings and becoming the tallest person in the Trump family in the process. 
Although they may not be as tall as him, Barron's half-siblings are also quite towering. Per The Cut, Tiffany Trump — Donald's next-youngest and his only child with Marla Maples — is the shortest of the Trump children, but is still several inches taller than the average American female, at 5-foot-8 (the American woman is 5-foot-4, per Cleveland Clinic). Ivanka Trump — Donald's only other daughter and his second-born with his first wife, Ivana — is the next shortest in the family, coming in at 5-foot-11. Next comes the eldest — Donald Trump Jr. — who stands at 6-foot-1, followed by Eric Trump — Donald's third child — at 6-foot-5. Eric used to be the tallest of the Trump family, by quite a sizable metric, until Barron outgrew him. 
Donald Trump has a penchant for marrying tall women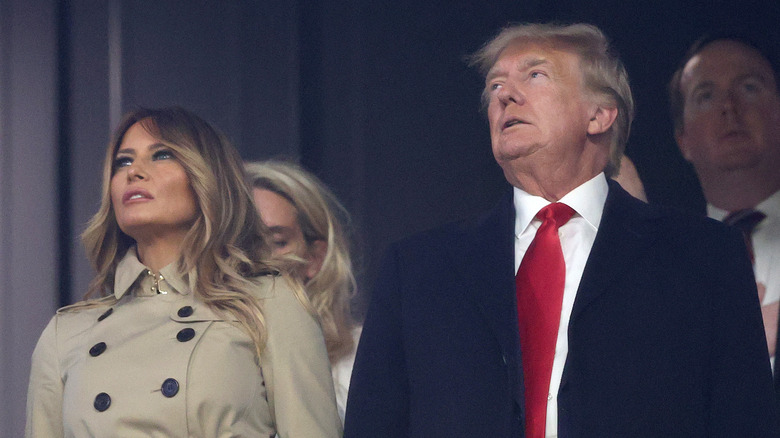 Elsa/Getty Images
Despite coming in at an unusually tall 6-foot-7 at 16, Barron Trump's height is unsurprising; not only is his father an unusually tall 6-foot-3, but his mother, Melania Trump, is a towering 5-foot-11, 7 inches taller than the average American woman (for reference, the average height for a woman in her native Slovenia is a little over 5-foot-5, per Insider). 
However, Melania is not the only particularly tall spouse of Donald's. Followers of the former president will recall his first wife, Ivana Trump, who died in July. According to IMDb, Ivana was 5-foot-9, about five inches taller than the average woman. In fact, according to Hello!, Ivana's height — along with the rest of her striking physical appearance — was even noted as a teenager by her fellow classmates. 
Donald's second wife, Marla Maples, is also relatively tall, coming in at 5-foot-8, as IMDb notes. In fact, she is the same height as her only child, Tiffany. Interestingly, all three of Donald's wives have been models at some point, which partly explains their tall stature. Maples was the runner-up of Miss Georgia 1984, while Ivana found work as a model in Montreal shortly after immigrating to North America from her native Czech Republic, per the CBC. However, despite her striking beauty in her youth, Ivana was not ready to commit herself to modeling for life. "Modeling is a job to me," she said in 1975, "not a career."