Why Tom Brady Once Called His Marriage To Gisele Bündchen Challenging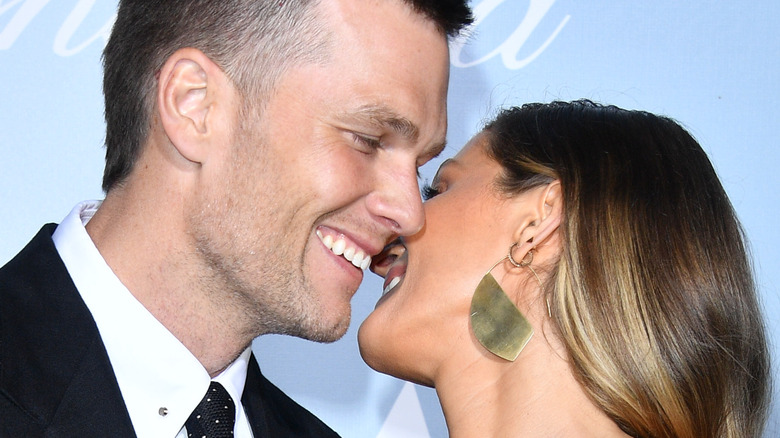 George Pimentel/Getty Images
Tom Brady and Gisele Bündchen's marriage has become a topic of conversation following reports that the two are headed for divorce. Sources close to the pair revealed to Page Six that the estranged couple has hired divorce attorneys and begun the process of dividing their financial assets. "I don't think there will be any coming back now," the insider claimed. "They both have lawyers and are looking at what a split will entail, who gets what and what the finances will be."
News of their split comes weeks after reports suggested the two are living in separate homes. Fans have also noticed that Bündchen has not attended any of Brady's games this season. However, Us Weekly reports that their children, Benjamin and Vivian, were on the sidelines supporting their father as the Tampa Bay Buccaneers took on the Green Bay Packers.
And while Brady and Bündchen's marital woes may seem to have come out of nowhere, it isn't the first time the couple has dealt with a relationship hurdle. Brady once admitted that his marriage to the former model was challenging due to their personal aspirations.
Tom Brady and Gisele Bündchen are both 'very ambitious people'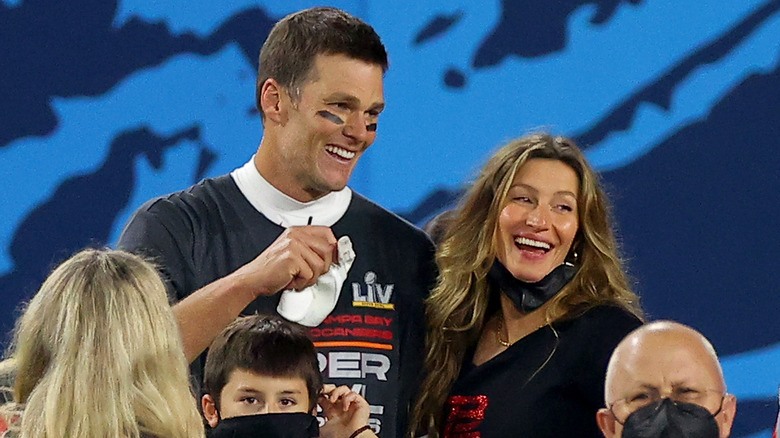 Kevin C. Cox/Getty Images
Tom Brady once opened up about the challenges he faces in his marriage to former Victoria's Secret model, Gisele Bündchen, which he said often comes from their "ambitious" personalities. "I think the challenging part for us is that we are very ambitious people," Brady told E!'s "In the Room." "A lot of times I'm going one direction and she's going the other – and its ships passing in the night." He went on to explain that despite his demanding football schedule and Bündchen's business ventures, they make it a point to spend time with one another. "I want to support her and her dreams, and she wants to support me in mine."
One of Bündchen's interests (outside of her marriage and children) is her love for the environment. The model was named Goodwill Ambassador for the United Nations Environmental Program in 2009 and has also partnered with Swiss watch brand IWC as their first Environmental & Community Projects Advisor.
Football may have led to Tom Brady and Gisele Bündchen's rumored split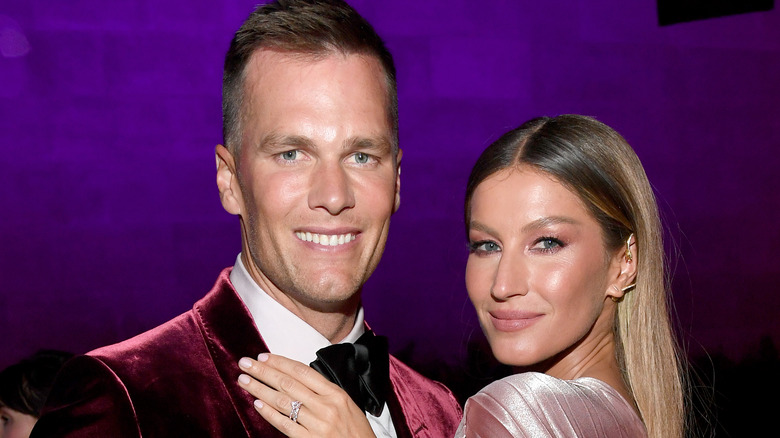 Kevin Mazur/mg19/Getty Images
Tom Brady and Gisele Bündchen have yet to publicly address speculation that their marriage is over. However, sources close to the couple have suggested that their demise began when Brady announced he was un-retiring from football. "There's a lot of tension. She was so happy when he announced his retirement, and she wasn't thrilled at all when he went back on that," an insider told People. At the time, the source claimed the pair was trying to "make it work" despite their differing opinions on Brady's NFL career.
The allegations came just days before Elle published a cover story, in which Bündchen herself voiced concerns about Brady's health. "Obviously, I have my concerns — this is a very violent sport, and I have my children and I would like him to be more present," the model said. "I have definitely had those conversations with him over and over again."