Insiders Claim Tom Brady And Gisele Bündchen Divorce Rumors Are Shaping Up To Come True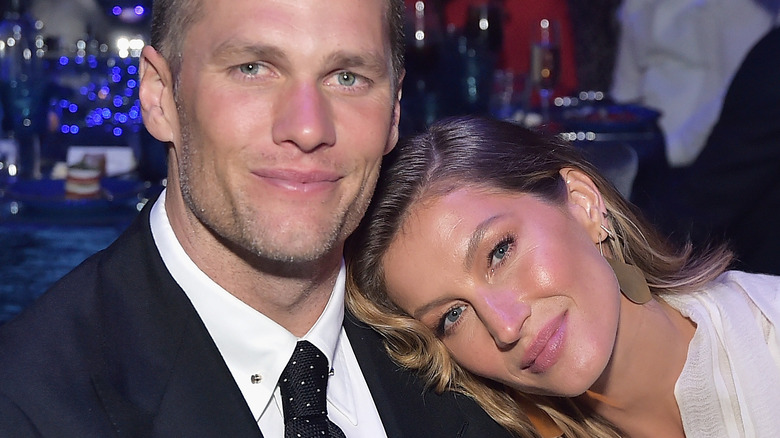 Stefanie Keenan/Getty Images
It seems the end is quickly drawing near for Gisele Bündchen and Tom Brady, which isn't so surprising considering People reported on September 14 that Bündchen felt pushed to her limits with Brady's reversing his retirement and joining the Tampa Bay Buccaneers. A source said that the move from Boston to Florida "put a strain on the personal side of his life" and that Bündchen is "sick of his [Brady's] career coming before their family." 
The insider gossip came just one month after Brady took a break from his team for "personal things," per the New York Post, which really got tongue wagging about a potential split. Brady is one of the most dedicated athletes out there, after all, so any time he takes away from work has to be for good reason, right? 
So when Brady returned from his 11-day break, you bet fans were watching his relationship more closely, lapping up any and all potential clues. As for those said clues? Page Six reported on September 28 that Brady and Bündchen were living separately in Miami while riding out Hurricane Ian. Plus, Bündchen wasn't at a pivotal game for the Bucs, despite their kids attending. Of course, it's possible Bündchen had a work commitment — when speaking with Elle, she shared it's now her turn to follow her career path after focusing mostly on Brady's.
However, the speculation seems to carry more weight these days, as the two have reportedly made big moves toward a split. 
Tom Brady and Gisele Bündchen reportedly lawyer up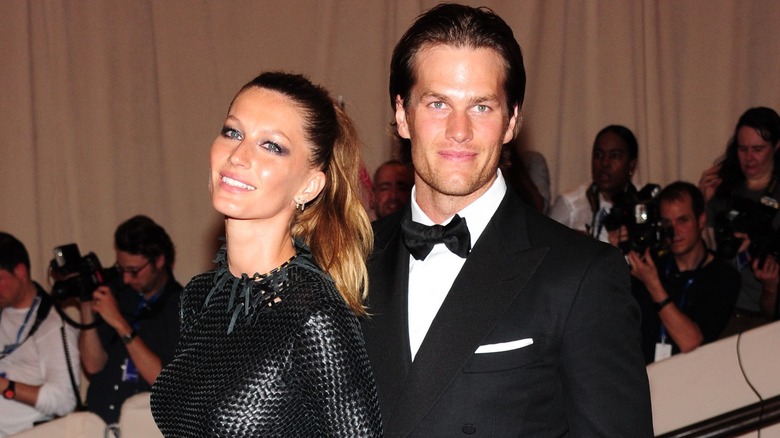 Everett Collection/Shutterstock
Are Tom Brady and Gisele Bündchen really splitting up? Well, Page Six reported on October 4 that both celebrities have lawyered up, "multiple sources." One insider told Page Six that they "never actually thought this argument would be the end of them, but it looks like it is." Wow.
The "argument" could potentially be Brady's continued commitment to the NFL and Bündchen's "dissatisfaction" with their marriage, which isn't a secret. During an appearance on Howard Stern's show in April 2020, Brady shared that his wife wrote a letter to him a couple of years back. The quarterback revealed Bündchen felt like Brady wasn't doing enough for the house and family. He said that he had to "check" himself and wanted to make a difference. But, of course, Brady "un-retired" back in March, and his ongoing work schedule might have been too much for the former model and mother of two of Brady's children.
"I don't think there will be any coming back now," another source told Page Six. "They both have lawyers and are looking at what a split will entail, who gets what and what the finances will be." The outlet reported that since both are involved in their kids' lives, they'll most likely go for joint custody. As for how that will all shake out? Considering Brady is based in Florida and Bündchen might want to move, things could get messy. 
Gisele Bündchen is ready for a new chapter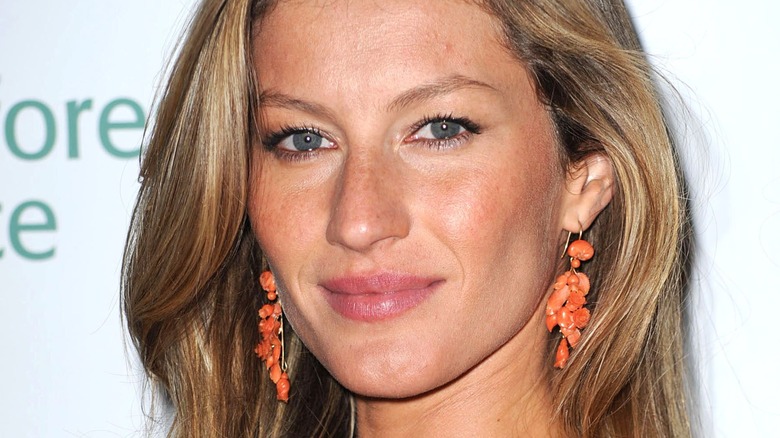 Everett Collection/Shutterstock
Of course, some might think Gisele Bündchen is overreacting in her stance on Tom Brady's decision. However, it doesn't seem like Bündchen has any regrets or will be losing any sleep over it. Case in point: In her September conversation with Elle, Bündchen made clear how it's now her chance to resume her career path after focusing mostly on Brady's. This includes work with environmental activism and her modeling. "I've done my part, which is [to] be there for [Tom]," Bündchen said, recalling the move to Boston and creating a solid home environment and life for her kids. "At this point in my life, I feel like I've done a good job on that." 
What's more? Bündchen has a lot of folks in her corner. "Tom Brady is a great football player, but you can't consistently put your job over your wife and kids and expect them not to resent you for it," one person tweeted. "I'm not surprised Gisele has hired a divorce attorney. There's nothing more for Brady to accomplish. He just doesn't want to be home."
Others had a different take, though. "I hope Tom plays until he's 50 now. Obviously divorces aren't fun and you don't want to talk about peoples personal business but we know he retired because Gisele wanted him to spend time with the family," they said. "Tom Brady loves football and clearly is playing at a very high level."