The Future Of Tom Brady And Gisele Bündchen's Marriage Might Rest On One Decision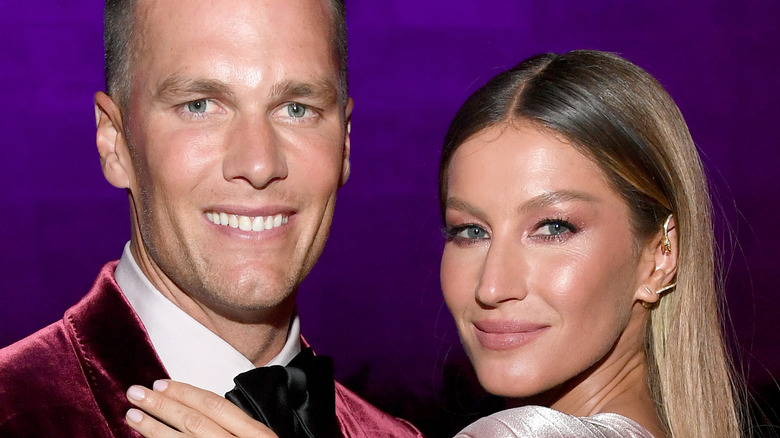 Kevin Mazur/mg19/Getty Images
For once, Tom Brady has made headlines for reasons other than throwing the pigskin. On September 7, People reported that Brady's model wife, Gisele Bündchen, wasn't happy that her husband had retracted his retirement to once again take the field for the Tampa Bay Buccaneers, leading her to believe that he cares more about the game than his family. "They're hitting a rough patch," a source told the outlet, adding that the pair was trying to work things out. Media also speculated that Brady's decision to take time off for "personal reasons" — which came during the August preseason — could have been due to reports of trouble in his marriage.
Following the Buccaneers' win against the Dallas Cowboys on September 11, Brady made his priorities clear when speaking on his "Let's Go!" podcast. "Football and family has always been the most important thing to me so it's a good time of year," he said. He also mentioned that the consistent schedule of the game gives life some "simplicity" and that he's getting better at juggling his work and personal life.
Bündchen likewise appeared to do her part to put the rumors to bed by cheering on her husband in his opening game. "Let's go @TomBrady! Let's go Bucs!" she tweeted, despite her lack of attendance at the game. This wasn't unusual, as Page Six reported that the Brazilian native "never" attends Brady's opening games. Show of support aside, the future of the couple's marriage may hinge on one decision.
Will this be Tom Brady's last season in the NFL?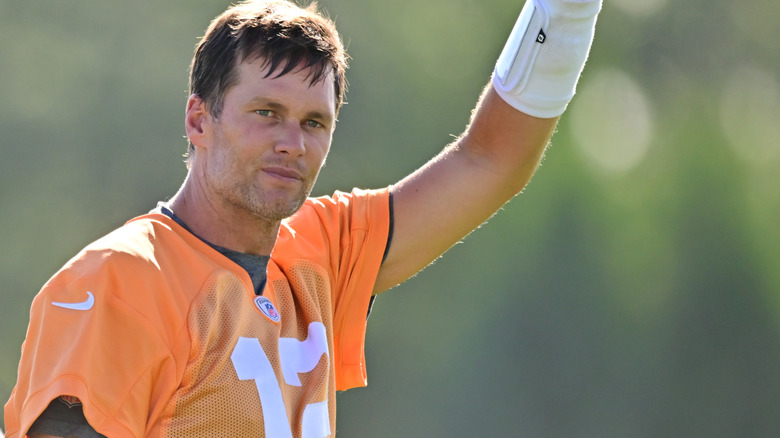 Julio Aguilar/Getty Images
Gisele Bündchen has long supported Tom Brady's historic and unprecedented reign in the NFL, but now she's looking to TB12 to prioritize a life beyond football. In a telling October interview with Elle, she explained, "I've done my part, which is [to] be there for [Tom]." This included relocating to Boston and caring for the couple's children. Now however, the model "would like him to be more present." A source reiterated these sentiments to People, telling the outlet, "Gisele is frustrated and sick of [Tom's] career coming before their family, who has always supported him."
Brady is aware of his wife's feelings. According to a separate People article, he "knows that this is his last season" in the NFL "if he wants to stay married." The source continued, "[Gisele] doesn't hate that he's playing football, but she sure hates the way he handled the retirement and coming back. He knows that, and he's doing what he can to smooth things over."
That said, walking away from the field has been easier said than done for the seven-time Super Bowl champion. "[Football has] been a huge part of my life for a long time, and I love thinking about it. I think football to me is much more than just a sport," Brady said in a 2021 post-game press conference, according to People. However, Brady told James Corden that after his last Super Bowl win, Bündchen asked, "What more do you have to prove?"