Shakira Is Seemingly Still Mourning Her Split From Gerard Piqué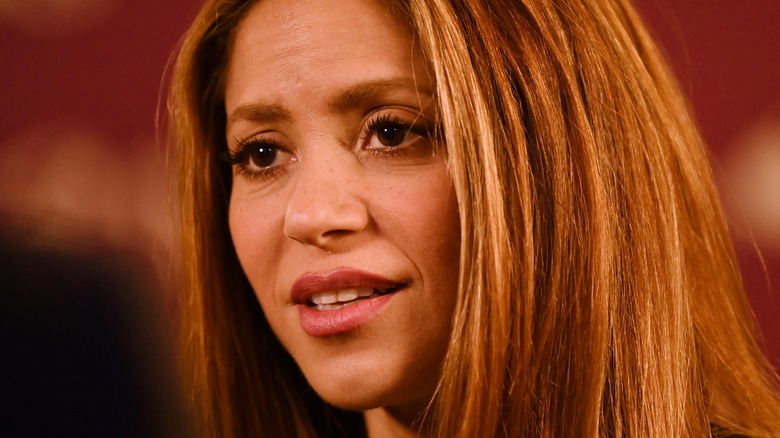 Dave J Hogan/Getty Images
Hips don't lie, and neither do broken hearts. In June, Shakira and Gerard Piqué announced that they were going their separate ways after 12 years together. Per Reuters, the "La Tortura" singer and the soccer player released a statement that read in part, "For the wellbeing of our children, who are our highest priority, we ask that you respect their privacy."
While the couple never wed, they appeared to be in it for the long haul; they had two sons together, and as Shakira told Elle, she pumped the brakes on her successful music career to move to Barcelona so that Piqué could continue playing soccer there while they raised their kids. "I mean, one of the two of us had to make a sacrifice, right?" she said, while speaking about how much she loved her partner. But days before the doomed couple announced their breakup, the Spanish outlet El Periodico claimed that Shakira had caught Piqué being unfaithful.
Shakira didn't address the cheating rumors when Elle asked her about the split, but she did say, "This is probably the darkest hour of my life." She further explained that it was difficult for her to open up about the experience because it's something she's still living — but a visceral visual may be a hint that fans will hear all about Shakira's heartbreak when she drops a new single.
Shakira teases her collab with Ozuna
In her Elle interview, Shakira described the pain she felt after her relationship with Gerard Piqué ended, saying, "The big dream of having a family forever, to see that dream broken or shredded into pieces is probably one of the most painful things that you can ever go through." So, naturally, her Instagram followers assumed she'd captured her feelings in visual format when she shared a video of a shoe stomping on a realistic heart prop. When translated from Spanish, a response to the video read, "Monetizing the breakup."
In the caption, Shakira wrote in Spanish, "I never said anything, but it hurt me. I knew this would happen." Her next post was an announcement that she and Ozuna were releasing a single titled "Monotonía" on October 19. The song came with its own graphic: a heart being stabbed with a knife. So, the organ-stomping visual might be a scene from the song's music video. On a related note, Shakira told Billboard that Piqué didn't allow her to appear in music videos with male singers. "He's very territorial," she explained.
Shakira hasn't revealed whether "Monotonía" was inspired by her breakup, but she told Elle that she was using songwriting as a form of therapy to help her withstand the agony it caused her. "Everything I feel, everything I go through is reflected in the lyrics I write, in the videos I make," she said. So, get those tissues ready!