How Long Were Kourtney Kardashian And Scott Disick Actually Together?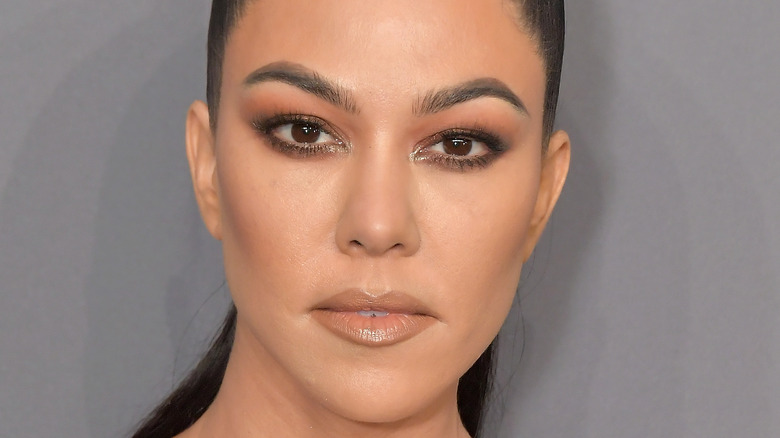 Michael Loccisano/Getty Images
Kourtney Kardashian is happily married to Travis Barker after their Italy wedding ceremony, but her ex, Scott Disick, is still very much a part of the Kardashian-verse. Kardashian and Barker's engagement was a big talking point for Disick on Season 1 of "The Kardashians." Once news of the engagement broke, Disick hashed out his feelings with Khloé Kardashian (via ET), explaining that if it had been "another time in my life," he would've felt like "life would've been over for me."
It sounds dramatic, but the Lord's long history with the Kardashian clan outlasts any other of the ladies' partners. Not only do Kardashian and Disick share children Mason, Penelope, and Reign, but matriarch Kris Jenner has been clear about Disick's importance to the whole family. In 2016, she tweeted that she was "blessed to call [him] my son," despite the fact that he and Kardashian had recently split. Disick regularly appeared on episodes of "Keeping Up with the Kardashians," and viewers still see him on Hulu's "The Kardashians." When Page Six reported that Disick had been "excommunicated" from the Kardashian brood following Kourtney's marriage to Barker, Jenner quickly debunked the rumors. "Scott will NEVER be excommunicated from our family," she commented on an Instagram post in August. "He's the father of my grandchildren and a special part of our family ... we love him and not true!"
Clearly, Disick will always have a seat at the Kardashian table. This is due in part to his years-long romance with Kourtney.
Scott Disick and Kourtney Kardashian dated for almost a decade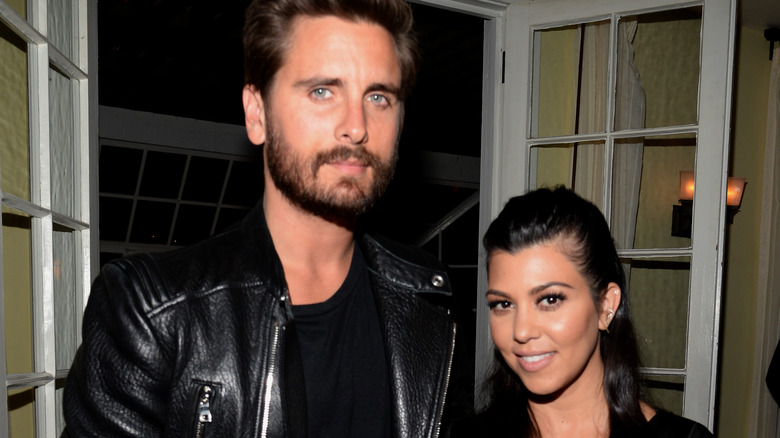 Chris Weeks/Getty Images
Starting at the beginning of Scott Disick's relationship with Kourtney Kardashian takes us all the way back to 2006: a simpler time of babydoll dresses and chandelier earrings. Per People, the pair met at a party in Mexico for a mutual friend. There's even Instagram evidence of a baby-faced Disick and Kardashian sitting on the couch with friends! But for Kardashian at least, the attraction took a little while to grow. In an episode of "Kourtney & Khloé Take The Hamptons," the Poosh founder said, "I just thought he was so annoying ... He was four years younger, he lived in New York, he didn't have a job" (via People).
Kardashian and Disick were friends for a year before making their relationship official, and Kris Jenner doubted his intentions towards her oldest child. However, a then-24-year-old Disick assured her, "I will never do anything to disrespect your daughter." What followed next was a whirlwind of breakups and makeups, cheating allegations, and the births of Mason, Penelope, and Reign. Ultimately, Disick's substance issues were too much for Kardashian to overcome, and the couple split in 2015, nearly a decade after meeting. In 2021, Kardashian told Andy Cohen (via StyleCaster), "I think the substance abuse was the deal-breaker."
Even so — and despite Disick's preference for women decades younger — the couple has remained friends. "We're family ... I think we always will be," Disick said in a "Keeping Up with the Kardashians" reunion episode.
Scott Disick and Kourtney Kardashian are involved in each other's lives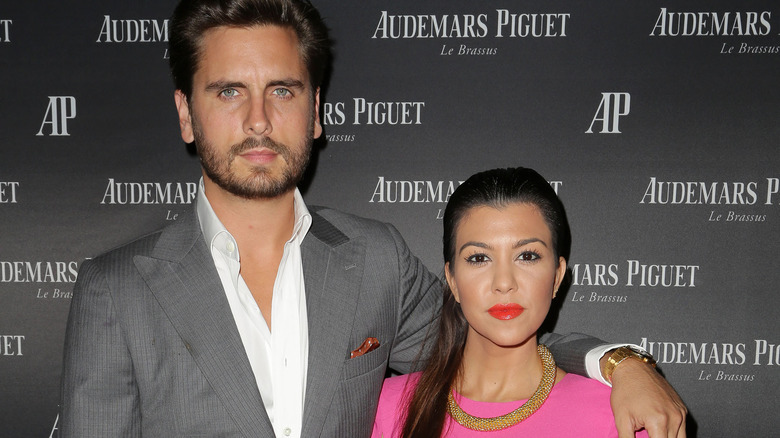 Alexander Tamargo/Getty Images
Co-parenting takes work, and it's been a journey for Kourtney Kardashian and Scott Disick to navigate. When Kardashian started dating other people and became engaged to Travis Barker, it strained her relationship with Disick. In 2021, a source told OK! that "[Scott is] trying to be the best parent he can be for their kids and make it work co-parenting, but he's having problems now with Kourtney." At the time, another source told Us Weekly that their relationship was "nonexistent." However, the "Flip It Like Disick" star later appeared to be doing his best to take the high road. "[Scott is] really trying to put his feelings about Kourtney and Travis aside and keep the peace with Kourtney. He wants to be a good dad and have a healthy relationship with his kids," an insider told E! News.
Currently, Kardashian and Disick seem to be in a good place, and the Lord just wants his lady to be happy. That's not to say that Disick doesn't still harbor lingering feelings for his ex, though. "I'm never going to give up my relationship with Kourtney and the co-parenting we have," Disick said in a confessional on "KUWTK" (via Fox News). "Nothing in a million years will be worth what we have." Their romance may have lasted nine years, but a true partnership lasts a lifetime!