Inside Angela Lansbury's Relationship With Her Brother Bruce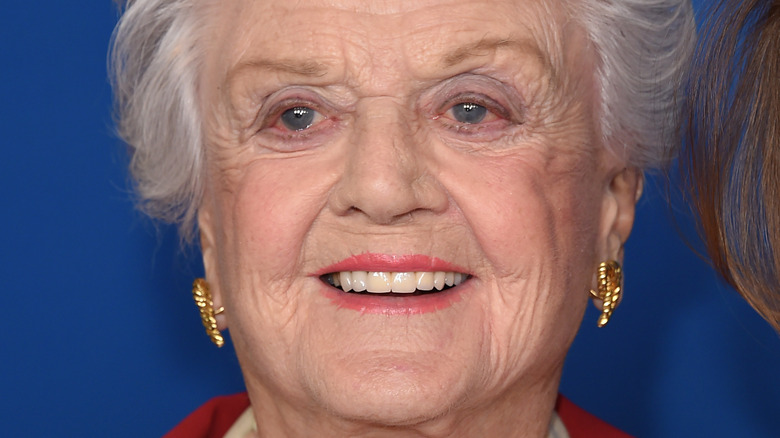 DFree/Shutterstock
Many fans are mourning the tragic death of Angela Lansbury, her children confirming her death on October 11. Still, many remember the 96-year-old star's extraordinary life. Lansbury was first nominated for an Oscar at just 19 years old for her first film "Gaslight" in 1944. The actor went on to have a 70-year acting career on-stage, in film, and on television. Lansbury, of course, became a household name as mystery writer Jessica Fletcher in "Murder, She Wrote" and then enchanted a new generation of fans as Mrs. Potts in Disney's "Beauty and the Beast." Lansbury was gorgeous when she was younger, but the British-born actor didn't have a charmed life.
According to People, Lansbury's father died when she was just 9 years old. In 1940, her mother packed her up with twin brothers, moving from Great Britain to America to escape World War II. When she was a teenager, the family relocated to Los Angeles, where she started working on her first movie at 17. In 2009, the actor told The New York Times, "I wasn't very good at being a starlet ... I didn't want to pose for cheesecake photos and that kind of thing." Lansbury might not have been a starlet, but she was a wonderful sister and had a special relationship with her brother Bruce.
Angela Lansbury's brother Bruce produced Murder, She Wrote and Wonder Woman
Angela Lansbury was 5 years old when she became a big sister to twin brothers Edgar and Bruce Lansbury. The life of the British family was turned upside down when Edgar Lansbury senior died in 1934. Angela said her father's death was "the defining moment of my life. Nothing before or since has affected me so deeply" (via EverythingZoomer). After their mother, Moyna Macgill, moved the family to America, teenage Angela followed in her mother's footsteps as an actor. By the time Angela was 19, she was supporting her mother and two brothers as the family breadwinner. Angela's brothers later became successful in the entertainment industry. According to The Hollywood Reporter, Bruce was an accomplished television producer, working on hit shows "The Wild Wild West," "Wonder Woman," and "Murder, She Wrote." In addition to his career as a successful producer, Bruce was a Paramount Television vice president in the late 1960s, heading up iconic shows "The Brady Bunch," "Happy Days," and "The Odd Couple."
Bruce's twin Edgar made his career as a theater producer and headed up the Broadway revival of "Gypsy" in the 1970s and many other hits. According to The New York Daily News, Bruce died in 2017 in California after battling Alzheimer's for several years. People reported that Edgar is the only living sibling after the October 11 death of Angela at age 96.