Khloe Kardashian Issues Important PSA As Speculation About Her Bandaged Face Heats Up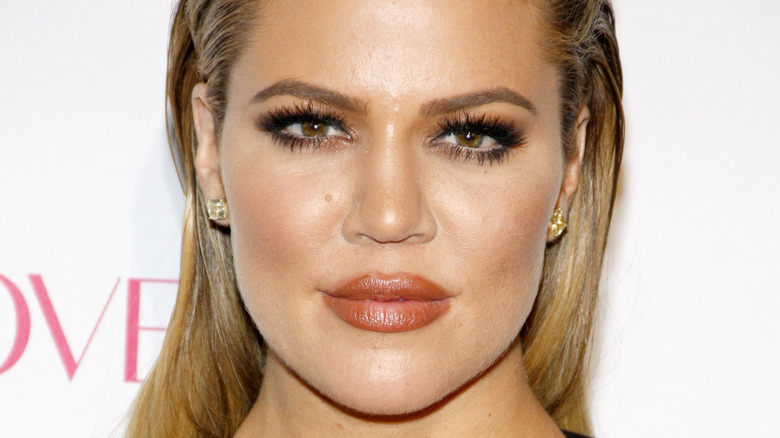 Tinseltown/Shutterstock
Khloé Kardashian is no stranger to speculation surrounding her body. After an Instagram account reposted some gym videos of the Good American founder in March, some users accused Kardashian of having made enhancements to her derriere. "Omg u can see her implants when stretching. A 2nd layer of her bum on top of her bum," one such commenter wrote. Kardashian laughed the accusations off, writing that the appearance of extra folds in her butt come from seams in her leggings. This wasn't the first time the "Kocktails with Khloé" host's backside has been targeted by rumors. As early as 2015, per OK Magazine, people have been speculating on whether or not the reality star has had a Brazilian butt lift.
Additionally in May, Kardashian also addressed a facial plastic surgery rumor that's followed her for years. On Amanda Hirsch's "Not Skinny Not Fat" podcast, she admitted that "it did use to bother me when people were [saying] I've had 12 face transplants." Kardashian clarified, for the record, that she has had one nose job with which she was greatly pleased. As for the drastic plastic surgery rumors, she told Hirsch, "I just couldn't figure out why people thought that."
Kardashian was battling a similar rumor when she issued an announcement about the recent bandages spotted on her face. 
Khloé Kardashian was secretly dealing with a health scare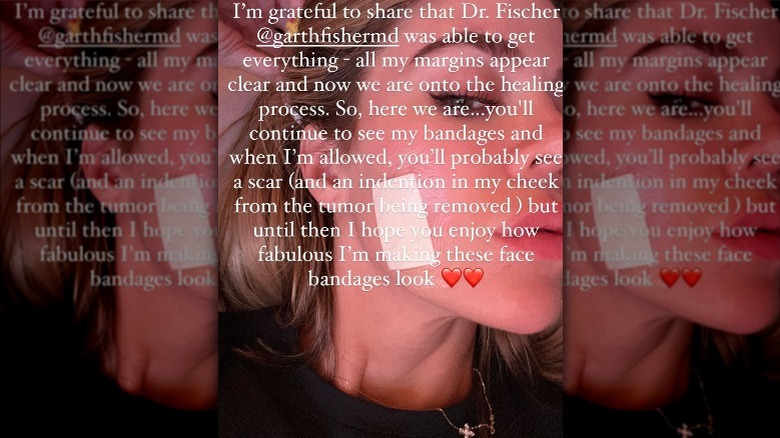 Khloé Kardashian is urging Instagram followers to get checked for skin cancer after her own recent scare. Taking to her Instagram stories on October 11, via Page Six, Kardashian wrote that, upon seeing "numerous stories going around about the ever-evolving bandage on my face," she decided to share the truth. After two dermatologist consultations and two biopsies, Kardashian revealed she immediately underwent surgery to remove a tumor from her face, a procedure she called "incredibly rare for someone my age."
Fortunately, the mother of one is on the path to recovery now. "All my margins appear clear," Kardashian wrote, forewarning fans that after her bandages are removed, they'll likely see a scar where the tumor once was. "Until then I hope you enjoy how fabulous I'm making these face bandages look," the ever-quippy Kardashian wrote, reminding fans to "be checking all the time." Everyone can be susceptible to skin cancer, even someone — like her — who wore sunscreen "every day religiously." 
Unfortunately, cancer runs on both sides of Kardashian's lineage. Her father, Robert Kardashian, died from esophageal cancer at 59, per The U.S. Sun, while mom Kris Jenner has been an advocate for regular mammograms ever since her mom survived breast cancer, per SELF Magazine.