Khloe Kardashian Gets Honest About The Plastic Surgery Rumor That Haunts Her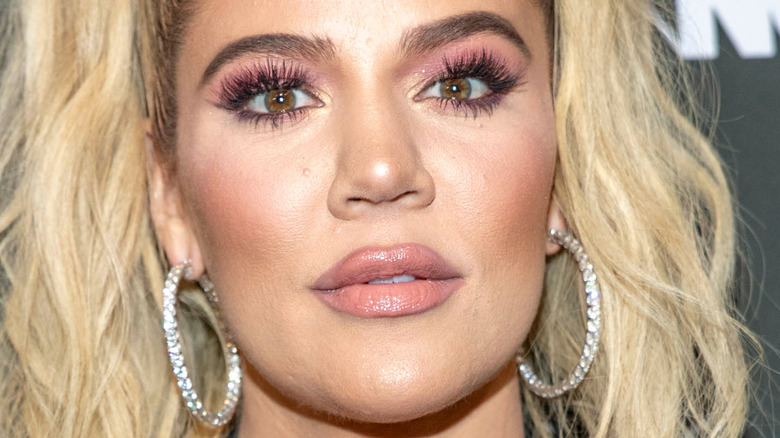 Eugene Powers/Shutterstock
There's no doubt that Khloe Kardashian has transformed her looks over the years. Kardashian began appearing in her family's hit show, "Keeping Up With the Kardashians," in 2007. Now, she's still a part of the spinoff show on Hulu titled "The Kardashians," which picked up when "Keeping Up With the Kardashians" ended.
One of Kardashian's most significant parts of her life appears to be her workout regimen and fitness journey. The star regularly shares videos of herself working out on her Instagram stories. In August 2021, the Good American guru shared a workout routine video with her 245 million followers. "Back by popular demand!" she wrote in the caption before sharing the different parts of her workout. For the warm-up, Kardashian did the Stairmaster, and then she went into pretty great detail about which circuits she did with her trainer and how many times she repeated them.
In 2020, the star opened up about her workout routine, healthy diet, and how they make her feel. "I definitely think the physical and the mental go hand in hand," she told People. "I feel so good in the gym that it [affects] the rest of my day. It's a healthy addiction. It's like buying your sanity!" But although Kardashian has been open about the transformation of her body, she says she has done far less alteration to her face. The star is slamming some plastic surgery rumors that allege that she's had more than one face transplant.
Khloe Kardashian is sick of crazy rumors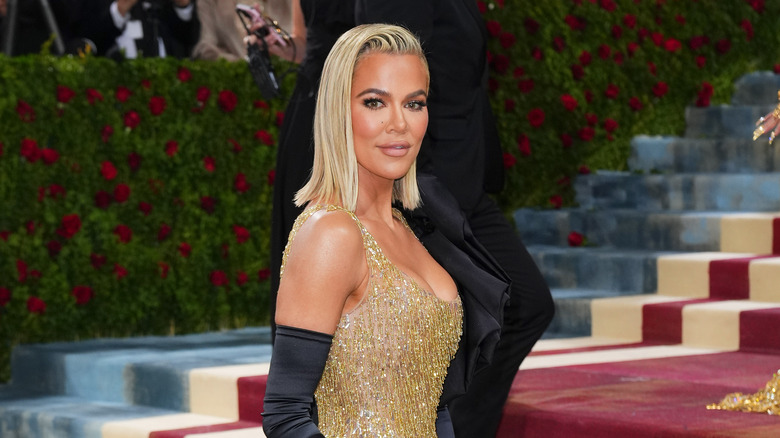 Gotham/Getty Images
Khloe Kardashian is speaking out against the plastic surgery rumors that have been plaguing her. The Good American co-founder appeared on Amanda Hirsch's "Not Skinny Not Fat" podcast, where she slammed some whacky rumors. "It did use to bother me when people were [saying] I've had 12 face transplants. I'm like, 'Oh, my God, I have?' I was like, 'That's crazy,'" she confessed to Hirsch. "It didn't bother me. It offended me. I just couldn't figure out why people thought that. I've had one nose job that I love," she said. "Like, I want everyone to know. ... I don't care to lie about it."
Kardashian also added that she just wants "to understand why" that rumor came about as she joked that it would perhaps be something she would consider "later in life" but certainly not now. In addition, the reality star touched on how she doesn't like constantly being compared to her sisters. "I'll take it, and I do think I can take it, but I don't know the rhyme or reason," she shared. 
In April, Kardashian revealed one of her big regrets about her nose job during an interview with Robin Roberts for "The Kardashians: An ABC News Special," per Page Six. The mother of one says she wishes she would have done it sooner. "It's in the middle of your face, and it's scary to think about. But I finally got the courage, and I did it, and I love it," she confessed.