Here's How Close Ryan Seacrest Really Is With The Kardashians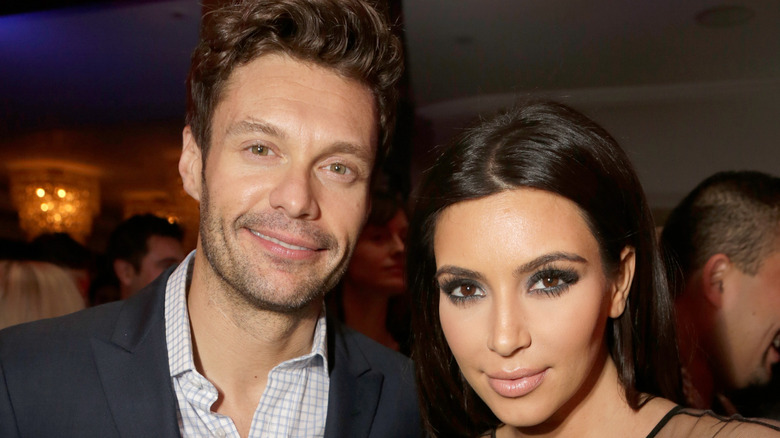 Jeff Vespa/Getty Images
What's really going on between Ryan Seacrest and the Kardashians? As fans of the famous family will likely already know, Seacrest has been heavily intertwined with the reality stars for years, having served as an executive producer on "Keeping Up with the Kardashians." In fact, the E! reality show (which ran for a whopping 20 seasons between 2007 and 2021) was actually kind of the "American Idol" host's brainchild, as he was the one who really pushed the reality show after deciding he wanted to do something that would give "The Osbournes" a run for its money.
"We went to some casting directors in L.A. and said, 'We're interested in meeting families who want to be on a series or are interested in being in the world of television.' The Kardashians were interested," he explained to Haute Living in 2015. Seacrest had met the family before (they were pretty familiar in Hollywood circles at the time due to Robert Kardashian's role in the O.J. Simpson trial and Kardashian's friendship with Paris Hilton, after all) so he decided to send a cameraman to their house to capture some footage of a typical Sunday dinner. He then got a call back from the cameraman, who informed him they'd struck reality TV gold. "We watched it and rushed the tape to E! immediately, and that was the beginning," Seacrest recalled.
But that was then, so what's happening now?
Ryan Seacrest once appeared in a Kardashian Holiday card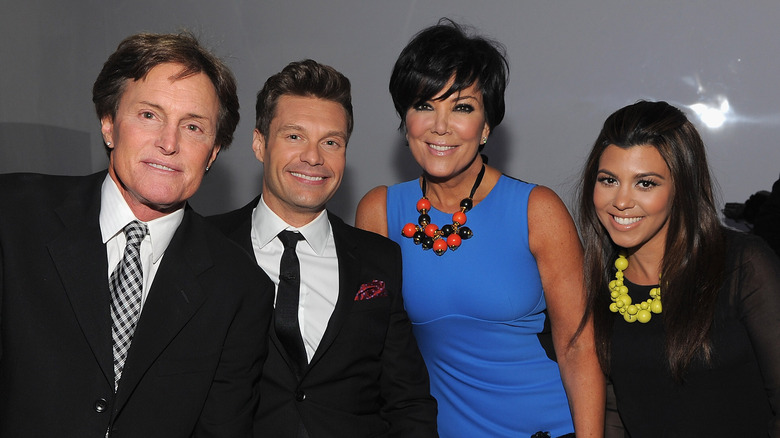 Larry Busacca/e/Getty Images
Ryan Seacrest remained pretty close to the Kardashian clan throughout their rise to reality TV stardom, so close in fact that he even popped up in their Holiday card back in 2009! Yep, the K fam sent out a family photo from Khloé Kardashian's wedding to Lamar Odom, with Kim Kardashian claiming on her now defunct blog that she didn't even realize he was in it until it had been sent out. "I love you to death, Ryan, but it's a bit of a stretch to call you a member of the Kardashian family, don't you think?" she teased. "I know you're dying to a be a part of the family, so just for this Christmas, we'll make your wish come true! Haha."
Seacrest continued to be a regular during big Kardashian events, including hosting a graduation party for Kendall and Kylie Jenner and being a regular at the family's notoriously over the top Holiday parties. In 2013, he even hosted an E! News special that saw the family look back on their fame, while he confirmed they were still very close in 2017. Seacrest confirmed on "Watch What Happens Live" that he'd recently texted Kim just to have a catch-up, adding after his "Live with Kelly and Ryan" co-host Kelly Ripa admitted she wanted to be adopted into the family, "Me too! I want to live with Kris [Jenner]."
But things may have taken a turn after that.
Did Ryan Seacrest have a falling out with the Kardashians?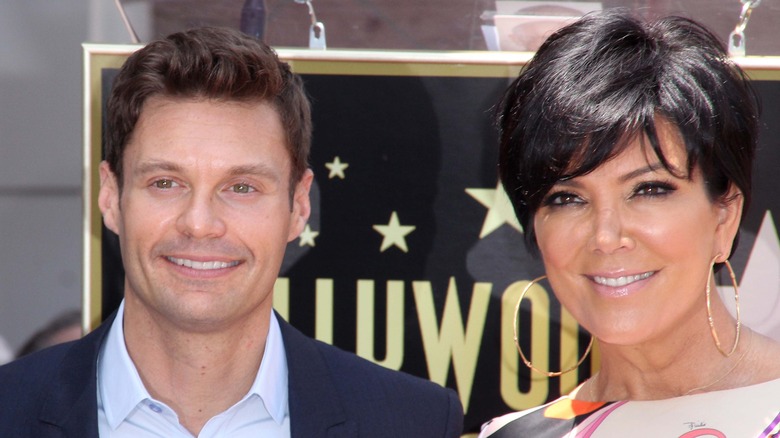 s_bukley/Shutterstock
Despite basically being an extended member of the Kardashian family for years after giving them their big break, rumors began to circulate that Ryan Seacrest may not be on the best terms with the K family anymore after they announced "Keeping Up with the Kardashians" would end and instead embarked on the Hulu docuseries "The Kardashians." Much of the speculation stemmed from a 2021 Reddit thread after fans noticed they didn't seem to acknowledge each other on social media much anymore, including not exchanging public birthday messages. Moreover, despite standing by the Kardashians' side for years as the reality show aired (both literally and figuratively), Refinery29 pointed out in April 2021 he was absent from the final reunion episodes, with Andy Cohen instead taking on hosting duties despite executive producer Seacrest being perfect for the job.
Seacrest did acknowledge the end of the "KUWTK" era on Instagram in June 2021, though, sharing a throwback photo of himself with the family and writing in the caption, "Thank you to the Kardashians and Jenners for allowing us to be a part of your family, through the ups and downs... Congrats on all the success and here's to the next chapter!" Khloé Kardashian also shared a sweet gesture from Seacrest on Instagram Stories in April 2022 (via The Sun), revealing he sent her flowers to celebrate "The Kardashians." However, as of October 12, 2022, neither Khloé nor Kim follow him back on Instagram.