Gisele Bündchen Returns Tom Brady's Marital Strife Hint With Cryptic Instagram Comment
Tristar Media/Getty Images
Tom Brady and Gisele Bündchen's marriage has become a major talking point following reports that the now-estranged couple is headed for divorce. Tensions built earlier in the year after Brady made a U-turn on his retirement decision, leading Bündchen to admit in an interview with Elle, "My children and I would like [Tom] to be more present." The Brazilian supermodel added that she has "definitely had those conversations with him over and over again."
Since then, Brady's Tampa Bay Buccaneers have suffered two defeats as the star quarterback continues to lose in more ways than one. The couple is said to be living separately, and sources told Page Six that Brady and Bündchen have hired divorce attorneys. "I don't think there will be any coming back now," an insider said. "They both have lawyers and are looking at what a split will entail, who gets what, and what the finances will be." 
On October 10, Brady appeared on his "Let's Go" podcast, where, without explicitly mentioning his wife, he admitted to being in the midst of a personal crisis. "I think you realize that there's a lot, especially in today's day and age, with how fast things are happening in life for all of us," he said. "You wake up every day trying to do the best you can do, understanding that life has its stresses." Apparently, Bündchen wasn't willing to let Brady's comments slide without sharing her own two cents in an equally shady way.
Gisele Bündchen seemingly blasts inconsistency in relationships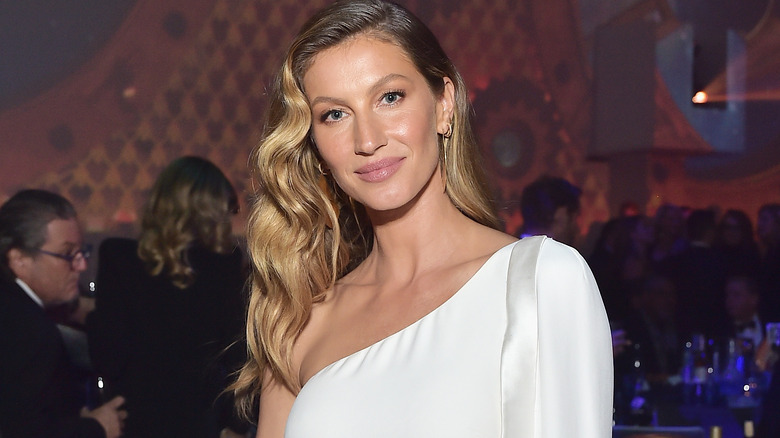 Stefanie Keenan/Getty Images
After fans began dissecting Tom Brady's comments on his "Let's Go" podcast, Gisele Bündchen gave people something else to talk about. When author and life coach Jay Shetty posted an image to Instagram on October 12, reading, "You can't be in a committed relationship with someone who is inconsistent with you," Bündchen both liked the caption and dropped a prayer-hands emoji into the comment section, per Page Six.
One of the former Victoria's Secret model's biggest marital gripes has been that she's consistently sacrificed for Brady's NFL career, and her seemingly innocuous comment on social media speaks volumes about the rift in their relationship. "I've done my part, which is [to] be there for [Tom]," Bündchen told Elle in September. "I have a huge list of things that I have to do, that I want to do. At 42, I feel more connected with my purpose." 
Reading between the lines, it seems that she's ready to move on to life beyond the football field. Brady's reluctance to put down the pigskin has created problems between the pair. At this point, "[Gisele] is done with their marriage," a source told People. "She was upset about it for a long time, and it's still difficult, but she feels like she needs to move on. She doesn't believe that her marriage can be repaired ... She is just trying to figure out her life."